Unikāla mācību metode skolēniem: pielietojamā improvizācija
to
Ikdienas izaicinājumiem, kuri jau tā prasa daudz enerģijas un jaunu ideju:
Skolēnu iesaiste, 
uzmanības noturēšana,
sarežģītas informācijas pasniegšana vienkārši un aizraujoši,
teorijas praktisks pielietojums
pēdējā laikā pievienojusies arī attālinātā vide un jaunas prasības mācību procesā. 
KĀ PIELIETOJAMĀS IMPROVIZĀCIJAS METODE PALĪDZ RISINĀT ŠO IZAICINĀJUMU?
Tās ir īsas, uz mērķi fokusētas, aizraujošas un viegli pielāgojamas improvizācijas teātra treniņu spēles, kas: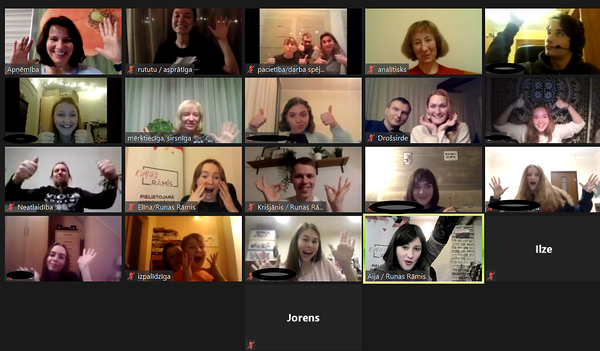 palīdz izprast teoriju praksē
ļauj mācīties no pieredzes
ļauj kļūdīties ar prieku un mainīt stundas dinamiku
saliedē skolēnus un padara mācību procesu aizraujošu
ir pielietojamas tiešsaistē
palielina iesaisti mācību procesā
veicina komunikāciju, sadarbību un atbildības uzņemšanos
piemērotas dažādiem vecumiem
darbojas ar Kolba eksperimentējošās mācīšanās pieeju
KĀ MĒS ZINĀM, KA TAS STRĀDĀ?
Pagājušajā mācību gadā novadītas teju 300 stundas tiešsaistē un vasarās arī klātienē, jauniešiem vecumā no 12-18 gadiem. Un, lūk kāds ir rezultāts:
Gulbīša pamatskolas atsauksme un norise [ŠEIT]
Jauniešu minētie ieguvumi: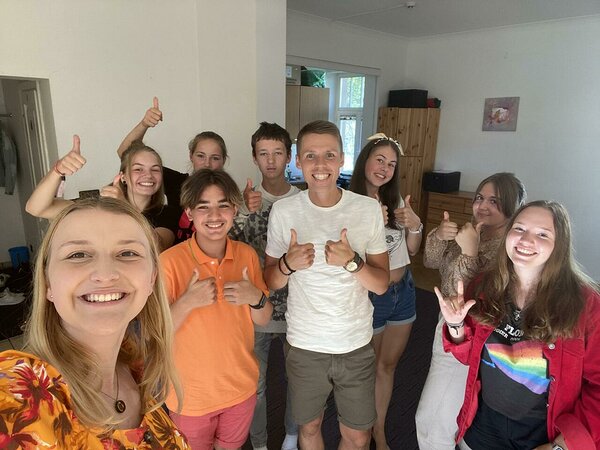 Atgriezeniskā saite no vecākiem:
"Paldies, es redzu, kā manā dēlā aug pārliecība par sevi un uzlabojas spēja izteikt savu viedokli"
"Iepriekš viņš vienmēr stundās izslēdza kameru un nekad neiesaistījās, nerunāja. Un vakar es eju gar viņa istabu, neticami! Kamera ieslēgta un diskutē ar skolotāju. Paldies!"
PIEDĀVĀJAM 4 NODARBĪBU KURSU ŠĪS METODES APGUVEI. KATRU DIENU TIEKAMIES 2,5 H GARĀ PRAKTISKAJĀ NODARBĪBĀ
1. diena
Tehnikas un spēles dalībnieku iesaistei, uzmanības noturēšanai un sadarbības veicināšanai. Pielāgošana dažādām tēmām
2. diena
Tehnikas un spēles informācijas pasniegšanai (sarežģīto pastāstīt vienkārši, teoriju praktizēt spēlēs, pielāgot informāciju dažādiem vecumiem)
3. diena
Metožu izmantošana tiešsaistes vidē (kā visu pirmajās divās dienās apgūto izmantot tiešsaistē + papildus metodes īpaši tiešsaistei)
4. diena
Darba dienas simulācija - prakse metožu izmantošanā savā darbā, pielāgošana savai tēmai un situācijām
Pēc kursa saņemsiet Rīgas domes Izglītības, kultūras un sporta departamenta sertificētu apliecinājumu.
Vairāk informācijas un pieteikšanās: https://www.runasramis.lv/apgusti-metodi/skolotajiem
Event Details
Organiser type
Other event
Organiser name
Runas Rāmis
Aims and objectives
Jaunu metožu sniegšana skolotājiem, ikdienas mācību darba produktivitātes un efektivitātes uzlabošanai, skolēnu iesaistes un līdzdalības palielināšanai.
Expected (learning) outcomes
Prasme praktiski pielietot un pielāgot savam materiālam vismaz 7 dazādas improvizācijas teātra metodes kā klātienē, tā tiešsaistē
Recognition / certification of participation
Rīgas domes Izglītības, kultūras un sporta departamenta sertificētu apliecinājumu.