Move your hands for dementia

»Vam povem na lastnih izkušnjah, je naporno skrbeti za nekoga 24 ur. Kaj naj vam rečem, to je življenje.«
Takšne in podobne so izpovedi neformalnih oskrbovalk osebe z demenco v Sloveniji, ki so nam v neformalnih intervjujih zaupale, da bi vsi, ki komunicirajo s starejšimi morali imeti več znanja o demenci, več veščin za prepoznavanje prvih znakov demence in več praktičnega znanja za pogovor in komunikacijo z ljudmi, ki zbolijo za demenco.
Zastavili smo si vprašanja, o katerih bi vsak moral razmisliti: Ali poznate koga z demenco v vaši skupnosti? Ali ste kdaj srečali nekoga, za katerega ste pomislili, da ima morda demenco? Bi znali pravilno komunicirati z njim in mu pomagati, če bi bilo potrebno? Za osebo z demenco je ključnega pomena, da se kot skupnost naučimo komunicirati z njimi, saj je to eden od načinov, da jim pomagamo premostiti socialno izključenost in zmanjševati tveganje, da bi zapadli v depresijo ali se počutili zapostavljene in prezrte. »Biti v stiku« je tisto, kar izboljša kakovost njihovega življenja.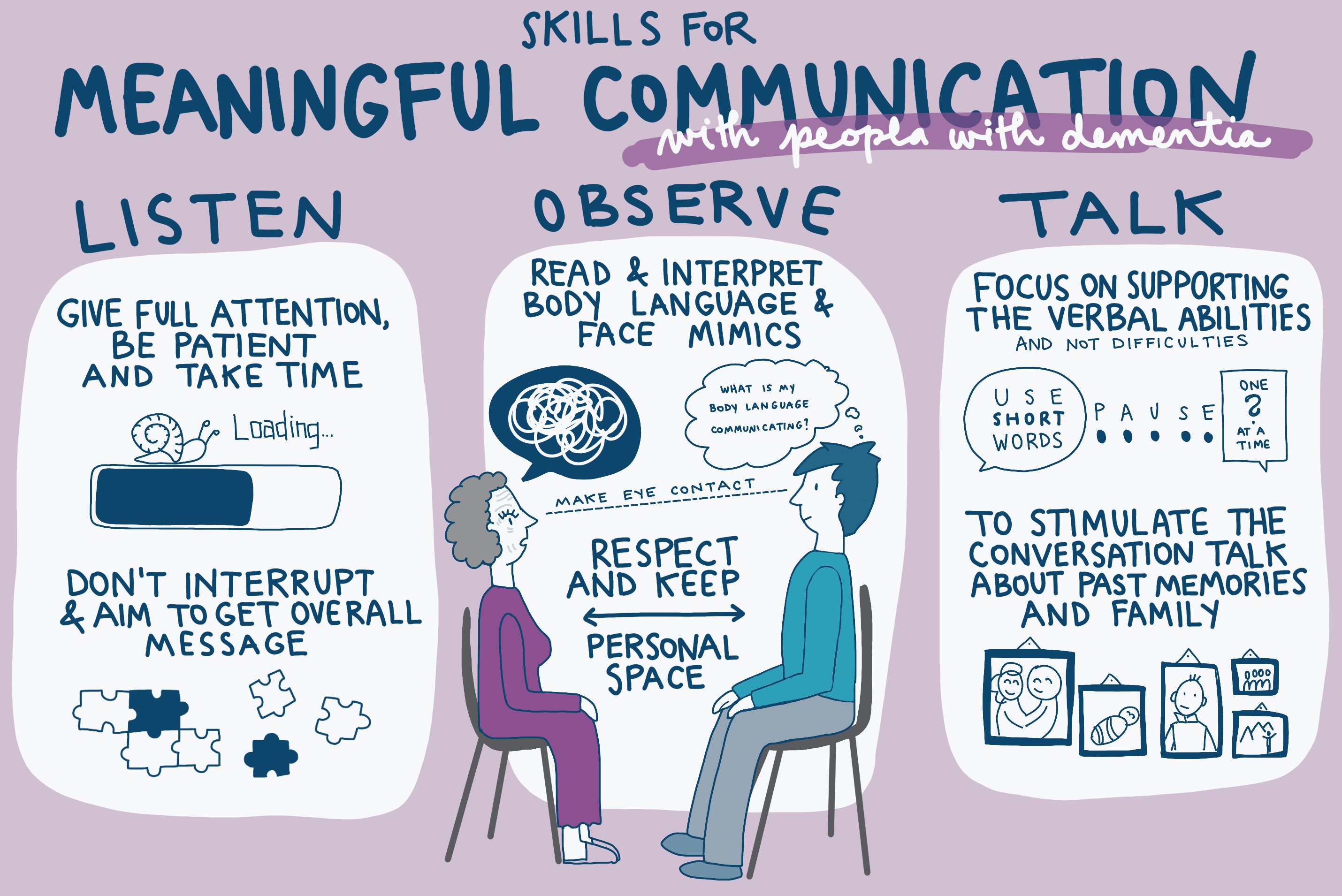 Zato smo začrtali naslednje sodelovanje: Zveza društev upokojencev Slovenije (ZDUS) s partnerji, strokovnjaki s področja zdravstva, izobraževanja in NVO sektorja iz Italije, Belgije, Bolgarije, Cipra, Grčije in Španije, sodeluje v evropskem, Erasmus+ projektu Move your Hands for Dementia. Pripravljamo izobraževalne vsebine, s katerimi želimo podpreti izobraževalce odraslih pri krepitvi njihovih kompetenc podajanja vsebin na temo zdravstvene pismenosti o demenci. Osredotočili se bomo tudi na druge ciljne skupine, ki jih ocenjujemo kot ključne pri nastajanju bolj vključujoče in enakopravne, demenci prijazne skupnosti. To so osebe z demenco, družinski in neformalni oskrbovalci, vodje izobraževanj in politični odločevalci.
V projektu bomo izdelali M.O.O.C., množičen odprt spletni tečaj, ki bo služil kot orodje za izobraževalce odraslih, da izboljšajo svoje kompetence zdravstvene pismenosti o demenci. V poštev bodo prišla tako formalna kot neformalna učna okolja. Tečaj bomo preizkusili v praksi, saj je namen, da izobraževalci odraslih pridobljena znanja nato delijo med starejše osebe z demenco in njihove oskrbovalce. Usposabljanja se bodo izbrani izobraževalci ZDUS udeležili v Italiji. Za vodje in organizatorje tovrstnih izobraževanj in oblikovalce politik pa bomo izdelali usmeritve, katerih cilj bo izboljšati trajnostne izobraževalne strategije in politike povezane z demenco.
Za več informacij obiščite spletno stran projekta in Facebook stran MYH4D European project
Partnerji:
Ta projekt (2020-1-IT02-KA204-079434) je financiran s podporo Evropske komisije. Ta prispevek odraža samo stališča avtorja in Komisija ne more biti odgovorna za kakršno koli uporabo informacij, ki jih vsebuje.
Dijana Lukić je izvršna vodja projektov in prireditev pri ZDUS. Je koordinatorka Erasmus+ projektov, ki jih izvaja zveza in deluje predvsem na področju izobraževanja odraslih, kulturnega udejstvovanja starejših in mednarodnega sodelovanja zveze. V projektu Move your hands for dementia je raziskovalka in organizatorka usposabljanj.