You and Your Students Can Use this Headspace!
Welcome to the landing page for EPALE IE's You and Your Students Can Use this Headspace Giveaway! This month we have another tool to give you peace of mind in your professional and personal spaces.
Here you have the chance to enter and win Headspace subscription for 12 months. May's prizes combined give us a value of 650EUR.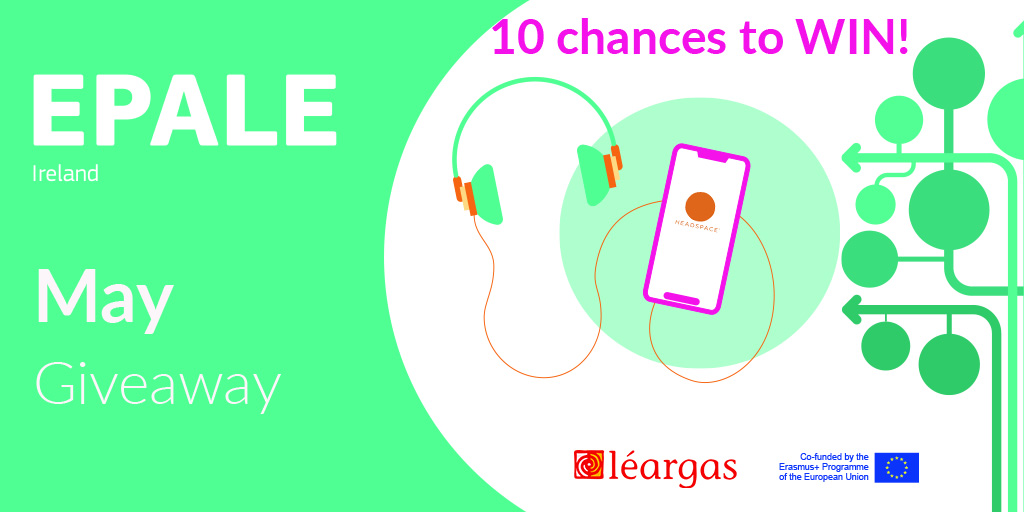 What is Headspace?
Have not heard of this revolutionary journey yet? Then it is time to learn how to add some inspirational, motivational, and mindful aspects to your days!
Those at Headspace believe that to be less stressed, more resilient, and happier, we need just a few minutes of mindfulness a day.
Like the Audible prize give in February's giveaway, Headspace is especially beneficial for blended learning settings as it sets us up for conquering the digital world and empowers us to nurture our minds, body and spirit.
The subscription up for grabs gives each winner 12 months to de-stress, increase focus, and create a better life-work balance.
How to Enter
To enter the contest all you need to do is comment here with HOW YOU PRACTICE CREATIVITY IN YOUR PERSONAL AND PROFESSIONAL LIFE.
You must be a registered user on EPALE (but you are already here on EPALE so go on, comment!)

EU Resident

Be one of the following: educator; trainer; guidance counsellor; practitioner; policy maker; VET provider or academic within the Adult Learning sector
Selection
The winner will be chosen at random from the comments in the comment section.
How to Claim
The digital subscription will be sent to the winners via email after the announcement is made on EPALE and on EPALE Ireland's Facebook and Twitter account.
What EPALE theme does this fall under?
Inclusive Social Change

Digital Transition and Opportunities for Blended Learning

Life and Work Skills for Enabling Adults to Learn
Terms and Conditions
Please see the full T&Cs before entering in the comment section.
Ready to Win?
We are incredibly excited about this giveaway, and we look forward to being introduced to your favourite digital tools. Thank you for making our community so vibrant!