Igra in igrifikacija v izobraževanju in usposabljanju
Igre ustvarjajo sodelovanje – to pa je temelj vsake učne izkušnje. Z naraščanjem priljubljenosti digitalnih iger in vmesnikov je ključno, da postanejo tudi igre del učnega orodja vsakega izobraževalca.
V delu The Gamification of Learning and Instruction, Game-based Methods and Strategies for Training and Education avtor Karl M. Knapp ponazarja načela igrifikacije (gamification) skozi številne primere besednih iger.
Učni strokovnjaki ugotavljajo uspešnost uporabe, ki temelji na igrifikaciji za razvoj pouka. To je prva knjiga z nasveti, kako oblikovati spletni pouk, ki izkorišča najboljše elemente (spletnih) iger za povečanje učenja in uporabe. Pojasnjuje, kako povezati različne strategije igre z vrstami učnih vsebin za najboljši učni izid, ter opisuje, kako se tehnike igrifikacije lahko uporabljajo v različnih okoljih za izboljšanje učenja in uporabe znanja.
Knjiga na podlagi študij in primerov iz družb, ki so uspešno sprejele na igrah temelječe učenje, prikazuje, kako lahko združevanje klasičnega poučevanja s koncepti igre ustvari interaktivno učno izkušnjo.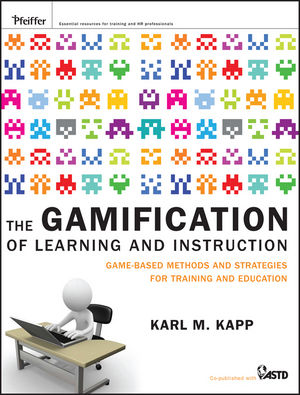 Pojem igrifikacija označuje rabo igralnih tehnik in mehanik v namene reševanja problemov in povečanja motivacije pri izvajanju želene aktivnosti.
Knjiga je na voljo tudi v Knjižnici Andragoškega centra Slovenije.