Nové číslo časopisu Mozaika se věnuje digitalizaci a virtuální výuce

Přečtěte si rozhovory s učiteli a odborníky z praxe. Nechybí ani výběr inspirativních projektů a tipů pro váš profesní rozvoj.
Nové číslo našeho magazínu Mozaika si můžete přečíst v elektronické podobě.
A jaké články najdete v aktuálním čísle? 
Ředitel Smíchovské střední průmyslové školy a gymnázia Radko Sáblík se zamýšlí nad nešvary ve využívání moderních technologií při výuce na školách. Jaké to jsou, se dozvíte hned v úvodu Mozaiky.
V rubrice Do Hloubky přehledně představujeme momentální možnosti výjezdů v rámci programu Erasmus+. Současnou situaci v článku komentují studenti i vzdělavatelé.
Projekt tanskunst, který byl realizován v loňském roce s finanční podporou programu AKTION česká republika – Rakousko, proběhl jako jeden z mála zcela virtuálně. Jak se s digitální podobou projektu vypořádala jeho autorka, doktorka Michaela Kuklová a ještě mnohem více, nám prozradila v rubrice Dobrá praxe.
"Ženy patří za plotnu, a ne k počítači. Natož aby v něm něco programovaly nebo vyvíjely. Stejně na to nemají mozek. Podobné předsudky se snaží již sedm let vyvracet nezisková organizace Czechitas," píše v rubrice Profil Lucie Rychlá, kde představuje vítěze Národní ceny kariérové poradenství za rok 2017.
"Během studia v Norsku jsem si při zimním putování v horách otestovala nejen svoji fyzičku, ale i psychickou odolnost. A výzvou pro mě bylo i psaní esejí a písemných zkoušek v angličtině,", říká v rozhovoru o svém studijním pobytu v rámci programu Erasmus+ v Norsku Eva Schmiedová, studentka Masarykovy univerzity v Brně.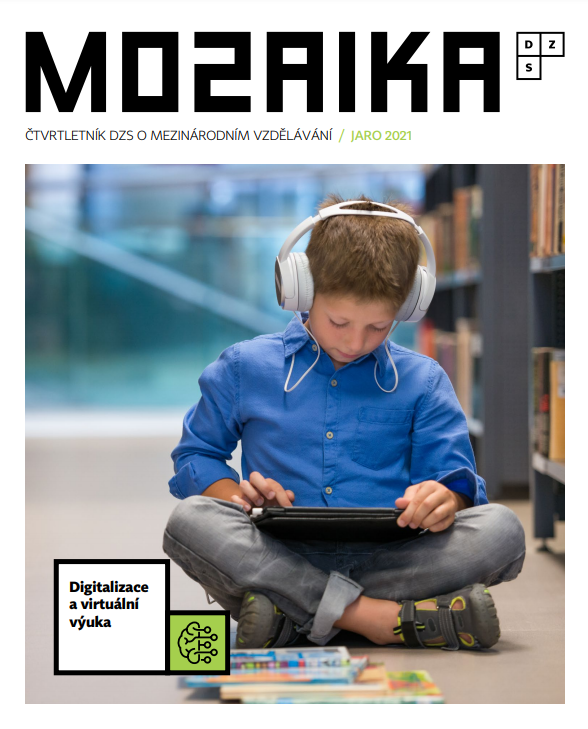 Zdroj: Nové číslo časopisu Mozaika se věnuje digitalizaci a virtuální výuce | Dům zahraniční spolupráce (dzs.cz)
Resource Details
Copyright status
Open source