Złap balans
Złapać balans – to hasło przyświecało nam podczas mobilności do Wiednia i Timisoary w ramach projektu Erasmus+, w którym bierze udział Poleski Ośrodek Sztuki. Przed pierwszym spotkaniem z uczestnikami, w trakcie podróży rozmawiałyśmy o poszukiwaniu równowagi, o balansie pomiędzy życiem osobistym, odpoczynkiem, aktywnością fizyczną, dbaniem o siebie i rozwijaniem własnych pasji a pracą. To właśnie praca pochłania większość naszej energii, i w niej spędzamy większość dnia. Często nasze myślenie jest skupione na sprawach zawodowych również w domu. Czy zatem czas, który spędzamy w pracy, nie powinien zawierać elementów równoważących wysiłek w nią wkładany?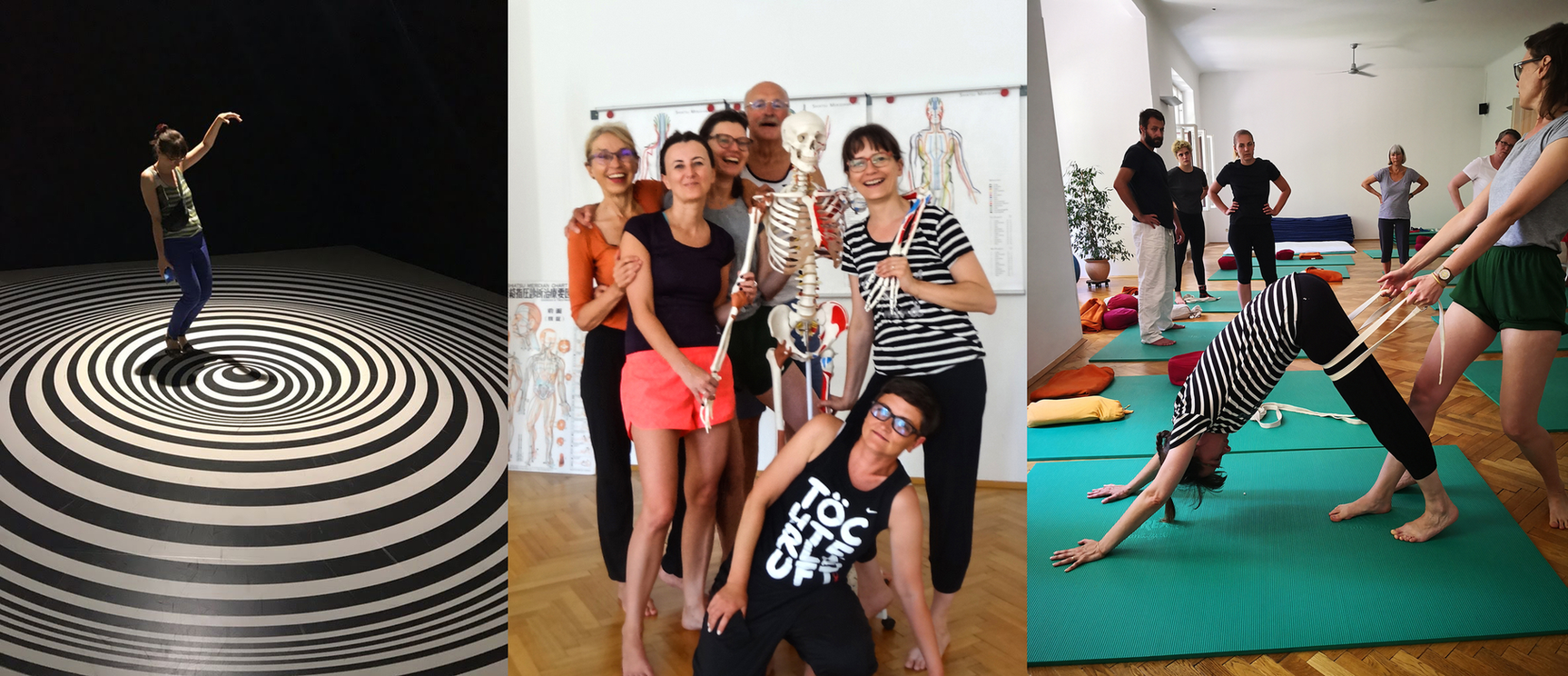 Twórcza praca w kulturze wymaga także relaksu, kontemplacji, burzy mózgów, życzliwej atmosfery, aby nie groziło nam wypalenie zawodowe.
Teraz, gdy nasza działalność jest ograniczona przez pandemię Covid-19 myślę, że wszystko dla większości z nas uległo przewartościowaniu. Oczywiście każdy ma inną sytuację. Lekarze zaangażowani w walkę z Covid rzadko widują swoje rodziny i lękają się, żeby ich nie zarazić. Rodzice dzieci w wieku szkolnym muszą łączyć pracę z prowadzeniem zajęć lekcyjnych. Niektórzy borykają się z brakiem pracy, niektórzy z izolacją lub depresją. Wszystko to może być impulsem, który spowoduje, że zwrócimy się ku temu, co najważniejsze. Być może zachwiane są nasze relacje rodzinne? Być może zbyt wiele czasu poświęcaliśmy pracy? Być może zbytnio nastawieni byliśmy na sukces zawodowy i to właśnie jemu podporządkowane były relacje, które tworzyliśmy. Może tkwiliśmy w jakimś pędzie naprzód nie oglądając się za siebie, bez chwili odpoczynku i zastanowienia, zaprzęgnięci w codzienną aktywność. Pora na sztukę uważności.
W Wiedniu poszukiwaliśmy równowagi w praktykach fizycznych takich jak joga i shiatsu. W Timisoarze stosowaliśmy teatralne praktyki oraz techniki pracy z głosem, które pozwalają odnaleźć się w tym co nas otacza. Zajęcia ze storytellingu pokazały nam, jak ważne jest codzienne komentowanie tego, co się wydarzyło, i że formułowanie refleksji sprzyja odkrywaniu – poprzez pisanie poznajemy samych siebie i świat. Pora wykorzystać te narzędzia! Pora spojrzeć głębiej i odpowiedzieć  sobie na pytanie, czym jest dla mnie rodzina, czym odpoczynek, czym praca? Kim jestem?
………………………..
Poleski Ośrodek Sztuki w Łodzi zajmuje się promocją i edukacją kulturalną, ale również szeroko rozumianym wellness. Zagadnienia, o których mowa, mają odzwierciedlenie w proponowanych przez Ośrodek zajęciach, sesjach tematycznych z cyklu Eco life – Eco art, są także elementem większych projektów, takich jak Międzynarodowy Festiwal Teatralny Terapia i Teatr oraz Międzynarodowy Plener Form z Wikliny i Land Art'u.
Więcej informacji o projekcie "Złap równowagę"