Je verižni člen lahko iz papirja?
Verižni eksperiment je v Zasavju že zelo dobro znan po zaslugi srčnih ljudi – strokovnih delavk, prostovoljcev in predšolskih otrok. Otroška radovednost in iskreno navdušenje nam daje  voljo, ideje in zagon za gradnjo novih verižnih členov. Otrokom lahko samo samo tisto, kar imamo sami. Zato smo odšli na Hrvaško po nova znanja.
Tretji teden letošnjega januarja smo ponovno zamenjali pisarne za delavnice, računalnike in svinčnike pa za kladiva, žage, škarje ... Četrto delovno srečanje Erasmus+, projekta Verižni eksperiment je bilo v Koprivnici na Hrvaškem. Zasavska ljudska univerza sodeluje kot partner v omenjenem projektu, ki ga vodi Ljudska univerza Jesenice. Iz Zasavja, kot partner v projektu, sodeluje tudi Vrtec Zagorje ob Savi.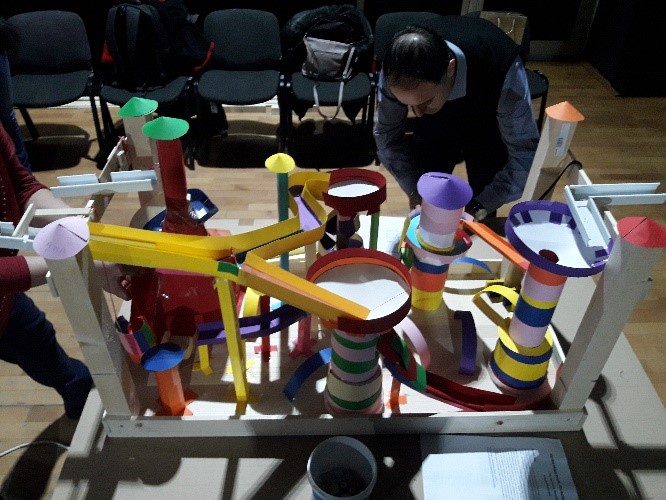 Srečanja se je udeležilo 37 udeležencev iz petih držav. Razdeljeni smo bili v šest nacionalno mešanih delovnih skupin. Velik izziv pri delu nam je predstavljala komunikacija. Težave pri sporazumevanju so se pokazale predvsem pri tistih udeležencih, ki govorijo le svoj materni jezik in ne znajo angleško. Takrat smo se morali znajti drugače – uporabili smo kretnje rok, obrazno mimiko, tudi pantomimo in na koncu smo se vsi dobro razumeli.
Na vsakem od delovnih srečanj smo se naučili graditi drugačne vrste členov iz različnih materialov. Pogosto se uporabljajo odpadni materiali, les, plastika… Tokratnja gradnja je bila poseben izzivi, saj smo za izdelavo člena morali uporabiti papir. Naloga se je sprva zdela misija nemogoče, v nadaljevanju pa smo presenečeno smo ugotavljali, da je papir zelo uporaben material in kakšne različne oblike se lahko izdelajo iz papirja. Naš mentor Stane nas je »vrgel« iz cone znanega in že po nekaj dneh smo z veseljem ugotovili, da delo z njim sploh ni tako zahtevno, kot smo si na začetku predstavljali. Ja, verižni člen je lahko tudi iz papirja.
Všeč nam je bilo, da smo lahko bili pri izdelavi tega člena zelo ustvarjalni. Izživeli smo otroka v sebi in spečo kreativnost. Naša naloga je bila tudi zagotoviti povezljivost vseh členov med seboj, kar nam je dobro uspelo.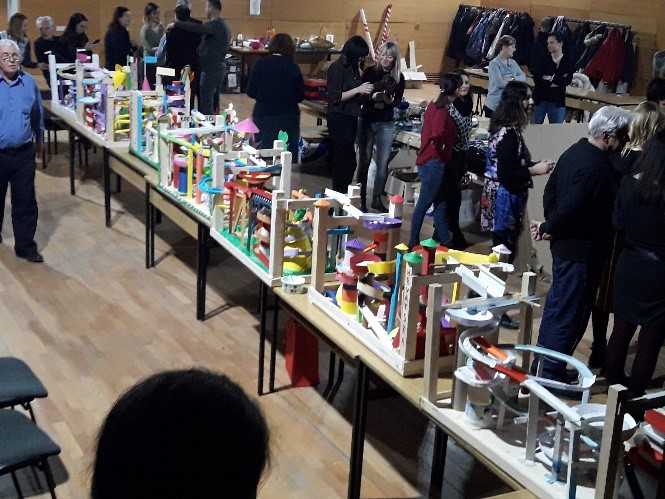 V februarju smo podoben člen, kot smo ga »premierno« zgradili na Hrvaškem, začeli izdelovati  skupaj z otroci iz Vrtca Zagorje ob Savi, enote Maja. To bo v letošnjem šolskem letu že drugi člen, ki ga bomo v verigi prijateljstva in medgeneracijskega sodelovanja izdelovali skupaj majhni in veliki.Otroci skupaj z mentorji iz Zasavske ljudske univerze in Vrtca Zagorje ob Savi ter prostovoljci izjemno uživajo pri krepitvi in raziskovanju mej svojih tehničnih spretnosti. Ko te petletnik v ponedeljek zjutraj vpraša: » A danes pa ne bomo delali?«, veš, da delaš nekaj, kar jih zanima in si bodo zapomnili za celo življenje. In to je tisto kar šteje.Ob koncu šolskega leta, v maju, bodo izdelane verižne člene in svoje nove ročne spretnosti zagorski otroci predstavili tudi svojim staršem in širši javnosti.
Projekt je podrobneje predstavljen v prispevku z naslovom Verižno eksperimentiranje v vrtcih. 
Mateja Pistotnik je sodelavka Zasavske ljudske univerze, partnerice v projektu Verižni eksperiment