Resource
Posted by Andreja Dobrovoljc
Ob letošnjih že 15. Dnevih slovenskih svetovalnih središč, ki bodo potekali med 25. in 27. septembrom 2019, so središča ISIO in Andragoški center Slovenije izdali skupni časopis Info ISIO 2019–2020.
Časopis je namenjen vsem odraslim, ki jih zanimajo različne možnosti izobraževanja in učenja. V letošnji številki najdete uporabne prispevke in namige o izobraževanju.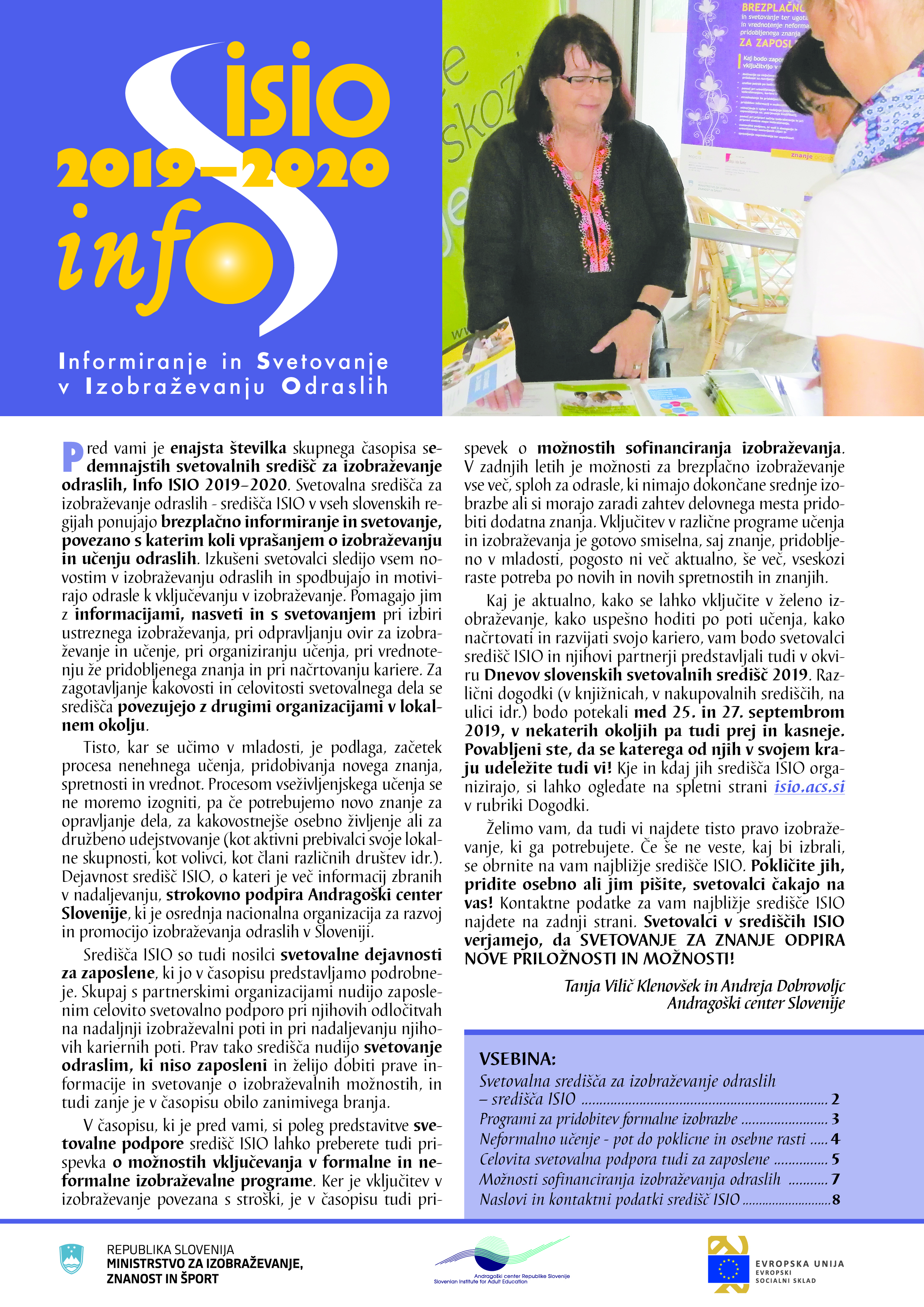 Predstavljene so možnosti:
vključevanja v formalne in neformalne izobraževalne programe in usposabljanja,
svetovalne podpore, ki jo nudijo središča ISIO,
neformalnega učenja in izobraževanja za različne skupine odraslih ter
sofinanciranja izobraževanja.
Osrednji del časopisa je namenjen predstavitvi svetovalne dejavnosti za zaposlene, ki jo središča ISIO skupaj s partnerji izvajajo po celotni Sloveniji. Poleg uporabnih prispevkov v njem najdete tudi zgodbe zaposlenih, ki so s pomočjo svetovalne dejavnosti gradili svojo izobraževalno in karierno pot.
Vabljeni k branju!
Mag. Andreja Dobrovoljc je zaposlena na Andragoškem centru Slovenije, na področju izobraževanja deluje 20 let. Njeno področje dela je razvoj svetovalne dejavnosti v izobraževanju odraslih. 
Publication Date:
Monday, 9 September, 2019
Language of the document:
Slovenian
Copyright Status:
No cost. Freely available to download.