''THE WINDS OF LITERATURE''POETRY COMPETITION
Turkey
,
EDREMİT,BALIKESİR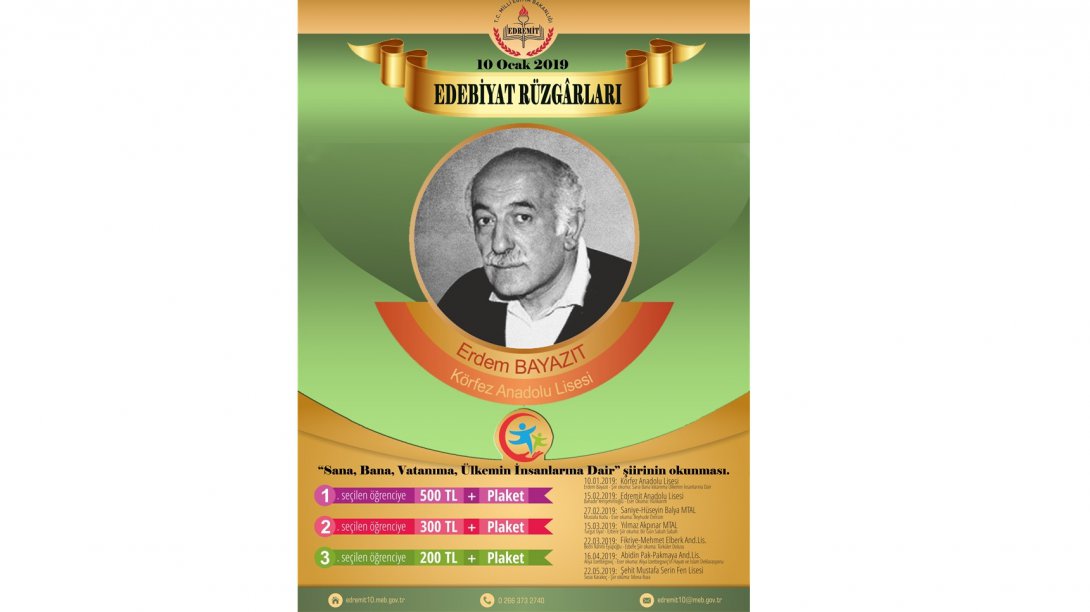 Within the scope of Bengi project, which is carried out under the auspices of our Governor ERSİN YAZICI, under the Coordination of our Provincial National Education Director YAKUP YILDIZ and Edremit District Education Director YUSUF KOÇ, "The Winds of Literature ''Project prepared by our directorate starts on Thursday, January 10th at the poetry reading competition organized among high school students in Edremit.
    The first of the literary winds project competition is organized by Edremit Bay Anatolian High School. In this first competition to be held in the conference hall of the school, our students will compete to read Erdem Bayazıt's "You, Me, My Homeland, people of my country', one of the most valuable figures of our literature. The first prize will be 500 TL, the second prize will be 300 TL, and the third prize will be 200TL. All students participating will receive a certificate of participation. We wish all our contestants success in advance.
Event Details
Organiser type
Other event
Organiser name
Edremit Bay Anatolian High School
Target group
Academics, students, researchers in andragogy
Recognition / certification of participation
Certificate for all the participants and money prizes fot the first,second and third winner.