When staff from the penitentiary administration, trainers and volunteers work altogether in an Erasmus+ project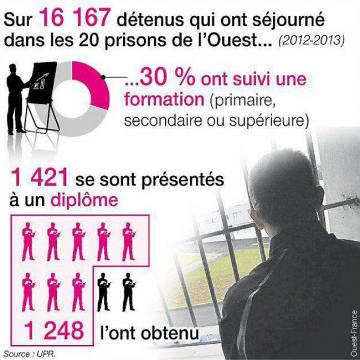 Erasmus+ project "MOPPPI" is presented upon the initiative of a consortium of organizations from Bordeaux (FR) involved with the education, probation and integration of adults under judicial control, namely:
The Penitentiary Center of Bordeaux-Gradignan,
the Integration and Probation Service of Gironde (SPIP),
INSUP a non-profit training organization for the qualification and integration of disadvantaged groups, including prisoners,
the association ALIFS which offers cultural activities in prisons, 
MAI 33, a help centre that provides information and support to prisoners and their relatives.
The project will implement a European mobility training scheme for the professionals and volunteers of these institutions.
Objectives: to promote awareness to Europe within the institutions, the training of their staff and the implementation of European rules; to foster actions to promote education, training, to limit reoffending risks and integration of prisoners or persons under alternative sentences.
How: 5 flows of 1-week mobility events in Europe to attend a training course or to be involved in job shadowing with peers.
Participants to mobility activities are officers and staff from the penitentiary administration, probation officers, INSUP trainers, ALIFS cultural action workers and MAI 33 volunteers.
Expected results for the 40 participants: improve their professional and intercultural skills, identify best practices, boost thier motivation, renew their vision of their activities. And think about innovative actions and major institutional projects such as the future Penitentiary Centre to be built in Bordeaux.
The project will also focus on: 
learning skills identified abroad concerning detention, probation and integration regimes
how they could be transferred within the consortium entities and more generally, how to allow the staff involved to benefit from the experience of their European peers.
At a European level, the project will involve:- The Italian consortium OPEN, whose participants have already been hosted by the members of the French consortium during two training sessions in Bordeaux. European partners in Spain, the United Kingdom and Belgium will also be involved according to specific themes such as restorative justice or probation management or measures to support integration.- The British association "Restorative Justice For All", promoter of innovative mediation approaches.A Spanish and a Belgian or Dutch partner still need to be confirmed.