Springboard Courses Deliver Opportunities to Upskill (free)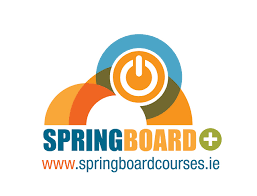 Springboard+ is an upskilling initiative in higher education in Ireland, which enables participants to gain qualifications in areas where there are job opportunities.  
Approximately 200 courses are offered at certificate, degree or masters level, in growing sectors such as ICT, manufacturing and international financial services. Most Springboard+ courses are part-time, which means that participants can keep social protection supports. Some courses are intensive and full-time, others may be available as distance courses.
Springboard+ is co-funded by the Irish Government and the European Social Fund as part of the ESF programme for employability, inclusion and learning 2014-2020. There is no charge to learners who participate in a Springboard+ course.
Between 2011 and 2016, 16% of Springboard+ participants had no previous higher education qualification.  A recent report shows the employment outcomes for Springboard+ participants.
Applications are now being accepted for 2017-18 courses from numerous categories of learners, including:
Homemakers
Unemployed people
Previously self-employed people
And
People who are currently in employment may apply for:
An ICT conversion course,
Courses in the manufacturing sector (such as Biopharma),
Or, they may wish to upskill from an Ordinary Degree (level 7) to a level 8 qualification.
For further details, see the Springboard Courses website.