Skillman training on "UNBOXING THE MFF SESSION II — ACCESSING DIRECT GRANT FUNDING PROGRAMMES"
Remote Event
to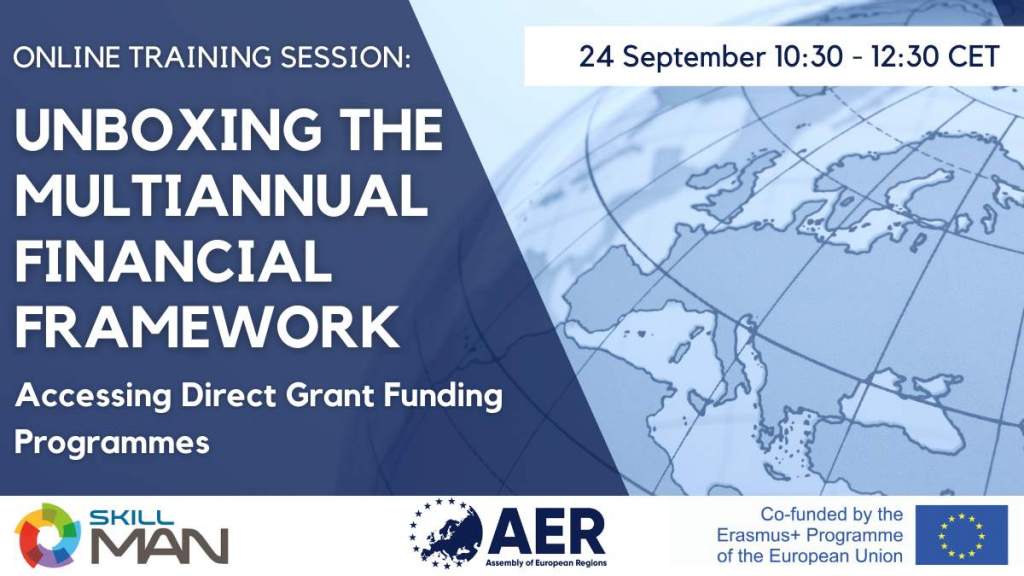 Together with the NextGenerationEU recovery instrument, the MFF represents an unprecedented €1.8 trillion of funding to support Europe's recovery from the COVID-19 pandemic and the EU's long-term priorities across different policy areas. It is therefore essential that Europe's regions get training with these instruments to ensure a robust and sustainable recovery.
That is why as part of the Skillnet Project, the AER has put together 3 information sessions to help regions make the most of the MFF and NextGenerationEU Package. Featuring insights from experts at the European Commission, these webinars will give regions guidance on how to plan initiatives and projects that can benefit from the different funds.
What's in it for regions?
The first session set out how regions can make the most of different streams within Cohesion & Rural Development Funds, with 150+ attendees from all across Europe getting the low-down on all the opportunities available to them at EU level. The second session of the 'Unboxing the Multiannual Financial Framework' series will cover some of the main direct grant funding programmes, notably Digital Europe, Creative Europe, Erasmus+, Horizon Europe (Pillar 2) and Life. Participants will get insights on:
The overall structure and features of the MFF 2021-2027;
Highlights and updates on the new EU programmes Digital Europe, Creative Europe, Erasmus+, Horizon Europe (Pillar 2) and Life;
Insights on funding streams within the NextGenerationEU recovery package.
Participants will also have a chance to put their questions to the European Commission directly in our extended Q & A session. The line-up for this session will be announced shortly.
How can I take part?
This session will take place via Zoom. As places are limited we encourage you to register early to ensure you can join. Regions are welcome to invite local stakeholders (SMEs, NGOs, Academia, etc) who would benefit from insights on these new instruments.
Event Details
EU project nr.
609063-EPP-1-2019-1-IT-EPPKA3-VET-NETPAR
Organiser type
Other event
Organiser name
Skillman.eu & AER
Registration capacity
>100