Quality Assurance, Capacity Building and Promotion of Adult Education Subjects of the New Agreement on Cooperation with the Ministry of Education of Sarajevo Canton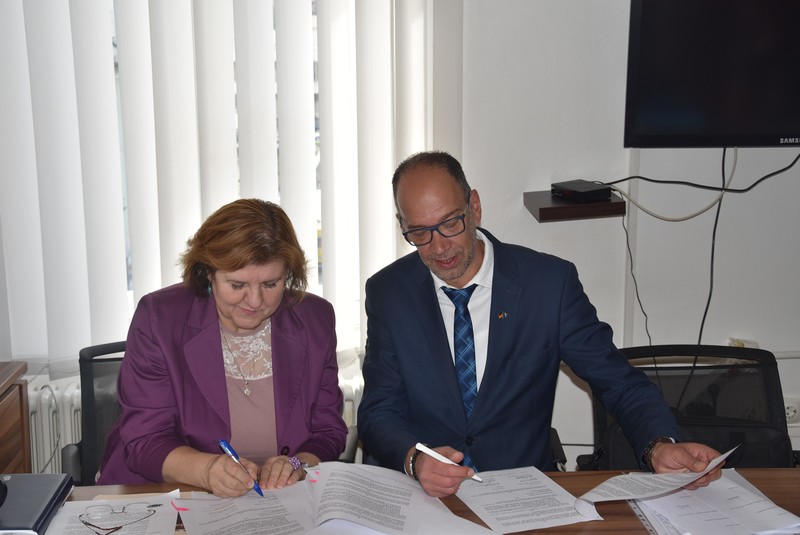 Support of DVV International to the institutions responsible for creating and implementing adult education policies continues in Sarajevo Canton too. Therefore, the Minister of Education, Science and Youth of Sarajevo Canton, Mr. Zineta Bogunić and the Director of DVV International - Country Office Bosnia and Herzegovina, Dr. Emir Avdagić, signed the Agreement on Cooperation in the Field of Adult Education on Friday, 26th of April.
Ministry of Education, Science and Youth in Sarajevo Canton has a key role in the adult education system in Sarajevo Canton and is responsible for its appropriate legal regulation, practical implementation, continuous development as well as promotion in public. Thereby, DVV International will continue to provide professional and financial support to the Ministry in implementation of activities in the field in the following period, what was made official by signing the Agreement on Cooperation.
Further cooperation in 2019, based on this agreement, includes:
participation of representatives of the ministry in developing software for monitoring and quality assurance in adult education and in a training on the usage of the developed software;
participation of professional associates of the ministry in two trainings on the topics: importance, tasks and roles of associates for adult education, unified working processes, communication and visibility of adult education; and
preparation, organisation and implementation of a round table in Sarajevo Canton on "Accreditation of adult education providers and networking in adult education".
The agreement is part of DVV International's strategy and is in accordance with its aim of supporting adult education, inter alia, in transitional countries of Southeast Europe, Caucasus and Turkey.
Source: http://www.dvv-international.ba/