A practical training programme for migrants in Malta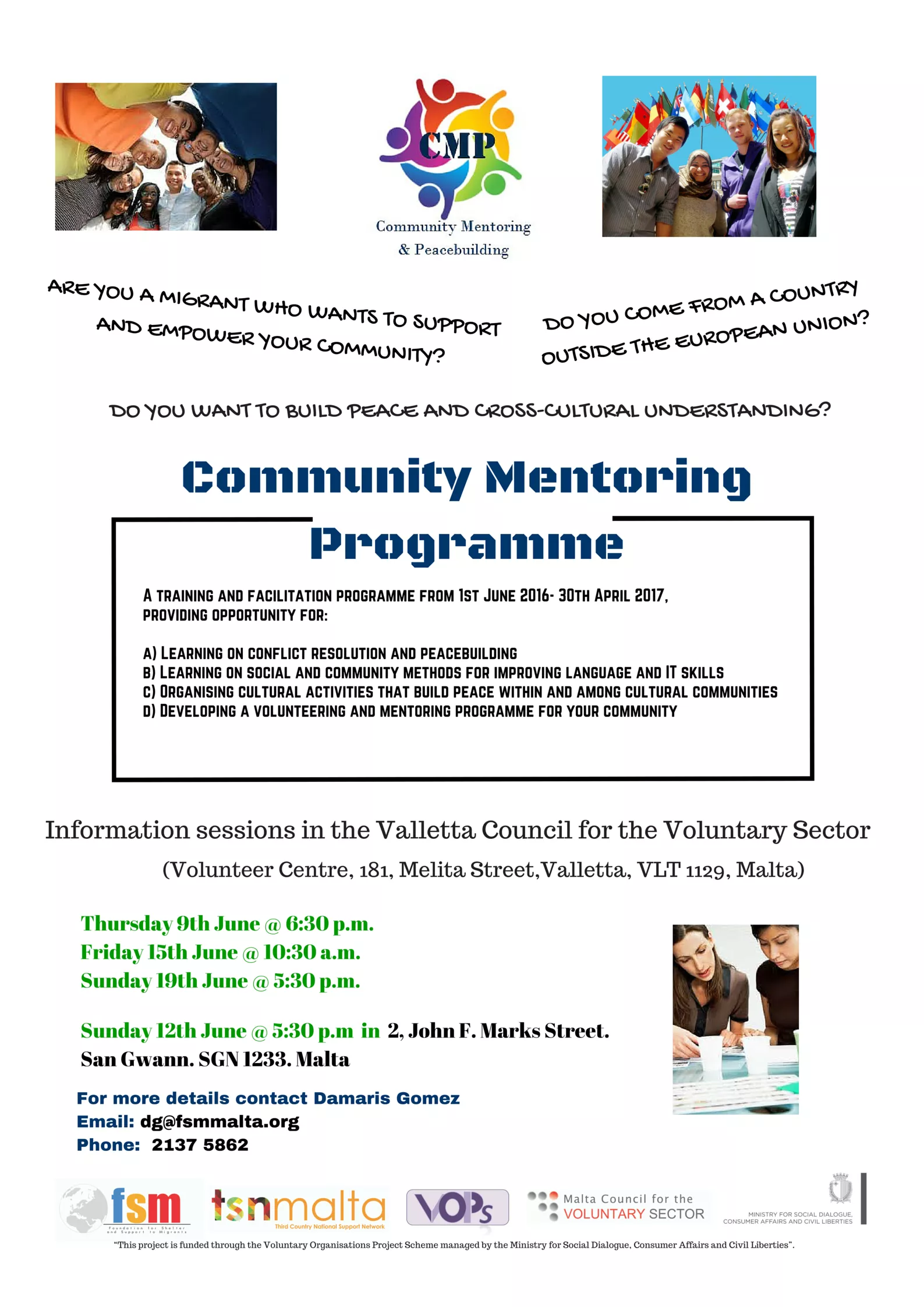 The Foundation for Shelter and Support to Migrants (FSM) and the Third Country National Support Network (TSN Malta) are inviting interested migrants to participate in a training programme on mentoring, peacebuilding, and community methods for supporting people to improve their basic skills in communication, language and literacy for employment.
The aim of this project is to train migrants and their communities to develop their own mentoring and support skills and programmes for helping vulnerable persons integrate in society through the provision of mentoring and support. The project will provide learning and support tools, based on community methods, that participants can use to start their own mentoring programmes to provide employment and social support, to promote literacy, and to help people to improve their language, IT and communication skills, as well as acquire cultural knowledge.
The project will also train migrants in peacebuilding, and on how one can analyse and resolve cultural conflicts. Participants will find space to organise their own cultural events during the project, based on these principles. They will also have the chance to work with migrants from other cultures, and to develop cross-cultural activities.
The training programme, as indicated in the respective document with the programme schedule, is developed as a continuous programme starting in July 2016, and ending in May 2016. Participants can attend the whole program, but in the case of communities and organisations different members can attend different training components so that the group can work as a team following the principle of collective leadership. FSM and TSN Malta encourage migrants to participate.  The following requirements for needed by the participants:
a) Has been Malta for at least 1 year
b) Has a good command of English
c) Is committed and motivated to learn
d) Is interested in supporting vulnerable persons in the community
e) Is open to learning and working with other cultures
Preference will be given to persons who form part of migrant organisations, or who seek to do so.
Introduction meetings will be held as indicated in the project poster. Registration deadline is 20th June 2016.