Plenary Assembly and Annual Conference of EMA, the EUROPEAN MEDICAL ASSOCIATION
Remote Event
to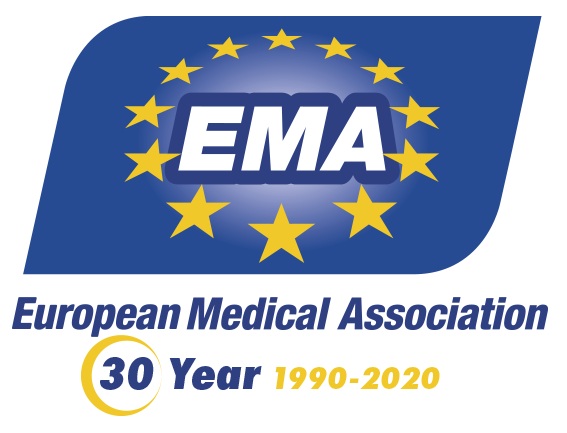 We announce the forthcoming Plenary Assembly and Annual Conference of the EUROPEAN MEDICAL ASSOCIATION https://emanet.org/ , which will be webcast Saturday  19th  December 2020, from 10.00 to 12.00 by the Platform Microsoft Teams.
Agenda
10.00:   Vincenzo Costigliola. President's Introductory Remarks.
Profile and feature of the current EMA's Board;  Size of the direct audience of the Association's Newsletters; Mission and key interventions 2018-2020; Ongoing Projects topical amid COVID-19 pandemics (IProcureSecurity https://project.iprocuresecurity.eu/ ); Partnership's with Associations and Institutions
10.30: Presentations of EMA's activity:
Maria Rosa Fenoll, Education Vice-president
Angelo Manenti,  General Secretary
Guglielmo  Trovato, EMA's  Director  for Media, e-learning & e-medicine
 11.00  News  from  EMA Representative: Russia, Azerbaijan Kazakhstan, India
11.15: Invited speakers
Umberto Solimene: FEMTEC collaboration
Daniele Arces:  Role of GPs in the pandemic
David  David A. Hall:   GMDVA Project
11.30: Comments and questions
 11.45:  President's Conclusion and proposals for the future.
If interested, please join in  the meeting  cliking on the following link
https://teams.microsoft.com/l/meetup-join/19%3ameeting_NTc1ZDVmNDctNTc5…
Event Details
EU project nr.
Grant Agreement No 833291.
Organiser type
Other event
Organiser name
EMA the EUROPEAN MEDICAL ASSOCIATION
Contact details
vincenzo@emanet.org
Number of delegates
< 100
Target group
Policy makers
Media professionals
Aims and objectives
Fostering the response capacities and increasing the cooperation of the European Health Professionals
Expected (learning) outcomes
Information on EU Policies and directives
Recognition / certification of participation
no