Pact for Skills - Stakeholders' survey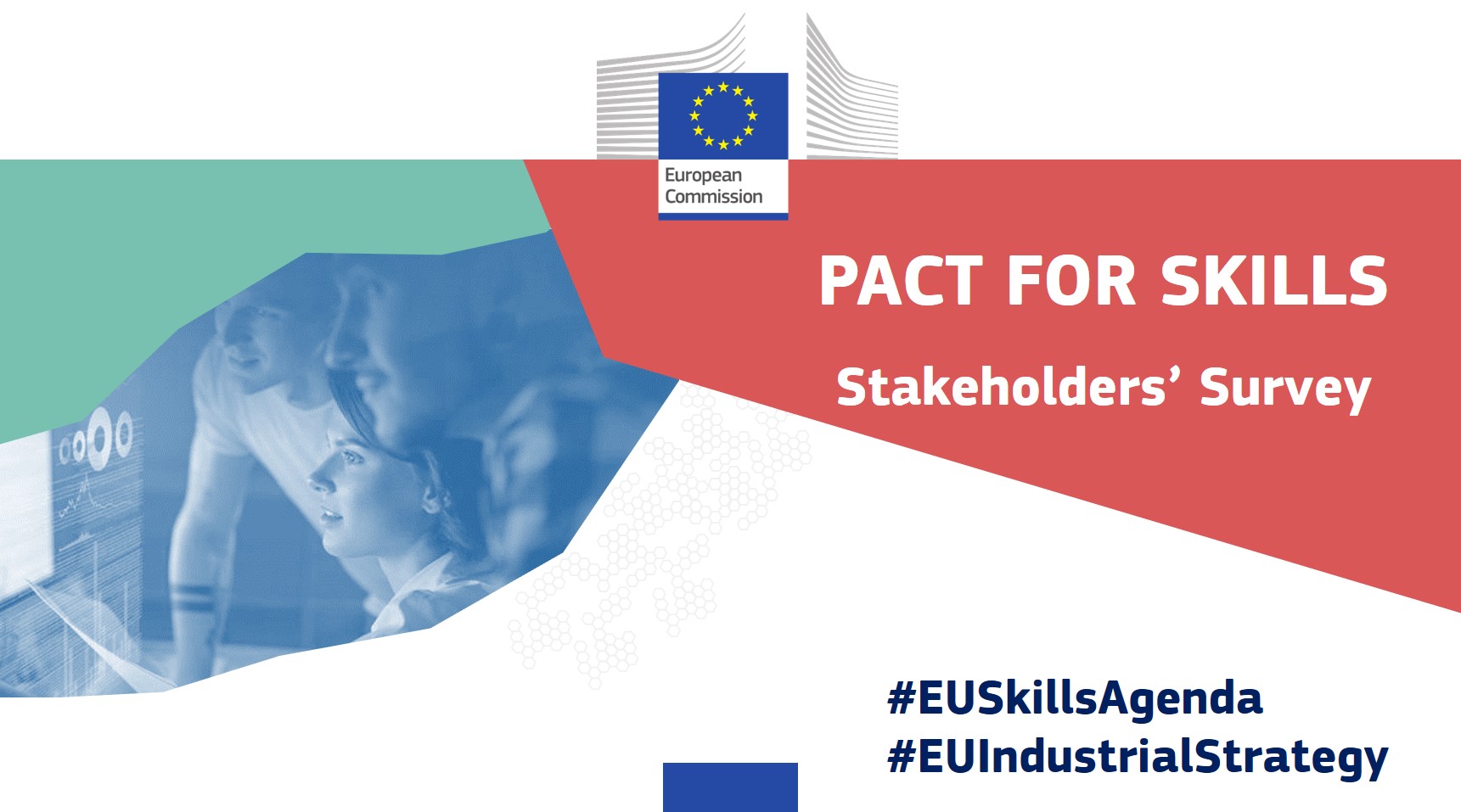 In the European Skills Agenda the European Commission proposed a Pact for Skills (to be officially launched in November during the 2020 European Vocational Skills Week). It is new engagement model for skills that will help meet COVID-19 challenges and deliver on the ambitions of the recovery pathway, the EU Industrial Strategy and the green and digital transition.
Skills are key for the future. There is a growing need to learn and keep on learning in order to thrive. Only by acting together, we can bring about the scale of change required to foster an economic recovery that is socially inclusive. Under the Pact industry, public and private employers, social partners, education and training providers and employment agencies will be called to work together on shared vision and actions. 
The Pact aims to mobilise and incentivise all relevant stakeholders to take concrete actions for the upskilling and reskilling of people of working age, and, when relevant, pool efforts thanks to partnerships. It can be implemented through:
·       individual commitments of companies or other stakeholders;
·       the commitment of existing organisations/partnerships;
·       the launch of large-scale European public-private multi-stakeholder partnerships.
To ensure a common understanding of key principles underlying upskilling and reskilling activities, to help the different organisations joining the Pact for Skills, to rally around common values and priorities, and to achieve shared objectives the Pact will follow a Charter.
The Charter will be a set of principles regarding quality of commitments on upskilling and reskilling of working age people. It will be firmly anchored in the principles of the European Pillar of Social Rights. It will also support the goals of the European Green Deal and the digital transformation, as set out in the Commission communication "A strong Social Europe for Just Transitions".
Get involved! Help us to strengthen the Pact for Skills and its impact by filling in the Stakeholders' Survey. It will take you only 10 to 15 minutes but will provide with valuable feedback on the Pact for Skills and its essential elements.
The survey will be open until 12 October 2020.
Link to the Survey: https://ec.europa.eu/eusurvey/runner/Pact_for_Skills_stakeholders_survey