Online English Conversation Course
Remote Event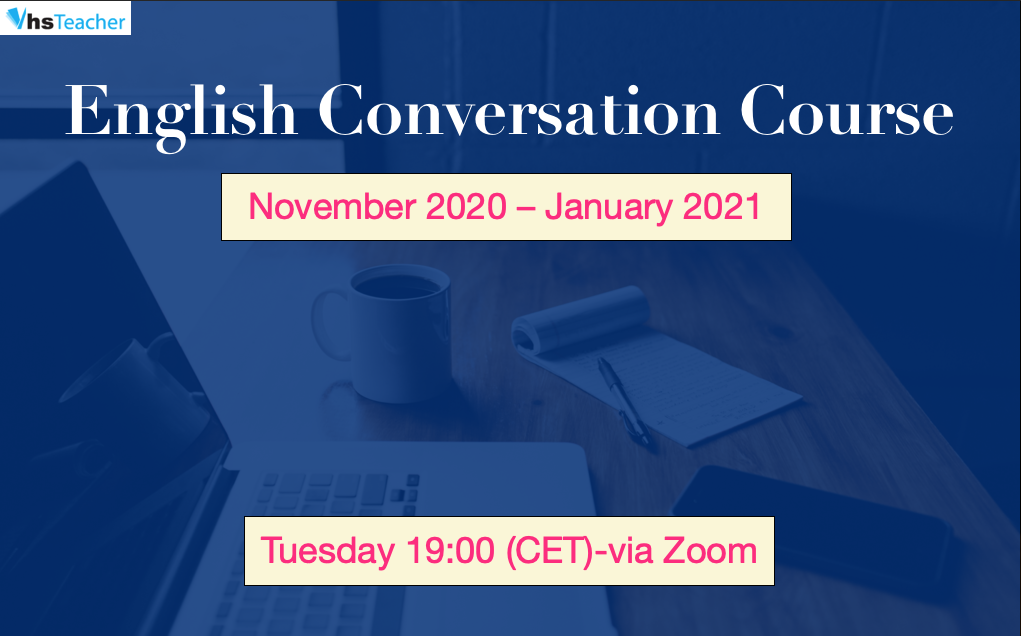 This 12 week online conversation course is designed to improve fluency in English. The course has TWO components.
(1) Homestudy helps to improve reading, vocabulary, comprehension and listening skills. It is also important preparation for group discussions. Exercises are based on authentic reading and listening material from English media (The Guardian Newspaper, BBC, Wikipedia, TED Talks, Youtube, etc.).
(2) In part two, Online via Zoom, the focus is entirely on conversation. For sixty minutes, participants have an opportunity to practise, and enhance, their fluency by engaging in paired discussions with fellow students.
See here for more details: https://vhsteacher.com/online-conversation-course
The course requires a minimum of 8 registered participants
Contact frank@vhsteacher.com
Event Details
Event type
Professional development event
Organiser type
Other event
Organiser name
Frank Mc Girr
Contact details
frank@vhsteacher.com
Number of delegates
< 100
Target group
Academics, students, researchers in andragogy
Adult learning networks & organisations
Policy makers
Media professionals
Aims and objectives
The key aim of this online conversation course is to offer students an opportunity to practise talking English, in pairs, on a weekly basis
Expected (learning) outcomes
It is hoped that participants can advance from simple direct forms of communication to speaking fluently and spontaneously on a wide variety of topics