New MOOC: Learn how to interpret food labels so you can make informed food choices and buy food that supports your health and wellbeing
Huge amounts of information are provided on food product labels, but surveys have shown that we're often unsure of its meaning.
On this course, you'll learn how to make sense of the regulations, data, and logos on packaging so that you can make more informed food choices.
You'll become more aware of what's in the food you're buying, the reference intakes for different people, and the nutritional value and environmental sustainability of different foods.
You'll also gain a better understanding of food labelling regulations, as well as the claims food producers are allowed to make.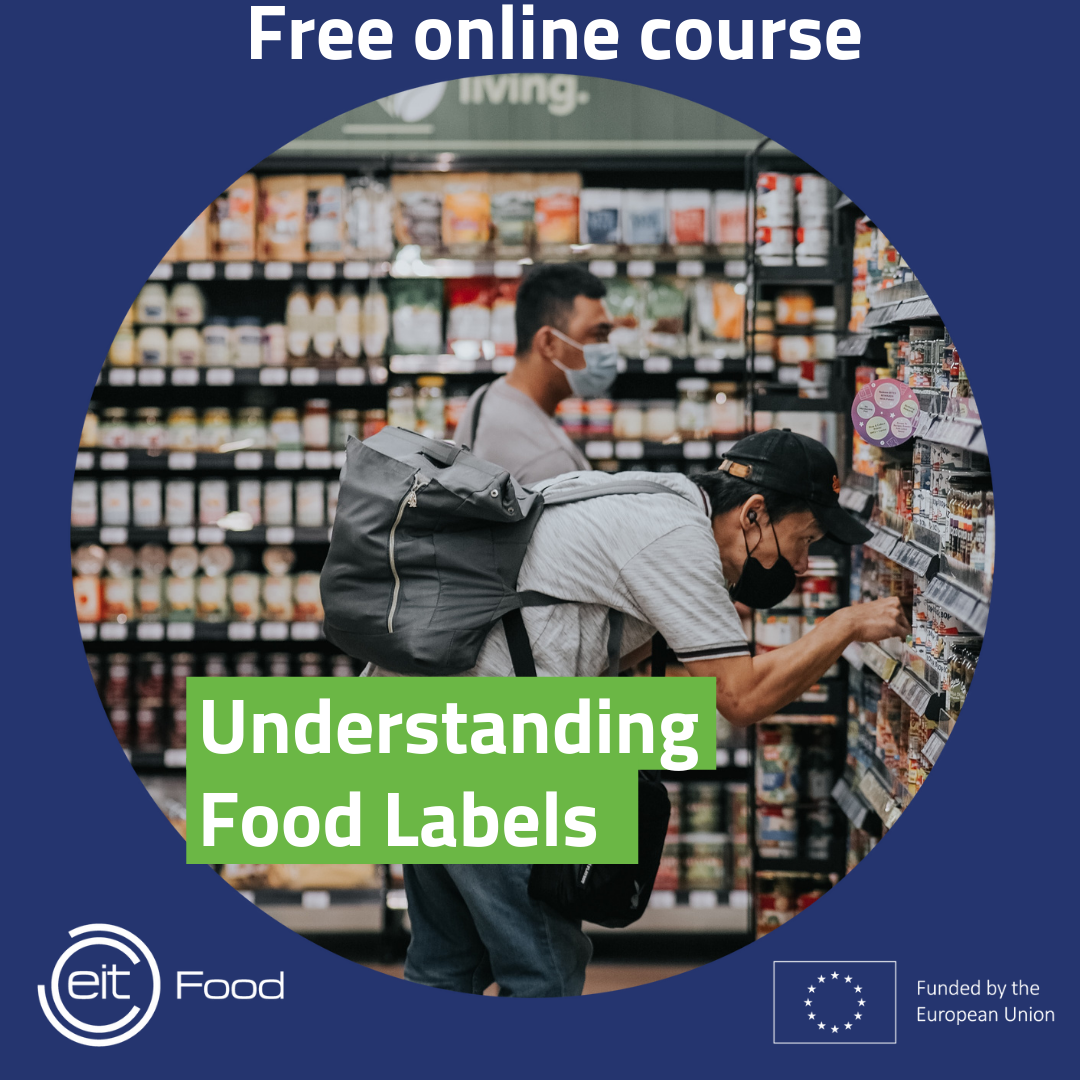 A flexible online course
This course is hosted on FutureLearn, and is accessible free of charge. Participants can learn at their own pace, at anytime, anywhere, either on a laptop, tablet, or smartphone.
95% of learners stated that they gained knowledge thanks to this course developed by University of Reading, in collaboration with the University of Aarhus. "Understanding Food Labels" is 1 of 25 EIT Food online courses available all year round for consumers and citizens.
This course attracted 2,900+ learners from 93 countries to date. It is composed of 9 learning hours, broken down in 3 weeks.
Learning objectives and outcomes
Once completed, participants will be able to:
Interpret why the media is so interested in reporting about food & nutrition, why the 'advice' changes so rapidly and the part we play in that, as readers.

Explore the hierarchy of scientific evidence and judge for yourself whether you believe an example headline.

Explore the biases you bring to what you read and gain a perspective into journalists' agendas which influence how they present scientific evidence.

Identify how to find the original research, how to interpret scientific terms and make sense of statistics.

Discuss where to obtain the information you can trust about food & nutrition and use tools that help identify unreliable studies.
EIT Food Education focuses on looking at ways to attract, develop and empower talent to help transform the food system into an innovative sector, one which produces healthy and sustainable food and is trusted by society. Adult educators and trainers play a crucial role in enabling such transformation.
Connection with 2021 EPALE Thematic Focuses
Since adult education plays a key role in sustainable development and promotes social and environmental dimensions of sustainable development by enabling positive conditions for empowering active citizens, EIT Food may support adult educators in this challenge. This course is a valuable tool for trainings and educational programmes on sustainability and citizenship.
Let's stay in touch
For EIT Food's latest updates, connect with us through Twitter, Facebook, YouTube and Instagram. We look forward to seeing you there!
This blog post has been written by Vivien Bodereau, Education Programme Manager at EIT Food.