New Digital Education Action Plan: public consultation official closing event with EU Executive Vice-President, Margrethe Vestager
Remote Event
to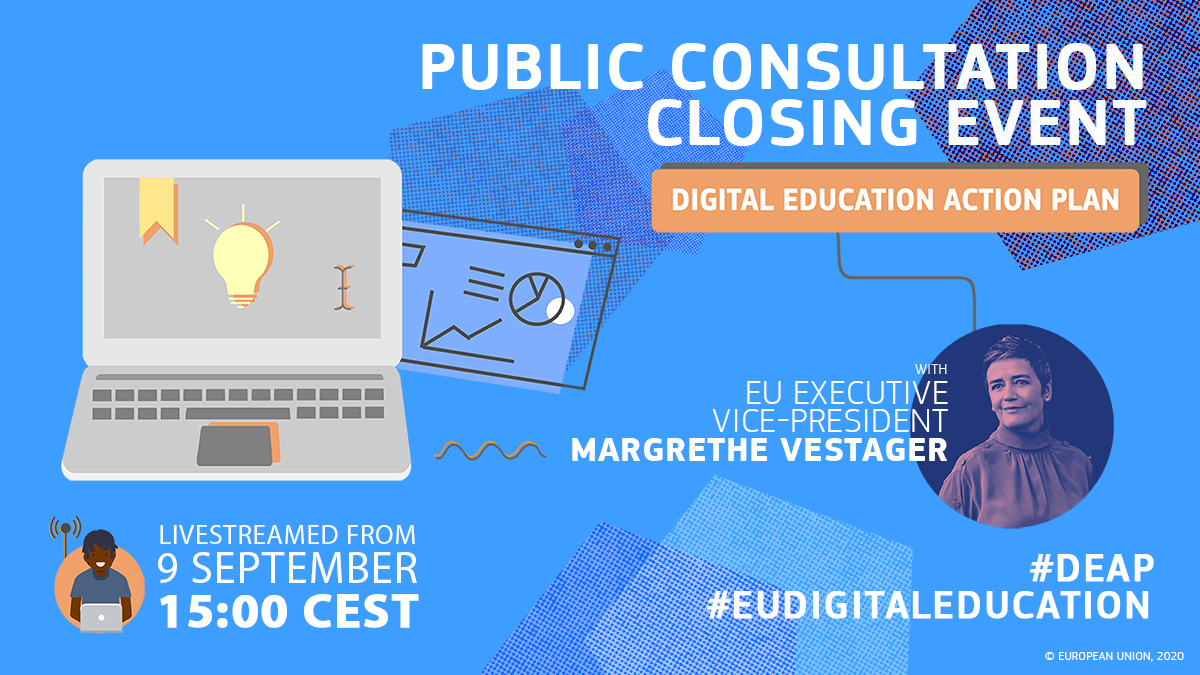 On 9 September, 15:00-16:35 (Central European Summer Time - CEST), the European Commission's Executive Vice-President for a Europe fit for the Digital Age, Margrethe Vestager, will host an online event to mark the closing of the open public consultation on the new Digital Education Action Plan.
The goal of the event is to present the main results of the consultation, collect final reflections and outline the vision for the new Action Plan. It will also be an opportunity for a wide and diverse group of stakeholders at the European, national and local levels to engage with EVP Vestager in a discussion on digital education. 
The session will start with a short opening statement from the Executive Vice-President, followed by a moderated panel discussion on the implications of the COVID-19 crisis and the way ahead for digital education in Europe. The event will finish with an intervention from the German Presidency of the Council of the European Union (EU). 
You can follow the event on the Commission's social media channels:
Send us your questions for the Executive Vice-President during the event:
Open Public Consultation
In September 2020, the Commission will adopt a new Digital Education Action Plan to respond to the COVID-19 crisis and to further promote high-quality, accessible and inclusive education and training in the digital age. 
This event is part of a series of outreach events complementing the EU-wide public consultation on the new Digital Education Action Plan during the months of June to September. The public consultation aims to engage stakeholders from different backgrounds, including education and training organisations, civil society and industry. 
The consultation will inform the new Digital Education Action Plan and gather the views and experiences of citizens, institutions, organisations and companies during the coronavirus crisis. The consultation runs until 4 September 2020 and is available in 23 official EU languages.
Join the debate on Twitter using the hashtags #DEAP and #EUDigitalEducation.
The Action Plan contributes to the European Commission's broader ambition to create a European Education Area by 2025.
Event Details
Organiser type
Other event
Organiser name
European Commission
Target group
Academics, students, researchers in andragogy
Adult learning networks & organisations
Projects & partnerships
Policy makers
Media professionals