My Compass - orientation bootcamp for jobs in the web
Remote Event
to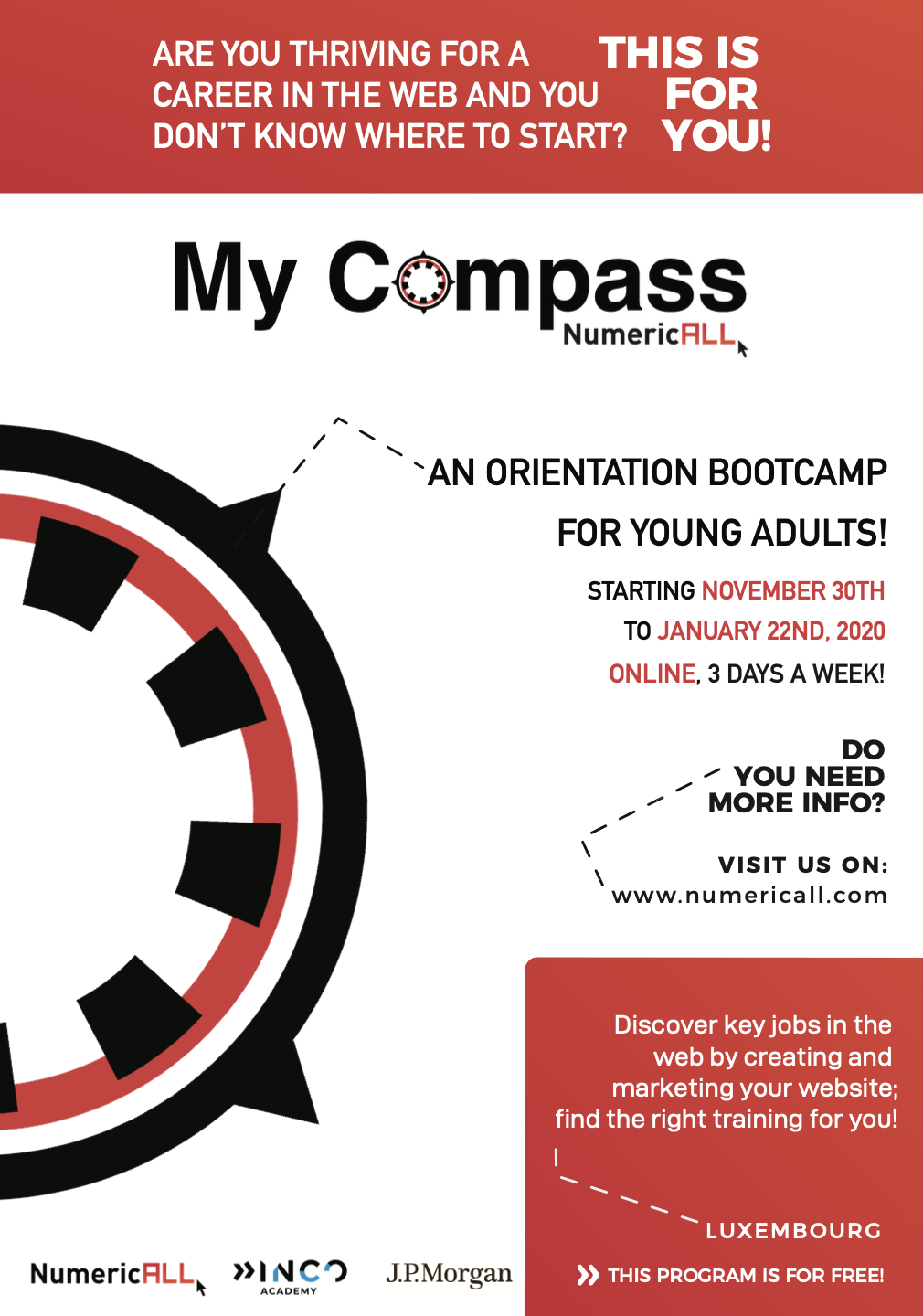 My Compass is an online training designed and delivered by NumericALL. The training begins on 30th November and ends on 22 January (with a two-week break around the festive season). The training hours are 9 a.m. to 5 p.m. on Monday, Tuesday, and Friday, and takes place online over six weeks. The Monday and Tuesday classes will be delivered by trainers who are professionals from various web professions, and the Friday class will be run by a career and employabilty coach.
NumericALL has five years of experience training web developers in Luxembourg, in partnership with the ADEM, the Ministry of Labour, Employment, and the Social and Solidarity Economy, and the Ministry of Education. The projects Fit4Coding and Coding Jobs have certified over 200 web developers since 2015.
My Compass is free and open to anyone agaed 18 -29, living in Luxembourg. To sign up visit: www.numericall.com/my-compass
Event Details
Event type
Professional development event
Organiser type
Other event
Organiser name
NumericALL
Contact details
info@numericall.com
Number of delegates
< 100
Target group
Adult learning networks & organisations
Aims and objectives
My Compass is an orientation bootcamp for young adults in Luxembourg, to discover jobs related to the web, and learn how to build a path towards these jobs.

My Compass will be particularly useful for both young people at the beginning of their career, and people who have recently arrived in the country, who wish to learn about jobs in the web, and who are looking for a first step towards the job market and/or support to develop a career plan for these jobs.

The keys for making this training a success for you is having a passion for the web, and an eagerness to learn about the related jobs, together with a motivation to move on and build your own path towards such jobs.
Expected (learning) outcomes
An upgrade of digital and computer skills.
Designing, develop, and market a website.
Get a clear understanding of 4 key jobs related to the web:
- Web designer
- Web developer
- Webmaster
- Community manager
Receive coaching to assist you in understanding your potential and in identifying how to build the key skills to get one of these jobs.
Develop an action plan to build such skills and get closer to the employment market.
Recognition / certification of participation
A certification of participation will be provided.