Mickey Mouse degree Media Studies could be most valuable degree of the future
Degrees with less academic focus and without a clear and secure career route are often referred to as 'Mickey Mouse' degrees – meaning they are considered a joke and are not to be taken seriously. Media Studies has long been associated with the Mickey Mouse degree status, but in an age when the world is plagued by fake news stories, politicians are spinning lies and social media is giving the power of story-telling to the many, this multifaceted subject could be one of the most valuable.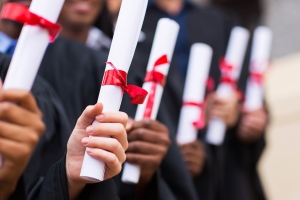 Media Studies teaches us much about our culture and society. Although anyone can post messages on social media platforms, not everyone can understand the subtext of what is being said or the impact that it could have. Knowing that Donald Trump tweets is common knowledge, but understanding why he tweets is much more important, and the skills students can gain through a media degree allows them to delve deep into political, social and economic meaning.
With new technologies emerging every day, the power of media takes a greater hold. Those working in media studies are best placed to record and analyse these changes, contextualise the fears they introduce and give meaning to human development.
The meeting of theory and practice that the subject provides proves that media studies is a degree with substance and this is likely a big part of the reason students continue to sign up for them in large numbers. The breadth of career choice it provides, from working in a newsroom or television studio to a marketing or digital media agency, also draws students through the university doors, knowing that they could choose to move in any number of directions.
Boris Johnson recently announced government plans to do away with 'Mickey Mouse' degrees, which may or may not include Media Studies. How would you feel if Media Studies was removed from UK degree programmes? Let us know in the comments box below.
You might also be interested in our blog post about fake news and how to encourage students to recognise when they are being misled by the media.
Remember to share your thoughts in the comment box below or tweet and share on Twitter, Facebook and LinkedIn.