Marketing 4 Artists (training course)
Spain
,
Palma de Mallorca
to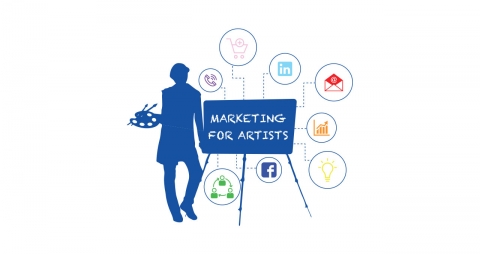 Marketing tools are not included in the current school arts-curriculum, both in VET and in HEI. But artists really need them to promote their artworks in the market with the final aim to sell their art productions and make them, not only a passion, but also an economic resource.
Target: Art Teachers, Professors and Trainers, Cultural Agencies and Artists
General Objectives:
Nowadays, Marketing is the most important tool to reach a wider-audience and potential clients, but it is not usual to find proper techniques in the artistic educational pathways and curricula at any level (nor at the VET study cycle, neither at the University). This Training Course is addressed to Art teachers and students in order to provide them the knowledge and skills to use the most common Marketing tools in the right way.
Another relevant need of this target group is the capability to express the value of their artistic creations to their potential buyers, that is why the learning process of the course will also provide the skills & tools for a better expression through the media and the new technologies generating a more effective impact on their audience. The learning process aims to teach art teachers how to stimulate a deeper self-awareness of their students regarding their creative ideas and the active role they play in society. Better communication allows artists to become able to "sell" themselves (as artistic personality) and their masterpieces in a more effective way.
Event Details
Event type
Professional development event
EU project nr.
Marketing, Artist, VET,
Organiser type
Other event
Organiser name
Education In Progress operates in the areas of the European social commitment. The main goal is to create educational opportunities with a strong intercultural and international background within the Erasmus Plus mobility program.
Education InProgress counts on 10-years experience in the field of VET, SCHOOL & ADULT sectors.
Our local network offers high-quality levels of professional experiences, including the Training Courses offers.
Why Palma de Mallorca?
Palma is a Spanish city of just over 400,000 inhabitants, very safe and well connected with many destinations in Europe. That ensures an easy and pleasant mobility experience for your participants.
Despite its people-friendly size, its socio-economic sector is very dynamic and international.
This dynamism attracts people from different countries to live here (Germany, Sweden, UK and more) guaranteeing a multicultural environment, fruitful also for all the professional experience with Erasmus+. This favorable situation also creates the right conditions for the services and the education system with an international appeal.
Furthermore, education is at the center of policy makers' interest, who constantly invest on it to maintain the attractiveness of Mallorca in Europe.

Contact details
web site: www.educationinprogress.eu
Karin Callipo
karin.callipo@educationinprogress.eu
Address: C/Bisbe Massanet,6-1B 07005 Palma de Mallorca
Phone: +34 666 701 245
web site: www.educationinprogress.eu

Target group
Academics, students, researchers in andragogy
Adult learning networks & organisations
Projects & partnerships
Aims and objectives
The training course starts from awareness of the importance of the artistic sector for the culture and economy of many countries. There is no art without artists and most of them dream to make this passion a source of employment as well.
This concept is not so far from the European directives, that invites educational actors to support youth entrepreneurship.
There are a number of artistic professionals who have extraordinary skills in their field but a strong lack of commercial ones. This training course wants to train art teachers to acquire these skills with the final aim to teach to their students how to become a successful artist, also from this point of view.

Marketing 4 Artists objectives are:
- to teach the key elements for the success of artists: effort and constancy in one's creative and image work;
- to know how to recognise the market in which the young artists want to operate and to know how to define their target audience (potential buyers);
- to know how to create one's own showcase (Art Book), one's own collection, how to choose the "venue" (including alternative ones) that can give greater visibility and "verve" to the artworks;
- to teach how to get in touch with potential buyers and other relevant stakeholders, as well as to know about alternative sources of financing (crowdfunding);
- to teach a better use of traditional media and the use of new e-tools on the Web (digital CV, website, personal blog, social media marketing, etc.).

Expected (learning) outcomes
Marketing 4 Artists learning-outcomes are:
- Enhanced teachers trained at cross-sectoral level (marketing+art);
- Acquisition of a cross-sectoral and innovative teaching method that generates a positive impact on students in terms of entrepreneurial skills;
- Increased attractiveness of the VET Institute(s), and the VET sector in general, with the effect of higher numbers of students enrolled attracted by the marketing learning-perspectives.

Recognition / certification of participation
Certificate