Let's Read Together groups teach Finnish and help in making friends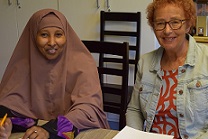 Each week, approximately 80 groups of immigrant women and female Finnish volunteers meet around Finland in order to get to know each other, learn together and become friends. The Let's Read Together network especially supports the integration of women who have remained outside training. Some of the women are illiterate.
"The first thing in the group is to dispel prejudices. Often both parties have them, with regard to a wide range of issues. The process occurs gradually as people get to know each other. This creates a safe and positive atmosphere that promotes learning. Many have also made good friends in the group," says Marja Liisa Toivanen, one of the two ladies who are the driving force behind the Let's Read Together concept and the contact person for the Malminkartano group in Helsinki.
Free of charge, children welcome
The Let's Read Together activities are open to all and free of charge. Children can be brought along to the two-hour meetings. In most cases, word about the group spreads through the grapevine, among people who know each other.
Each meeting has a common theme, but in pairs or small groups people study at their own pace and can also discuss nearly any topic, sometimes quite personal and acute issues, too. In order to succeed, each group needs several volunteers.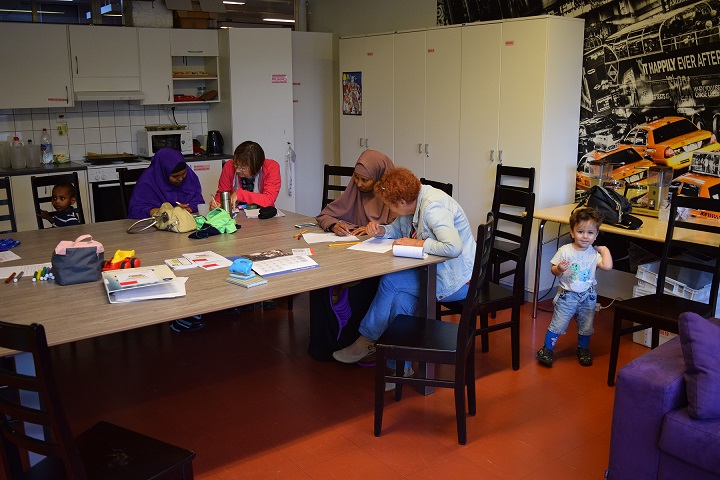 Happily back to "school"
The Malminkartano group is starting its work after the summer break. There are eight students present. Most of them have attended the group before but there are a few newcomers, too.
In addition to studying Finnish, the group discusses various situations that an immigrant encounters in Finland. For instance, dealing with public administration is often difficult due to cultural differences. The group serves as a platform for venting feelings and for learning more about services offered by society and many other everyday issues.
Students are puzzled about how difficult it is to get to know Finnish people at a children's playground, for instance, even if they already had sufficient language skills for exchanging ideas. Many Finnish parents seem to avoid people who have come from elsewhere.
Student Hawo: I want to become a child care worker
Hawo came from Somalia to Finland in 2008. At that time, she did not know how to read or write. She is now attending the Let's Read Together group for the second year. The youngest of her six children is still at home, while the older ones are at kindergarten, school or in working life. At the moment, Hawo is fully occupied with taking care of her children and home. Finnish cuisine has become familiar to the family: they cook Finnish food often, especially porridge, and they like berries and rye bread. Hawo's goal is to work as a child care worker in the future. "Before that, I must learn more Finnish."
Student Awin: You find friends in the group
Awin came to Finland alone in 2010. Now she has a husband and three children, the youngest of them still at home. The family's first language is Kurdish. In her country of origin, Awin went to school for three years and she can read Sorani Kurdish and some Arabic.  Now she speaks Finnish quite well and wants to learn more. Her near-term plans include studies for becoming a dental assistant. Awin wants to monitor and support her children's studies at school, which is one of the reasons for studying Finnish. Awin finds the Let's Read Together group important both for learning the language and for meeting others.
Learning themselves and building a multicultural Finland
Many of the voluntary teachers are senior women, for whom work is very rewarding and opens windows into a genuinely multicultural world without the need to travel anywhere.
"The teacher can truly feel that age is respected in African and Asian cultures. We can discuss sensitive topics in a grandmother's role, as it were. In this work, you can help and teach but also learn enormously yourself as well as have to face your own prejudices and encounter the difficult aspects of Finnish society," describes Marja Liisa Toivanen.
Teacher Liisa: Voluntary work is interaction
Liisa Tukkimäki is volunteering as a teacher for a third year.
"My background is in journalism and I have no teaching experience. I found this opportunity through an ex-colleague and I am very satisfied. This is meaningful, you feel useful and learn enormously. Each immigrant woman has completely different needs and starting points. In my opinion, work requires, first and foremost, interaction skills. Acting as a voluntary teacher gives you a great opportunity to learn more about cultures and ways of life in other countries. Often you realise how little you really know about the students' countries of origin and life there."
According to Liisa Tukkimäki, an important factor is that work does not obligate you too much. "When there are many volunteers in the group, I can be absent if I go travelling, for instance. Of course I come to the group whenever I can. You can also work during a job alternation leave, for example."
Some teachers have become friends with the students, getting to know each other's families and visiting each other's homes.  Nevertheless, interaction outside the group is not required of voluntary teachers; they can decide on it themselves.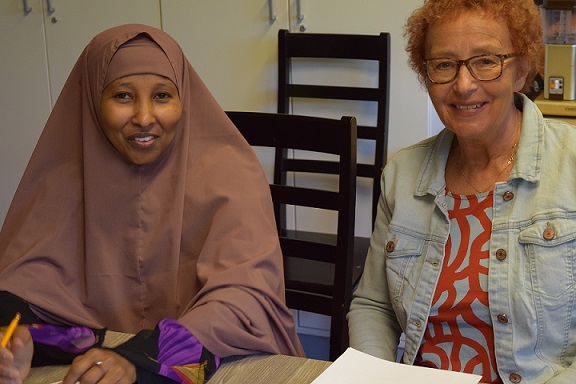 *****************
More than 1,600 immigrant women study in Let's Read Together groups. There are more than 400 voluntary teachers but more are sorely needed. Voluntary work does not require teacher training or experience, even if most do have that. All that is needed is the desire to help immigrant women integrate into Finland.
The Let's Read Together activities were launched in Vantaa in 2004. They became a nationwide project three years later as Zonta International District 20 joined in. Currently, the Finnish Federation of Graduate Women is in charge of the administration of the network and activities are funded by the Finnish Cultural Foundation.
More information about the activities can be found on the network's website. There you can also check if there is a group near you. If you are interested in volunteering as a teacher in a group, contact the person in charge of the group. What is certain is that the significance of the Let's Read Together network will increase and there will be new people joining the groups.
Text and picture: Eija Laine and Marjo Rautvuori