International School on Migration, social inclusion and the ecological transition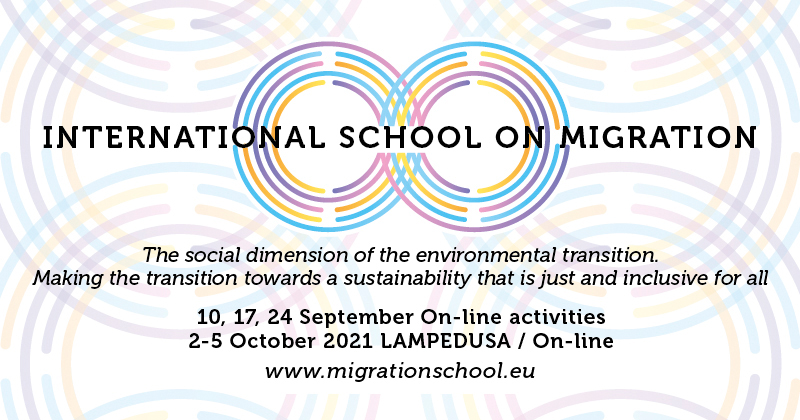 The International School on Migration, organised by Africa e Mediterraneo, is back after a two-year hiatus. Since 2016, the School has been raising awareness and creating knowledge on migration and global interdependency.
The 2021 edition will focus on the social impact of the ecological transition, training participants on practicing sustainability in inclusive and democratic ways.
Given the particular relevance to the 2021 EPALE Thematic Focuses, we invite adult learning professionals to take the opportunity to participate in this high level training.  
The Context:
Last year the European Union announced the European Green Deal, formalising its commitment to moving toward a zero-impact growth model that will ensure widespread and horizontal levels of social prosperity. The challenge of Agenda 2030 is to extend the goal of collective well-being to vulnerable and culturally-powerless subjectivities, especially climate migrants. Providing dignified employment will be crucial to ensuring that these flows are absorbed and creating the tolerant and just society that we imagine today.
The Focus:
The School's upcoming edition will delve, with the help of experts, scholars, and climate activists, into the options of sustainable development and social justice inherent in the European inclusion and the Europe-Africa relationships connected with the contemporary environmental challenge. The four sessions will offer multidisciplinary analyses on the international legal bases of the ecological transition, the tools of equality and inclusion of the new job market, and the role of local authorities and the private sector in the ecological transition. In particular, some fashion stakeholders will take part in the Lampedusa session scheduled for October. The participants will also join project works aimed at exploring the theme of impact assessment of good practices of social and environmental sustainability.
Where and When:
The School will start on 10 September and will be divided into four sessions. The first three sessions will take place online, the fourth will be held in person on the island of Lampedusa on 3, 4, and 5 October, in conjunction with the anniversary of the shipwreck of 3 October, 2013.
The early-bird registration is open until 31 July to get a discounted fee of 150€. Visit the website of the School for more information!