Inquiry to be launched into the state of adult education and lifelong learning
Former apprenticeships and skills minister Robert Halfon will chair an inquiry into the state of adult education and lifelong learning. The inquiry will consider the benefits that lifelong learning provides for the economy and citizens. It will also explore how skills acquisition can support social equality and examine the amount of support available to learners in local authorities. Halfon gave a speech at a Social Justice in London event on 10 July 2019 and urged others to recognise that a lack of access to lifelong learning opportunities is the biggest social injustice in recent times.
Halfon warned of the problems that could easily arise from a lack of upskilling and learning opportunities, which are likely to impact heavily on the next generation of workers. He also focused on those disadvantaged in society and explained that access to adult education is often hardest to reach for people who would benefit most. There has also been a significant drop in the number of people pursuing community learning opportunities over the last six years.
The UK falls behind other wealthy nations that are more ambitious in their investments in adult learning and a drop of 34 per cent in the adult skills budget highlights the issue. Halfon hopes to see a community learning centre provided in every town and a large portion of the support fund given to adult learning providers, including the WEA. Stronger funding could be gained through higher corporation tax which would also ensure that employers enjoy increased benefits when they train low-skilled people.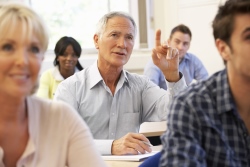 The committee is requesting written submissions that address these questions:
What are the benefits of adult skills and lifelong learning (ASALL) for productivity and upskilling the workforce?
What are the benefits of ASALL for social justice, health and wellbeing?
What role can local authorities / combined authority areas play in ASALL provision?
To what extent is the range, balance and quality of formal and informal ASALL education adequate?
Who currently participates in and benefits from lifelong learning?
What lessons can the UK learn from abroad?
The deadline for submissions is 15 August 2019.
Remember to share your thoughts in the comment box below or tweet and share on Twitter, Facebook and LinkedIn.