"Going virtual with your training: challenges and opportunities"
Remote Event
to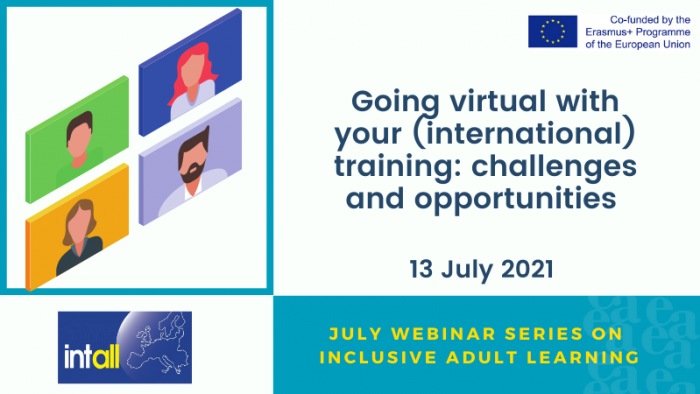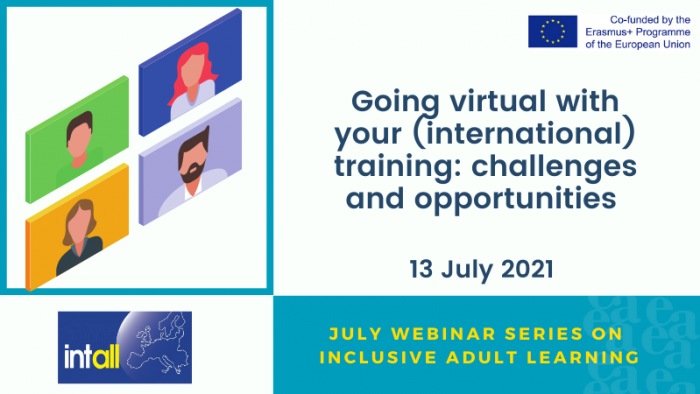 El Webinar "Going virtual with your (international) training: challenges and opportunities" (Volverte virtual con tu formación internacional: retos y oportunidades) es un evento que forma parte de la serie de seminarios web planificados para el mes de julio de 2021 por la European Association for the Education of Adults (EAEA) sobre el aprendizaje inclusivo de Adultos.
Transformar casi la totalidad de la actividad docente en línea se ha convertido en una necesidad para todos los profesionales de la educación. Esto ha incluido, indiscutiblemente, la transformación llevada a cabo en lo concerniente a los programas de formación internacionales. ¿Pueden los participantes internacionales todavía beneficiarse de un intercambio cultural, hacer conexiones valiosas y sentirse estimulados en un entorno virtual? ¿Qué se ha perdido y qué se ha ganado? Durante el evento, escucharán a los organizadores de la Adult Education Academy (Academia de Educación de Adultos), una escuela de invierno organizadora de cursos de formación de dos semanas, que durante años se había organizado en Wuerzburg, Alemania, hasta que la pandemia del COVID-19 hizo necesario mover su ambicioso programa de manera virtual.
El presente evento virtual será, sin lugar a dudas, una ocasión excepcional para compartir los hallazgos del Proyecto INTALL llevado a cabo por la EAEA, como entidad cofinanciada por el Programa Erasmus+ de la Unión Europea.
Tanto el Programa de formación a llevar a cabo como las inscripciones se lanzarán en breve, a través de la web de la EAEA en el siguiente enlace:
https://eaea.org/event/going-virtual-with-your-international-training-challenges-and-opportunities/
Event Details
Organiser type
Other event
Organiser name
European Association for the Education of Adults (EAEA)