Gender Equality in Science, Technology and Innovation: Towards an Inclusive STI Ecosystem and Connectivity for All
Remote Event
to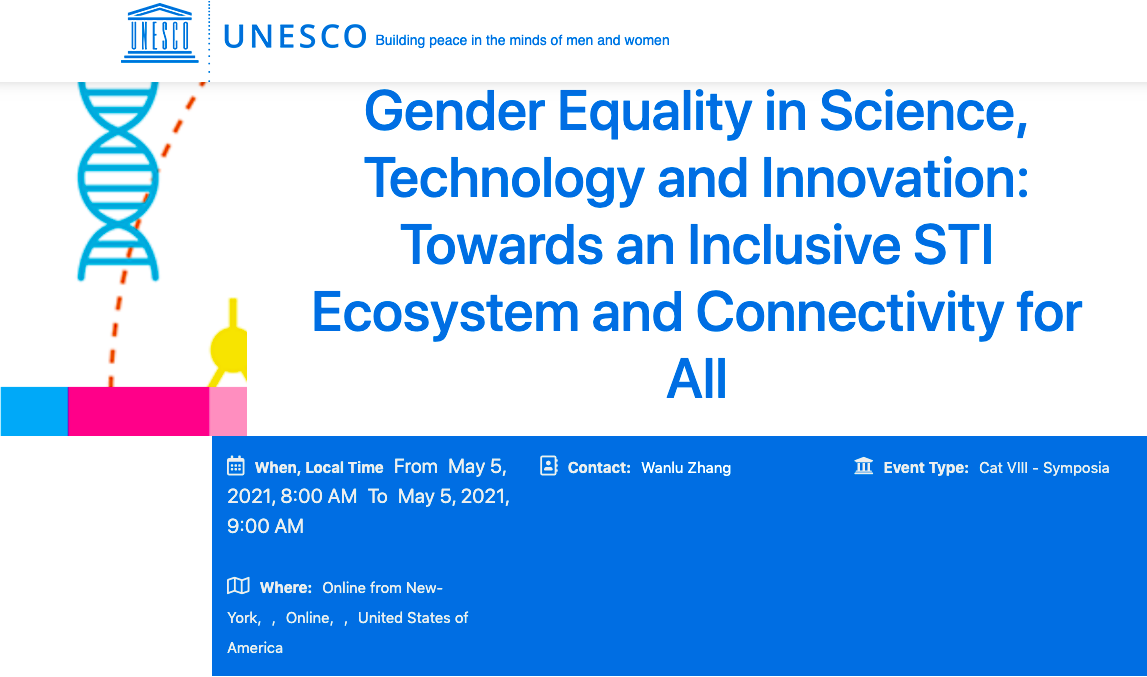 Held on the margins of the 6th Annual Multi-stakeholder Forum on Science Technology and Innovation for the Sustainable Development Goals, this event aims at showcasing selected national experiences/initiatives from different regions in support of the equal participation of women in Science, Technology and Innovation (STI), and inspiring others to forge enabling and inclusive STI environments to retain female talents. Participants will also be invited to share their thoughts on policies that can increase the participation and retention of women in STI and share examples of government policy practices that are working to achieve this result.  
Co-organizers are: the Permanent Mission of Chile to the United Nations, the Permanent Mission of Portugal to the United Nations, the International Telecommunication Union, the United Nations Economic Commission for Latin America and the Caribbean, the United Nations Educational, Scientific and Cultural Organization, the United Nations Economic and Social Commission for Western Asia, the United Nations Industrial Development Organization, the United Nations Office for Outer Space Affairs, the World Intellectual Property Organization and the World Food Programme.
Guiding questions:
●        What are the key policy areas national governments and the UN could focus on to create a women-friendly STI ecosystem?
●        What have we learned from emerging practice in digital upskilling and reskilling for women and girls? What are the obstacles to scaling them up?
●        How do approaches to closing the digital divide for women  differ from other groups that are being left behind?
●        How does empowering women in STI contribute to bridging the gender gap in the era of the 4th Industrial Revolution?
Event Details
Organiser type
Other event