Future Teacher Conferentie
to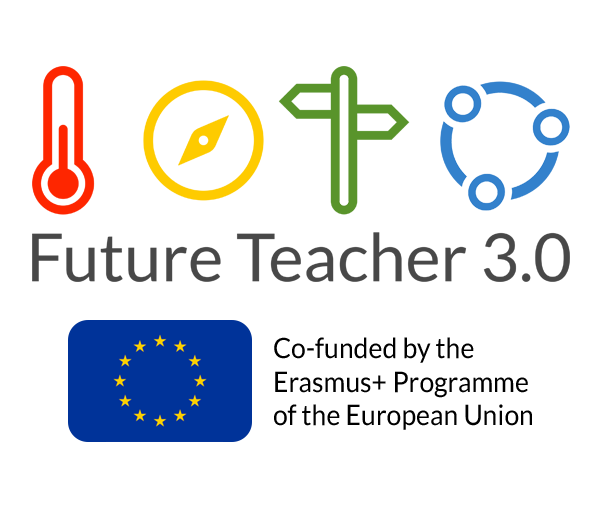 Toll-net nodigt je van harte uit voor een bijzondere en inspirerende "Future Teacher" conferentie op 
donderdag 23 en vrijdag 24 mei
 2019 in het Herman Teirlinckgebouw te Brussel.
In ons project werken we aan 4 outputs:
Digital thermometer (een vragenlijst)
Digital compass (adaptief leren o.b.v. de vragenlijst)
Digital journey (online modules op basis van DigCompEdu)
Sharing and reusing (delen is belangrijk)
Op 23 mei ligt de focus op inclusie en het m-decreet.
De keynote "Het gebruik van technologie om het onderwijs meer inclusief te maken" wordt verzorgd door Alistair McNaught, toegankelijkheidsspecialist bij Jisc in UK.  Na de keynote kan er een keuze gemaakt worden uit volgende workshops: nanolearning, differentiatie, formatief toetsen en inclusief leren.
Op 24 mei leggen we de focus op online en blended leren. 
De openingskeynote over online en blended learning wordt verzorgd door Yves Punie, senior onderzoeker bij het Joint Research Centre van de Europese Commissie in Sevilla. Hij is onder meer betrokken bij het Europees Framework DigCompEdu. De workshops over online en blended learning gaan onder meer over learning analytics, online modules op basis van het DigCompEdu framework, het TPACK-model en het ontwerpen en ontwikkelen via de Blended Learning Puzzle.
Ontdek hier het volledige programma van deze 2-daagse conferentie! 
Breng zeker een laptop of tablet mee!
Deelnemen aan de conferentie is gratis. Vooraf inschrijven is echter verplicht.  Je kiest bij aankomst de workshops die je wenst te volgen.  
Inschrijven kan tot 18 mei. Wie na 18 mei annuleert of niet opdaagt, ontvangt een factuur van 50 euro (voor 1 dag) of 100 euro (voor beide dagen).  
Het Europees KA2 Future Teacher Project werken we samen uit met onze partners uit Nederland, Noorwegen en Engeland. Alle partners zullen tijdens de conferentie workshops verzorgen waardoor er een aanbod in het Nederlands en het Engels zal zijn.
Event Details
EU project nr.
2016-1-BE02-KA204-017362
Organiser type
Other event
Contact details
Toll-net

Vlaamse overheid
DEPARTEMENT ONDERWIJS & VORMING
Afdeling Communicatie – KlasCement – Toll-net
Koning Albert II-laan 15, 1210 BRUSSEL

katrien.bernaerts@toll-net.be
Number of delegates
100 - 200
Target group
Adult learning networks & organisations
Recognition / certification of participation
Aanwezigheidsattest na invullen evaluatie.