Foundation Seminar Series (FSS) 2016 - The impact of digitalisation on work: Building up national agendas for better implementation of digital changes
to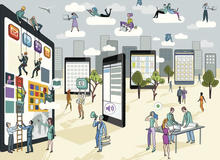 The first session provided the participants with a basis to start working on the topic of digitalisation and the implications for changing work organisation, skills at work, employment and working conditions.
Eurofound researchers and relevant external experts shared findings and experiences on different aspects of the topic, as inputs to the interactive learning during the seminars.
In the first meeting, the following topics were introduced and discussed,  below:
Current state of play of digitalisation issues in the EU and in a selected number of Member States
Digitalisation challenging companies and work organisation, skills at work, the employment relationship and the working conditions and the impact on the design and delivery of public services with implications for the relationship between providers and users of services
The effects of technological change and digitalisation in specific sectors
What can be the role of social dialogue both at tripartite and bipartite level in the implementation of digital and technological change?
How to enhance the opportunities associated with digitalisation and avoid polarisation risks in different areas (economic, social, labour, societal,…)
Strengthening social dialogue as a means of anticipating and managing change: towards digital agendas at national level.
Participation is by invitation only. 
Event Details
Event type
Professional development event
Organiser name
The European Foundation for the Improvement of Living and Working Conditions - Eurofound
Contact details
information@eurofound.europa.eu
Number of delegates
100 - 200
Target group
Academics, students, researchers in andragogy
Policy makers