Final meeting "the evolution of the profession of career counsellor" - Erasmus+ COCADE project
to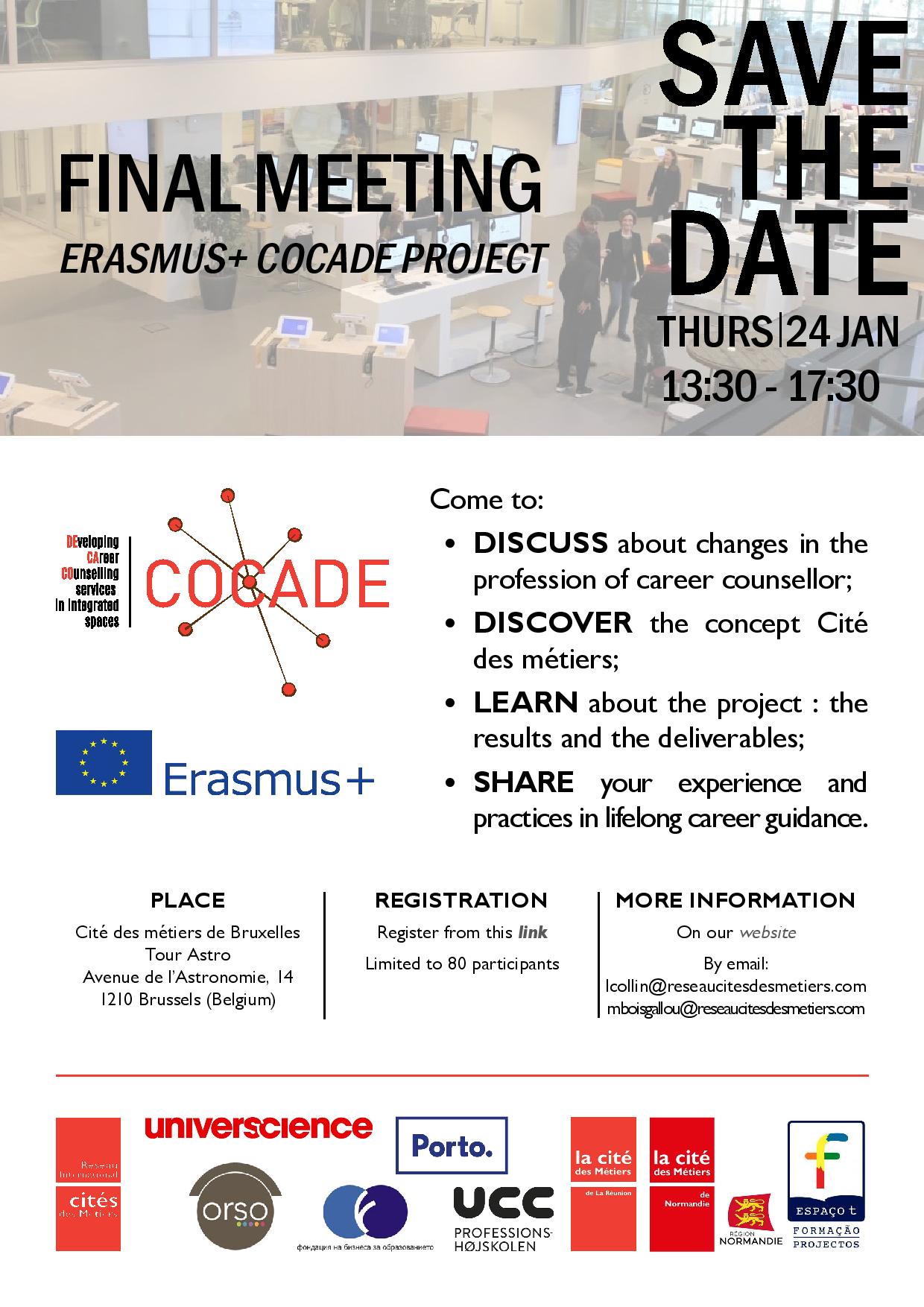 The final meeting of our Erasmus+ COCADE project  "DEveloping CAreer COunselling services in integrated spaces" will take place at Cité des métiers of Brussels on January 24 afternoon.
Registration is opened with a limited number of seats. 
AGENDA13:30 : Reception13:45: welcome14:00: visit of the Cité des métiers de Bruxelles14h30-14h35: COCADE pitch14h35-14h45: testimonies of beneficiaries14h45-15h30: panel group about "changes in the profession of career counsellor"15h30-16h: focus on the partnership development in places for lifelong career guidance16h-16h15: coffee break16h15-17h15: workshops16h15-17h15: workshops     o A "Career counselling and digital revolution"     o B "counselling to specific clients"     o C "COCADE and after? "17h15-17h30: conclusions
PLACETour Astro - Avenue de l'Astronomie, 141210 Bruxelles (Belgique)
Event Details
EU project nr.
Erasmus + - 2017-1 FR01-KA202-037403
Organiser type
Other event
Organiser name
The Cités des métiers International Network
Contact details
Ludovic COLLIN, International Coordinator: lcollin@reseaucitesdesmetiers.com
Maud BOIS-GALLOU, Project Officer: mboisgallou@reseaucitesdesmetiers.com
Aims and objectives
DISCUSS about changes in the profession of career counsellor;
DISCOVER the concept Cité des métiers;
LEARN about the project : the results and the deliverables;
SHARE your experience and practices in lifelong career guidance