The Europeana "Digital Education with Cultural Heritage" MOOC is about to start!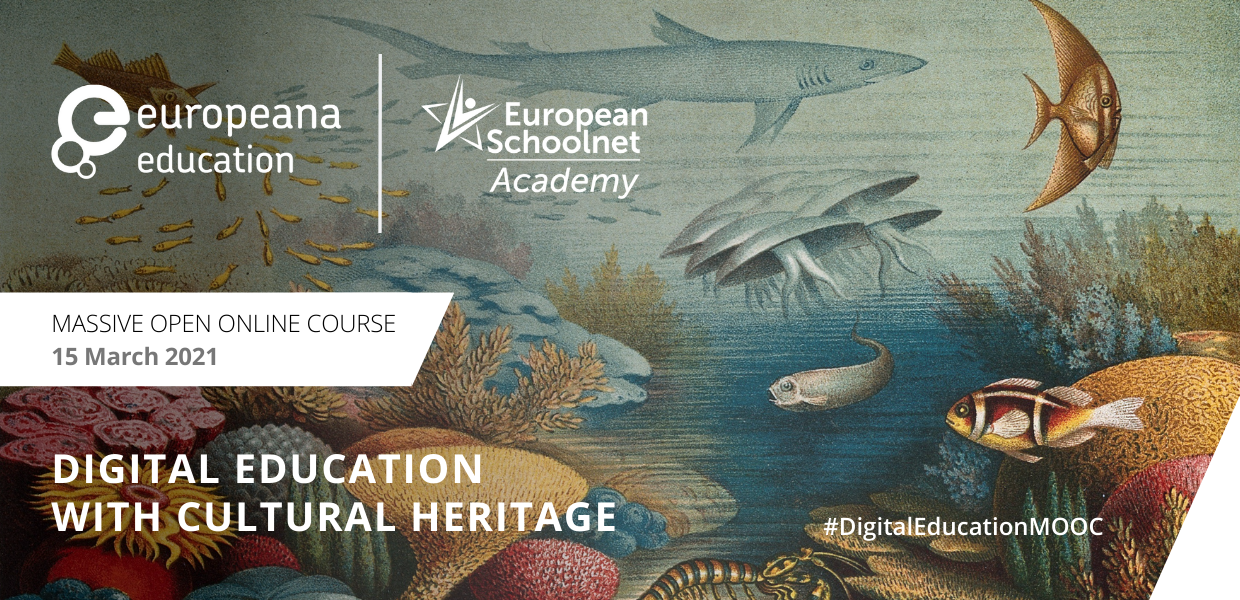 Cultural heritage plays a crucial role in education. While languages, syllabi and curricula may change across the globe, the challenging need to look at the past in order to understand the present is shared among generations and across the world.
With the aim of increasing digital cultural data as a trusted primary source – essential in this era of disinformation – in order to implement innovative pedagogies, the Europeana "Digital Education with Cultural Heritage" MOOC empowers teachers and educators to use digital technologies, essential to develop learners' 21st century skills. This online course will explore the educational potential of digital cultural heritage, improving teachers' and educators' understanding so that they can efficiently integrate it into their lessons and practices, regardless of the subject they teach. The final goal is to design engaging and in-depth content for students, museumgoers, or lifelong learners to prepare them to be active and responsible citizens with key competencies to thrive in life.
This MOOC makes use of Europeana's digitised collection of cultural heritage and content from the Teaching with Europeana blog, where participants will find resources in multiple formats (such as pictures, videos, texts, 3D) and multiple languages, various tools like Transcribathon and Historiana and other ready-made materials that they can easily integrate into their educational activities. Moreover, the course will introduce the learning scenario template and guide participants to use it and build their own. To help participants, the course offers a selection of videos with tested learning scenarios designed by educators from different countries.
Additionally, this course will foster the employment of innovative pedagogical approaches and facilitate open schooling and hybrid spaces for education by connecting museums, libraries, and other cultural institutions with schools through educational activities based on cultural heritage assets.
The MOOC's objectives are the following:
Introduce participants to Europeana cultural content and help them to understand how this can be integrated in their educational activities online and offline.
Introduce the Learning Scenario template and guide participants to its use.
Foster the employment of innovative pedagogical approaches, using arts and science digital heritage.
Facilitate open schooling experience by connecting museums and schools through educational activities based on Europeana resources.
What
The course is organised around the principle of peer learning, with course content designed to stimulate reflection and discussion so that participants can learn from each other's experiences and ideas. In order to complete the course, participants are required to submit a final course product and review their peers' work.
Who
The course is aimed at teachers coming from all subjects and levels (primary and secondary) and non-formal educators, particularly museum educators, as well as anyone who wants to design educational activities using Europeana, like librarians, archivists or curators. Other educational professionals and stakeholders, such as heads of schools, school support staff, and policy makers in education and culture with an interest in the topic are also welcome to join. 
A basic level of digital literacy is required in order to navigate the course and engage in the course community. At the same time, interaction via social media is not a requirement, although such exchanges are highly recommended, as they can substantially improve the course experience.
As the course will be offered in English, participants must be able to understand education-specific oral and written communication, and must be confident in expressing themselves and interacting in English writing.
When
This course starts on 15 March 2021 but registration is already open through the course page. The course will run for 6.5 weeks – with modules starting one by one each week, followed by a 1.5 week break period. The course consists of 5 modules with a peer-review final activity which will be developed and offered in English with a workload of about 25 hours in total.
The course is available on the European Schoolnet Academy. In order to take part in the course, participants need to create an account if they do not have one already, and register for the course.
Certification
Participants will receive a digital course certificate and digital course badge upon completion of the full course.
Watch the promotional video and sign up!
Funding for this MOOC
Europeana is Europe's digital platform for cultural heritage. It currently provides access to over 50 million digitized items from more than 3,700 European libraries, museums, archives and galleries. This huge database offers a great range of media, thematic and language resources - you can find images, text, audio, video and 3D content on anything from art, architecture, maps, films, natural history, fashion and more in over 30 languages. A big part of this content - over 20 million items- is openly licensed and can be freely reused in educational settings.
The "Digital Education with Cultural Heritage" online course was produced under the Europeana DSI-4 project, which is co-financed by the Connecting Europe Facility of the European Union. The course content has been produced by the Europeana DSI-4 Ambassadors, the Europeana Foundation and European Schoolnet. The course is the sole responsibility of the organiser and it does not represent the opinion of the European Commission (EC), and the EC is not responsible for any use that might be made of information contained.
Further information is available at: https://pro.europeana.eu/what-we-do/education.