EPALE UK and L&WI's joint annual Upskilling Pathways Conference 2019 video
In October 2019, EPALE UK and the Learning & Work Institute held a joint annual conference, which explored the changing jobs landscape and considered ways to better support the education workforce. Over the course of the day, a videographer filmed interviews with speakers and contributors to the 'thinkpieces' in L&WI's Healthy, Wealthy and Wise: implications for workforce development report, and took footage of delegates and the venue. We are now delighted to release our video for users to enjoy!
The video covers interviews with keynote speakers, including Stephen Evans, Chief Executive of the Learning & Work Institute; Gina Ebner, who contributed to the panel discussion; and Ben Charles, who co-delivered a workshop. The video explores the main aims, arguments and discussions raised during the event, and also considers major recommendations that have followed the findings the Healthy, Wealthy and Wise report.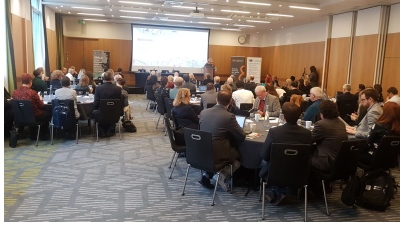 Footage has been taken from workshops, plenary, keynote and panel sessions, as well as over lunch and general networking segments.
If you are interested in learning more about our close working relationship with the Learning & Work Institute, our conference, the report, the presentation slides for all the plenary and workshop sessions, or want to access the collection of blogs that relate to the 'thinkpieces', use this link.
Remember to share your thoughts in the comment box below or tweet and share on Twitter, Facebook and LinkedIn.