EPALE Ireland Upcoming Events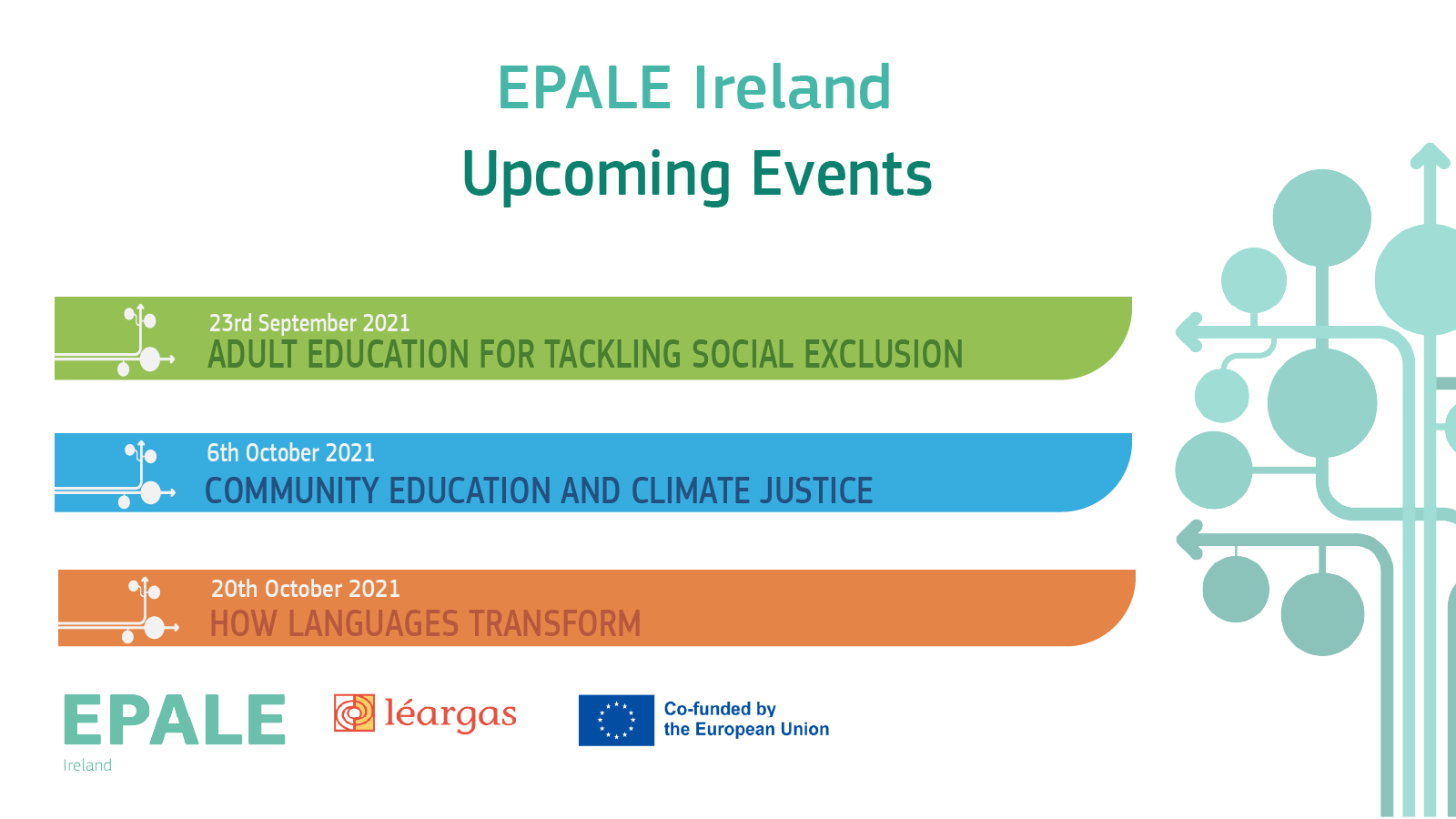 EPALE Ireland has three inspirational events coming up - Have you registered yet? 
23rd September at 10am (Irish Time) - Adult Education for Tackling Social Exclusion 
This webinar co-hosted by AONTAS and EPALE Ireland will look at how adult education in all its forms can tackle social exclusion.
The session will enable participants to hear from voices who have experienced exclusion, along with the role adult education plays in combating social exclusion. Speakers include Mavis Ramazani, Irish Refugee Council, Cathleen McDonagh Clark, Exchange House Ireland National Travellers Service, and Denise O'Connor Colaiste Dhulaigh College of Education.
A graphic harvest will also take place during the event by Eimear McNally.
Register HERE.
06th October at 11am (Irish Time) - Community Education and Climate Justice
As part of the launch of the Charter for Community Education, this webinar series is a collaboration between EPALE Ireland and the Three Pillar Group which is a working group of academics, community education practitioners, and advocates.
The Charter for Community Education draws from wide ranging consultation with community education practitioners and aims to reassert the principles and values of community education.
The Webinar Series welcomes practitioners, advocates, academics and all those interested in Adult and Community Education to reflect and explore these principles and values in the context of the themes addressed in each webinar.
Register HERE.
20th October at 10.30am (Irish Time) - How Languages Transform
This webinar is co-hosted by EPALE Ireland and Léargas Languages Programme.
An innovative and fun session with linguist trainers who will give tips and techniques for language educators.
Register HERE.
For details on the events please contact the EPALE Ireland team at epale@leargas.ie.