EPALE France interview : Thierry Ardouin, expert in the quality of training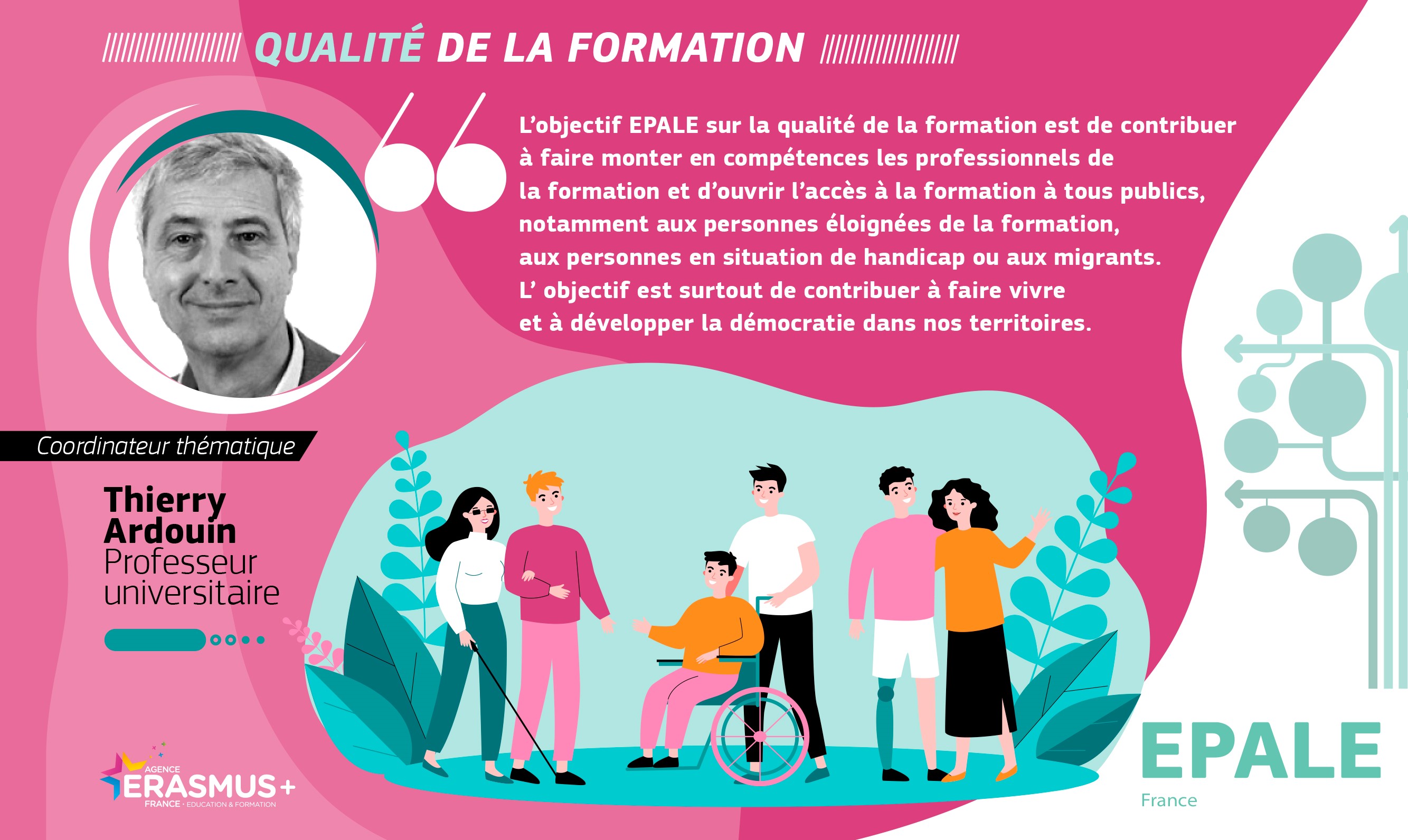 [Translation : EPALE France]
You are responsible for EPALE's expertise on the professional development of staff and the quality of training. What led you to focus on these themes?
Thierry Ardouin: I have been working in adult education for 35 years. I have been at the University of Rouen Normandy in education and training sciences since 1996, as a teacher and researcher. Before that, I was a training advisor at Greta - the French education structure that organises training for adults - and a study engineer in a teacher training department. I began my professional career as a teacher after having attended what was then called the Ecole Normale.
My work is based on a triptych of activities: research, teaching and training, and finally consulting. I conduct research on lifelong learning, adult education and training engineering. I teach the themes of training systems, skills development for adults returning to school and training engineering. Finally, I perform consulting activities for the university, other private or public structures, and international structures.
How would you define your approach to adult learning and what importance do you place on evaluation?
Thierry Ardouin: My main focus is training engineering, which includes evaluation: I work on the term ingenium in training, which I define as "the art and science of connection", i.e. the ability to link together the sometimes contradictory elements of a single situation; for example, how to reconcile the objectives of the different actors, the sponsor, the learners and the trainers, etc.
I also developed a four-step method called ACRE for Analyse, Design, Implement, Evaluate (analyser, concevoir, réaliser, évaluer in French). The question of evaluation is visible at the end, but in reality we evaluate throughout the process, from the design of a training course: the challenge of training engineering is to set up systems that are efficient for the public and coherent in the contexts in which they are developed, such as the work team, the company, the social environment, etc. This requires a solid analysis of needs. Evaluation is also present during the training and not only at the end.
What are the criteria for evaluating adult education?
Thierry Ardouin: Some are factual, such as economic, regulatory, statutory or pedagogical criteria. Others are based on a socio-economic analysis of needs, to be developed as early as possible and to be worked on throughout the scheme with the various stakeholders.
Is there a European approach to adult learning issues?
Different terms are used across Europe. The concept of the training ingenium is not widely used. It is my ambition to make it known. It is beginning to spread in the French-speaking world, particularly in West Africa, through articles, books and training courses. But beyond the terminology, there are similar approaches in terms of engineering and training.
In France, the issue of evaluation is a very regulatory one, focused on quality. This is evident in the Qualiopi referencing, which is compulsory for access to public funding and by the OPCOs, the skills operators recognised by the Ministry of Labour.
In Europe, it seems to me that the logic is more project-driven, like for Erasmus +, and is based on greater autonomy for adult vocational education providers.
You joined EPALE in its early days. What do you gain from working with the platform?
Thierry Ardouin: I am very happy to be part of this adventure. There is real teamwork at EPALE, it is truly collaborative, even if everyone is working on their own themes. I work on the following themes:
staff development, i.e. training of employees and professionals in the training sector;

quality of training;

engineering and training systems.
I approach this mission via the platform but also, when possible, through theme days, meeting and production times, with a view to sharing networks, themes and knowledge. The aim is to increase the skills of training professionals and to open up access to training to other groups, particularly those with disabilities or migrants. One of the main objectives is to bring democracy to life and help it develop in our territories.
Would you like to give a new direction to your work on EPALE?
Thierry Ardouin: Yes: I am currently developing an approach to interculturality and the development of intercultural skills. It is an approach made necessary by migration, globalisation, the mobility of workers and students from one country to another. I rely first of all on monitoring. And, with the support of EPALE, I am in the process of organising a study day on interculturality and intercultural skills with a colleague from the University of Créteil, with academics, professionals and people who have set up an Erasmus + project on these issues. A symposium on the subject is planned for the biennial education and training event in Paris in September and we hope to be able to organise a conference at the end of 2022/2023.
At the same time, I am conducting interviews for EPALE on these issues with professionals who work in this field, which sometimes leads to beautiful encounters, from which one emerges more optimistic. It teaches us as much as we teach others.
***
Find Thierry Ardouin's blogs on EPALE: