Enterprising women in tech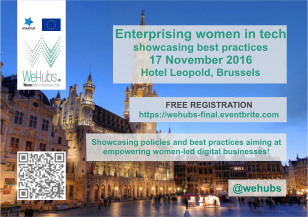 WeHubs, a community gathering women and organisations that support women web entrepreneurs, invites you the 17th of November in Brussels, to the final event that includes:
Policy discussion on #WomenInTech with members of the European Parliament,
Pitching session of the 3 finalists of the WeHubs Ideas Competition and
 How to get support to develop Women Web ideas from several organisations and business support organisations from all over Europe.
In a nutschell, WeHubs Final Event aims to showcase the best practices coming from business support organisations, local authorities, policy makers and women web entrepreneurs from all over Europe and beyond.
WeHubs is promoted by Startup Europe initiative.
Event Details
Organiser name
The European network of Women web Entrepreneurs Hubs - WeHubs and Innovation Network - EBS
Contact details
info@ebn.eu
Number of delegates
100 - 200
Target group
Academics, students, researchers in andragogy
Adult learning networks & organisations