Education by the way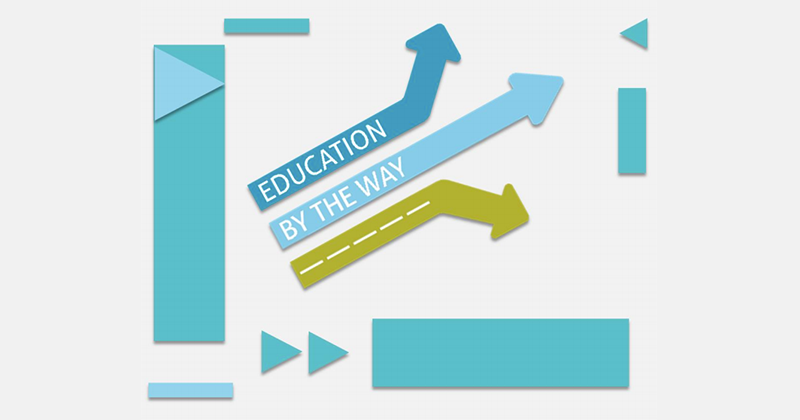 The great challenge of today's education consists in preparing people to face a society in continuous and rapid change, to have the ability to react and find sustainable solutions to deal with situations we cannot foresee. The Life Long Learning and competence-based education approach, which aims at the development of autonomous thinking and the ability to actively adapt to changes, represents the core of innovation in education processes.
LIFELONG LEARNING is fundamental for ADULTS 'ability to adapt quickly to the needs of a constantly changing society.
The context of complexity in which we operate makes it necessary to continuously update through tools and support measures that can contribute to the growth of individuals and communities, generating a constant feedback between formal education, non-formal education, civil society, professions and the world of work in a broader sense. The effect caused by new technologies and, in particular, by digital communication, adds to this complexity. The state of permanent connection and the transition from a linear cognitive profile to a reticular profile, which implies the limits and opportunities of multitasking, generates gaps in the field of adult education.
There are multiple challenges. A large number of people suffers from having low competences and faces obstacles in taking up education. The Programme for the International Assessment of Adult Competencies (PIAAC) results show an alarming lack of necessary skills across Europe. One in five people have problems with basic reading and numeracy; one in four people are deficient in digital skills. Only about 22% of Europeans have achieved lower secondary education.
In the age group between 25-64, the most common reason is the belief that further education is not necessary (around 75%), family responsibilities (40%), or overlapping working hours with training (33%). Another significant issue is the reluctance to return to any experience resembling formal education. According to a Eurostat research, learning motivation of over 75% of adults is rooted in professional duties. These data say a lot about the necessity of creating a flexible educational offer.
On the other hand, everyone may find themselves in a situation where they may be perceived as a person with low competence (e.g. language if they are among people who speak a foreign language, civic if their life situation changes). People from different groups (e.g. migrants, the unemployed, parents returning after maternity leave to the labour market) very often have common educational needs (e.g. developing interpersonal skills required in a specific social context).
Manifesto for Adult Learning in the 21st Century: The Power and Joy of Learning developed by the EAEA (European Association for the Education of Adults) proposes creating a learning Europe. The Manifesto shows to what extent adult education can contribute to European policy making.
We therefore believe that it is a duty to expand and strengthen the inclusive dimension of education. Adult education is a vital tool for solving some of the main challenges in Europe at present and contributes significantly to creating more equal and sustainable Europe. It develops employment, provides individuals with digital competence and life skills (ability to learn, interpersonal skills, (inter)cultural awareness), and contributes to health and well-being.
The Manual EDUCATION BY THE WAY wants to meet the challenges encountered by educators / trainers and learners in the field of adult education. It was prepared by adult educators and activists and it is based on the experience of a transnational group of trainers, facilitators, and mentors.
The Manual promotes new forms of non formal adult education, in particular, by taking into account inclusive education focused on people with low competences, which can:
make people aware of the necessity of lifelong learning.
respond to the needs of adults with low competences in real-life situations supporting them to acquire different types of basic skills.
foster adults' motivation and positive approach to learning.
The educational methods and tools proposed by Education by the way were thought to be:
SIMPLE, easy to follow and put into practice, not requiring any special conditions.
TRANSFERABLE, easy to use in different situations and with different target groups.
EMPOWERING FOR ADULT LEARNERS, support the development of competences.
ENGAGING, involve participants as active learners.
INSPIRING, also for the educators/trainers.
The manual (downloadable at https://www.replaynet.eu/en/educationbytheway) was elaborated by a transnational team of experts in the frame of "Education by the way" project supported by the European programme Erasmus+: Polish NGO Trainers' Association - Stowarzyszenie Trenerów Organizacji Pozarzadowych (STOP), the Finnish Lifelong Learning Foundation - Kansanvalistusseura (KVS), Replay Network (Italy), the Association of Czech Experts in Andragogy - Asociace  odborníkú v andragogice ČR, z. s. (AOA ČR), EAEA - European Association for the Education of Adults (Belgium)