"Discovering jobs with Work-VR", il 24 febbraio dalle 13.30 alle 17.00 in modalità online
Remote Event
to
EnAIP Piemonte, impegnato nel progetto "Work vr" (Piloting Virtual Reality for Language Learning in the Context of Employability), finanziato tramite il programma Erasmus plus, ha organizzato l'evento finale di progetto dal titolo "Discovering jobs with Work-VR", il 24 febbraio dalle 13.30 alle 17.00 in modalità online.
Work vr, utilizzando la tecnologia all'avanguardia della realtà virtuale, contribuisce ad aumentare la qualità dei programmi di istruzione e formazione professionale per migranti e rifugiati disoccupati, affrontando le questioni relative all'apprendimento di una seconda lingua e di una nuova cultura in un paese diverso dal proprio.  Contemporaneamente, si contribuisce ad affrontare il tema dell'inclusione sociale e dell'occupazione, considerata parte fondamentale del processo di integrazione.
PER PARTECIPARE ISCRIVITI QUI 
Programma (download pdf):
-          13.30 Benvenuto – Luca Sogno - Presidente EnAIP Piemonte
-          13.45 Presentazione del progetto – Francesca Costero- Coordinatrice del progetto EnAIP Piemonte
-          14.00 L'educazione degli adulti e le nuove frontiere – Lorenza VENTURI Responsabile dell'Unità nazionale di supporto Epale - INDIRE
-          14.25 Processi di integrazione della popolazione migrante: tra nuove sfide ed opportunità – Rossella Celmi Integration Specialist and Coordinator-Ufficio Speciale di coordinamento del Mediterraneo - Missione in Italia e Malta -OIM
-          15.00 La VR: nuove frontiere dell'apprendimento -Michael McDonald - Fondatore di Gold Lotus
-          15.25 Presentazione materiale didattico e VCC – Simona Rondolini EnAIP Piemonte
-          15.40 Presentazione VR con simulazione – Simona Rondolini ed Elio Calosso EnAIP Piemonte
-          16.10 Non è solo un (video)gioco: l'arte interattiva al servizio del sociale e della formazione– Marco Mazzaglia, Video Game Evangelist e Technical Director Academy in Synesthesia
-          16.30 Q&A
-          16.45 Conclusioni- Ettore Libener – Responsabile servizio Coesione Sociale e Progetti Internazionali - EnAIP Piemonte
In allegato invito e programma del seminario.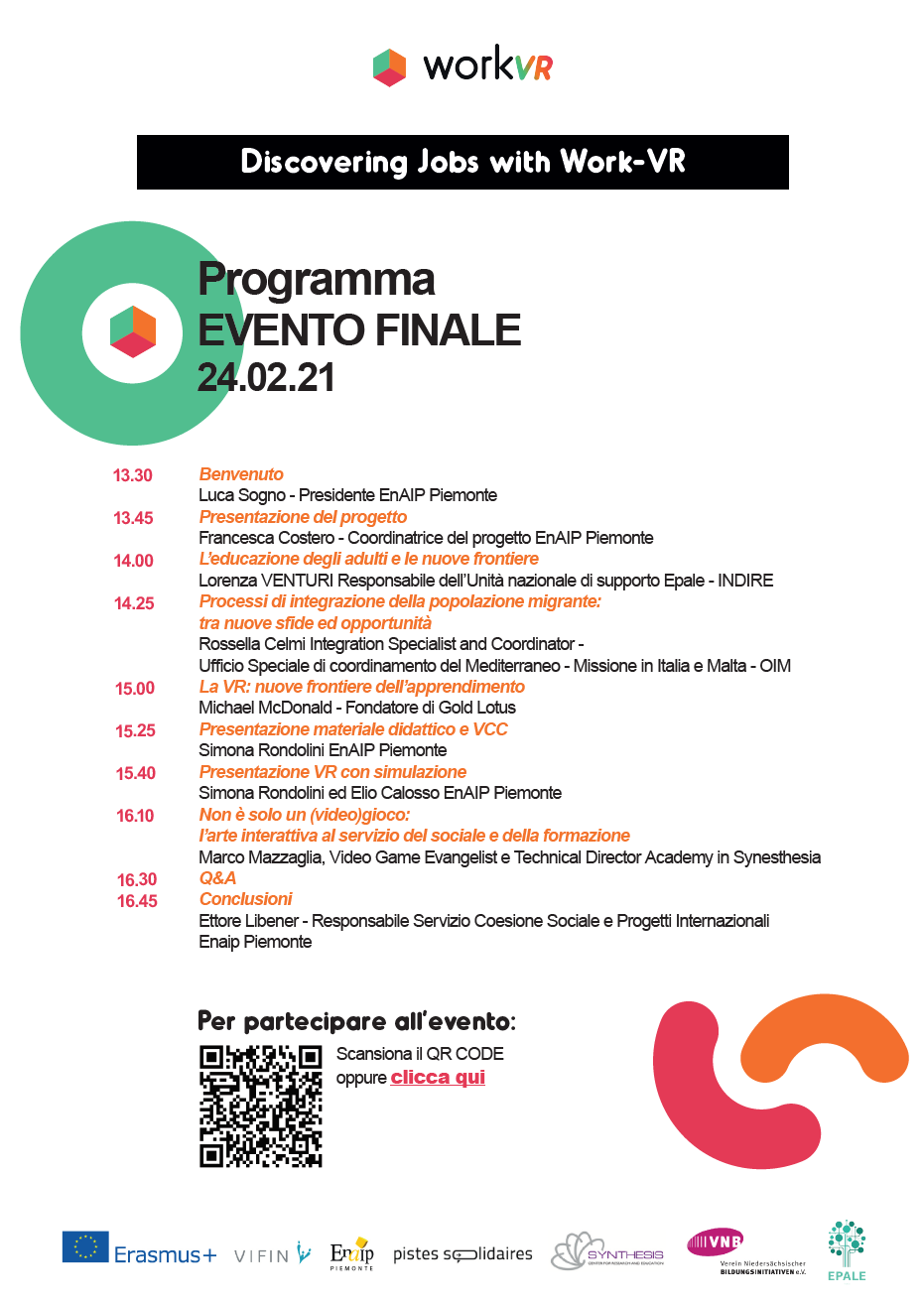 Event Details
EU project nr.
2018-1-DK01-KA202-047060
Organiser type
Other event
Organiser name
En.A.I.P. Piemonte

Contact details
En.A.I.P. Piemonte
Via del Ridotto, 5
10147 Torino - Italy
tel 0112179875/54
Number of delegates
> 200
Target group
Academics, students, researchers in andragogy
Adult learning networks & organisations
Projects & partnerships