Bratislava - Športujúce mesto 2018
to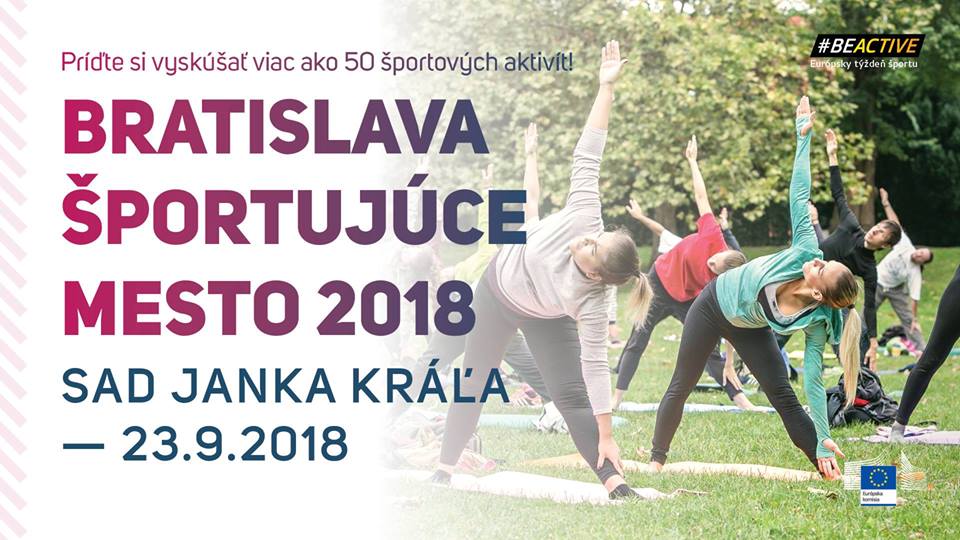 ŠPORTUJÚCE MESTO 2018Už štvrtý ročník najväčšieho slovenského podujatia v rámci Európskeho týždňa športu 2018 (23. – 30. september).
Počas jedného dňa si môžete vyskúšať viac než 50 rôznych športových aktivít pre všetky vekové kategórie.Nezáleží na veku, pohlaví alebo úrovni športových zručností – na našom podujatí si úplne každý nájde to svoje!
Vyskúšajte a spoznajte široké spektrum športových aktivít určených pre naozaj všetkých. Nájdite si nový šport, vyskúšajte netradičné športy alebo len strávte príjemný deň v krásnom prostredí.
Pripravených je každoročne okolo 50 celodenných stanovíšť, 10 verejných tréningov podľa rozpisu a desiatky športových exhibícií. A to všetko v krásnom prostredí najstaršieho parku strednej Európy! Všetky aktivity sú bezplatné. 
www.sportujucemesto.sk
Event Details
Organiser type
Other event
Organiser name
Mesto Bratislava