AppForDem - Erasmus+ Project - Intermediate results -Training curriculum for caregivers of people with dementia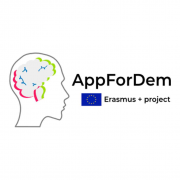 PROJECT RESULTS. METHODOLOGICAL FRAMEWORK FOR THE EDUCATIONAL APP FOR CAREGIVERS OF PEOPLE WITH DEMENTIA. 
FIRST PHASE OF THE PROJECT (IO1) FROM OCTOBER 1999 TO JUNE 2020
AppForDem in an Erasmus+ project aimed at creating a set of open educational and multilingual resources addressed to caregivers of people with dementia, with the purpose of implementing these resources in the national VET programmes for apprentices and professional caregivers in long-term care services (LTC).
During the first stage of the AppForDem project, from October 2019 to June 2020, partners have developed national and comparative reports, which reflect the current situation of caregivers' qualifications and the importance of developing a set of open educational resources freely available on the internet.
At this phase of the project, some external experts have provided partners with useful information related to the lack of knowledge and skills for caring for people with dementia.
With this information, partners have also defined a training curriculum that will allow them to develop a set of open educational resources defined by an educational app and an e-learning course. These materials will be available under a Creative Commons license.
The products available at the website are the following:
National and comparative reports about caregivers' qualifications in Spain, Romania, Italy, and Denmark.
Dissemination brochure: Training curriculum, written in all languages of the project.
Newsletter 1, June 2020, translated into the languages of the project.
People interested in the AppForDem project can download the results from the project website.
 I would appreciate any comments and suggestions for the improvement of the project results. Please send them to the following e-mail address:
Angel Yagüe Criado - AppForDem Project Coordinator
Asociación Edad Dorada Mensajeros de la Paz C-LM Y GALICIACentral Office. Plaza Valdecaleros 12 2º a, 45002 Toledo (España/Spain)