2016 European Distance Learning Week
Remote Event
to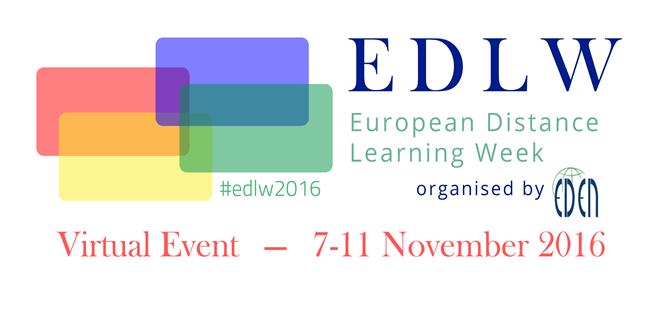 The opening webinar of the week at 13:00 – 14:30 CET on November 7, 2016, will embrace the online panel discussion among Senior leaders of EDEN network of Academics and Professionals, policy makers and the leaders from other European associations – to discuss:
Why do we need European DLW and where it comes from?
What are the innovations in Europe in the area of open, distance and online learning that have been dominating European landscape of education for the last 10 years?
What are the best practices and the strengths of Europe that went through the development, the transformation process and have been integrated in education organizations for the mainstreaming?
Why challenges these innovations raised for education policy and education providers and how European policy of education addresses these challenges today?
What is the future of European leadership in open, distance and online learning?
Event Details
Organiser name
European Distance and E-Learning Network – EDEN
Contact details
secretariat@eden-online.org
Number of delegates
> 200
Target group
Academics, students, researchers in andragogy
Adult learning networks & organisations
Policy makers