Blog
Why do we ask what adult education can accomplish?
31/01/2017
EPALE's February theme for 2017 is benefits of adult education. We expect many contributions and discussions on the effect adult learning can have on individuals, society, organisations and the economy. These areas include:
Personal development
Health
Increased knowledge, skills and competences
Increased self-confidence
Productivity
Social cohesion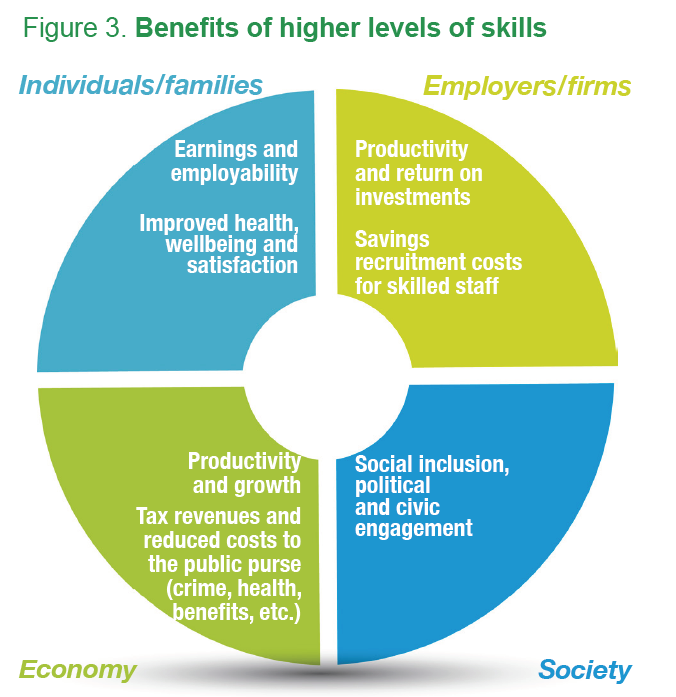 Cedefop will soon publish a report that clearly shows the potential benefits of a (possible) public policy aimed at reducing the share of low-skilled adults in the EU over the next decade.
It is important to focus on getting the message across that adult learning provides an important contribution to society and economy. These 'arguments' can motivate policy makers, politicians, employers and even individuals to invest more in adult learning.
This being said, I would like to raise a more fundamental issue which might be forgotten when focusing too much on the benefits of adult learning:
Should adult learning be seen as a means to an end or does it have intrinsic value?
I would like to answer this question with 'yes', and I would like to focus on two arguments for this:
A (universal) right?
Concerning initial education, within the framework of establishing universal primary education for all, the most important driver for universal education is the acknowledgement that it is a human right: not that initial education is a means to an (economic) end. The same is true for adult learning.
The situation might become clearer if we ask the question in another context: Do we ask about the benefits of equal rights to all? The benefits of access to health care? The benefits of providing elderly care? Or should we take those topics as valuable in themselves and worth investing in as a society. I think the same applies to adult learning.
Best value for money?
Focusing only on the possible benefits of adult learning is dangerous and has been proven so in the past. It can lead to comparing the costs of the benefits and making a decision whether to invest in adult learning based on revenue. Studies show that the 'return on investment' is higher for initial education and early childhood education and care compared to adult education (see for instance the 2005 study on the returns to various types of investment in education and training).
Benefits are mainly for the individual?
Sometimes policies that do not see access to adult learning as something valuable in its own right, reduce the benefit of adult learning to individual benefits: higher skill levels, better employment chances, higher wages. This can lead to seeing individuals as the ones that have to pay for learning (private market). In the Netherlands it has become painfully clear that societal benefits cannot be achieved through privatisation of adult learning.
To conclude
Yes, it is important to highlight that adult learning has wider benefits, but only after acknowledging that it is a valuable provision in its own right for all, just like initial education.
In that sense, we could change the question to:
Under what conditions does adult learning yield the most benefits?
Now this is a question about:
the quality of the learning environment
the matching between the learner and the learning taking place
the quality of the learning facilitator
the quality of the institutional arrangements and policies etc.
How to measure and evaluate benefits and success so that it can inform our adult learning policies and programmes
___________________
Simon Broek has been involved in several European research projects on education, labour market issues and insurance business. He advised the European Commission, the European Parliament and European Agencies on issues related to education policies, lifelong learning, and labour market issues, and is Managing Partner at Ockham Institute of Policy Support.