Mining Memories. Mobile programmes for senior citizens
Reading time approx. 7 minutes – read, like, comment!
The article was originally published by Deutsches Institut für Erwachsenenbildung DIE in German.
---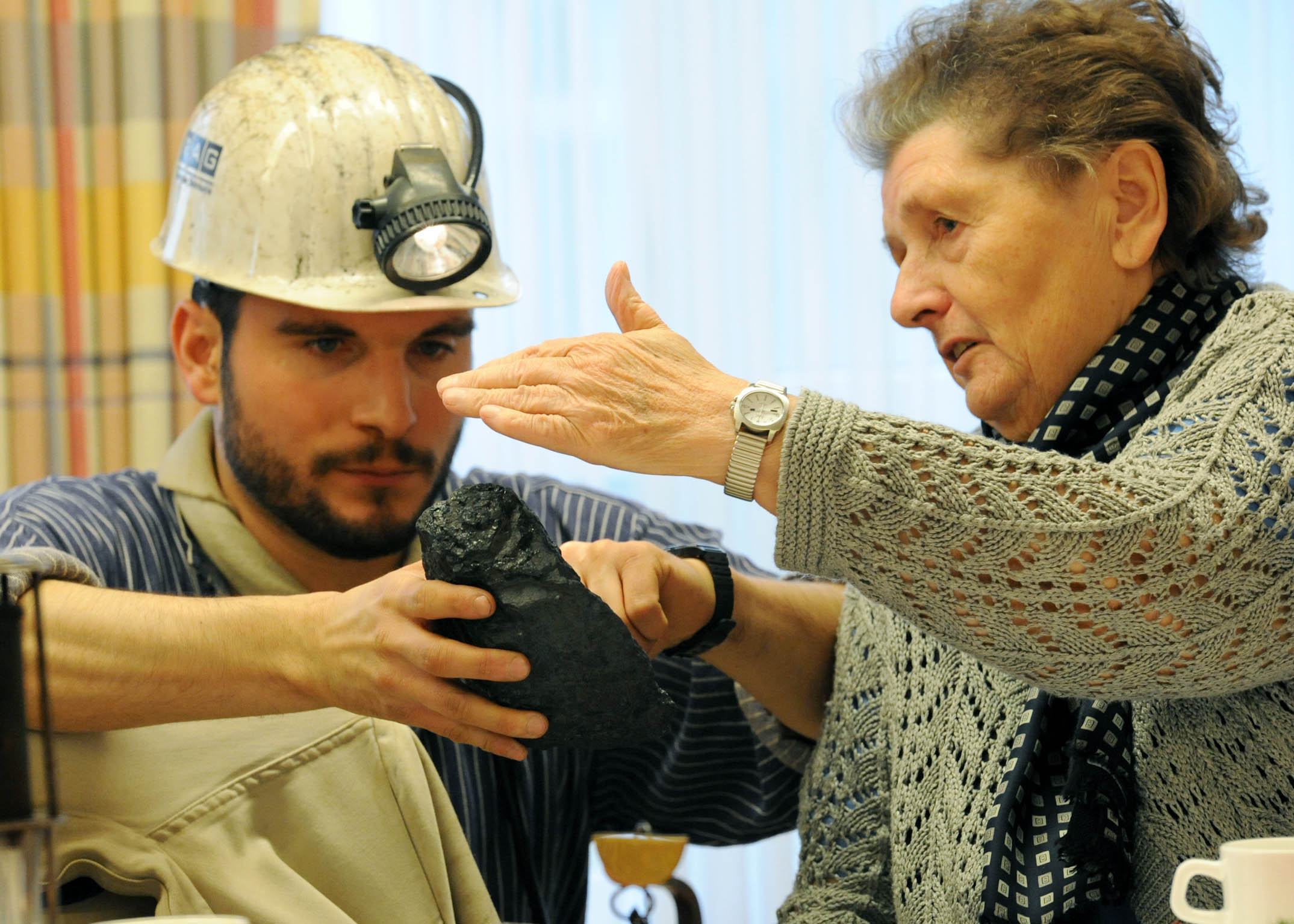 © Jürgen Appelhans, LWL
---
"In those days, my husband always used to bring this back from the mine," explains Lotte Trapp as she holds a piece of coal in her hands. Just a few minutes previously, the old lady had been sitting passively in her wheelchair and barely spoke a word. But suddenly she springs to life, talking about her childhood and days as a young woman. Lotte Trapp, alongside the other five senior citizens at the table, regularly participates in the LWL Industrial Museum's outreach programme "Kohle weckt Erinnerung" at the Wilhelm Kauermann Centre for Senior Citizens run by the charity Arbeiterwohlfahrt (AWO) in Castrop-Rauxel.
Since 2008, the Westphalian State Museum of Industrial Heritage, which was established by the Regional Association of Westphalia-Lippe (LWL), has been consistently and continuously working on implementing a strategy for senior citizens as part of its response to demographic change. In 2010, the idea of adapting all eight locations of the decentralised Westphalian State Museum to demographic realities resulted in a strategy for making the museum's services accessible to people with restricted mobility and people suffering from dementia both within the LWL Industrial Museums themselves and in facilities for seniors.
The aim is to ensure that even people with cognitive impairment and limited mobility can participate in culture, including in old age. Along the way, the following lessons were learned: Museums which wish to incorporate such mobile services should be clear about the level and type of interest among the potential target group. The work itself, its value within the museum's educational strategy, and resources should be agreed upon with those who fund and run the museum. Last but not least, it is important to cooperate closely with facilities for seniors in developing services.
Analysis and work – the basics
Statistics from the eight LWL Industrial Museums show that over the last 15 years there has been an increasing number of visitors aged over 60. Visitor surveys confirm that the demographic shift is felt clearly by museums. In light of an ageing society, the question arose as to what degree museums must respond with an active and carefully planned strategy for seniors. In 2008, a research-based article by Verena Scheer on developing a marketing concept for the over 60s target group in the LWL Industrial Museum helped to demarcate this very diverse group, to identify its needs, and resulted in initial recommendations for action.
From among the research results, the pronounced interest of centres and care facilities for senior citizens stood out clearly. The reason is that there are clear links between life and work in the post-war industrial era and the personal memories of care home residents, which can be stimulated by object-focussed discussion. Our exhibits represent both historical events and personal stories. They stir memories and prompt people to exchange stories from their history. However, the management and employees of the facilities whom we questioned saw challenges in visiting the museums themselves. Our industrial monuments themselves, with their cobblestones, rail tracks, and factory buildings, are, in many instances, insufficiently accessible. Representatives from the facilities suggested creating mobile services,which led to intensive discussions in our museums. Are mobile services in facilities for seniors part of the museum's core work? Are social and curative teachers and therapists not better suited to memory- and biography-based work with this target group? And on a purely practical level: How will participants be statistically recorded? Is this outreach or marketing?
On the other hand, since its founding the LWL Industrial Museum has clearly seen itself as part of the region's collective memory and works consistently with the memories and stories of people who for generations have been influenced by the industrial era. The museum must therefore focus on the very people and visitors who helped to shape the history of the various museums. Based on this responsibility, on demographic changes, and as part of its vision as a place of experimentation, the museum decided to actively bring its content and services to facilities for senior citizens. Another key impetus arrived in 2009 in the form of the Regional Association of Westphalia-Lippe's inclusivity initiative "Richtung Inklusion". This laid the groundwork for ten years of development work for mobile programmes for the elderly, and the resources necessary to achieve them.
Facilities for seniors and museums – educational partners for life-long learning
Working with experts in their own field is now well-established in fields such as inclusion. Analysing the needs of elderly people and developing formats and programmes was thus, from the very beginning, a joint task with representatives from facilities and associations for seniors in their role as proponents, providers of feedback, and trainers. For example, the recreation centres of the Diakonie Ruhr in Witten are established educational partners. They regularly train our museum's educational staff in dealing with elderly people, especially those suffering from dementia, and help to continuously develop our programme. Once or twice a year we organise feedback sessions with staff from facilities for seniors. The aim is not merely to provide constructive feedback, but also to discuss new ideas, wishes, and suggestions from both sides. Recently, this process led to the creation of eight mobile programmes for people with limited mobility and/or dementia.
Eight different programmes with the same basic principles
The eight programmes all follow the same basic principles: The museum's trained educational staff bring a box, bucket or case full of objects likely to trigger memories to a facility for seniors. In the group discussions everyone gets the opportunity to hold the objects and speak. This interactive approach stimulates the senses, stirs memories, and creates new experiences. The programmes last a maximum of one hour and are intended for up to 15 participants. Staff at the facilities speak to the seniors in advance, specifically addressing those with a relevant background in mining, iron, steel, textiles or domestic work.
The programmes are adapted for people with dementia and are intended to supplement other work carried out at the facilities. They are aimed at fixed groups with the same residents. The facilities must provide at least one care worker to assist the museum's educational staff during the events.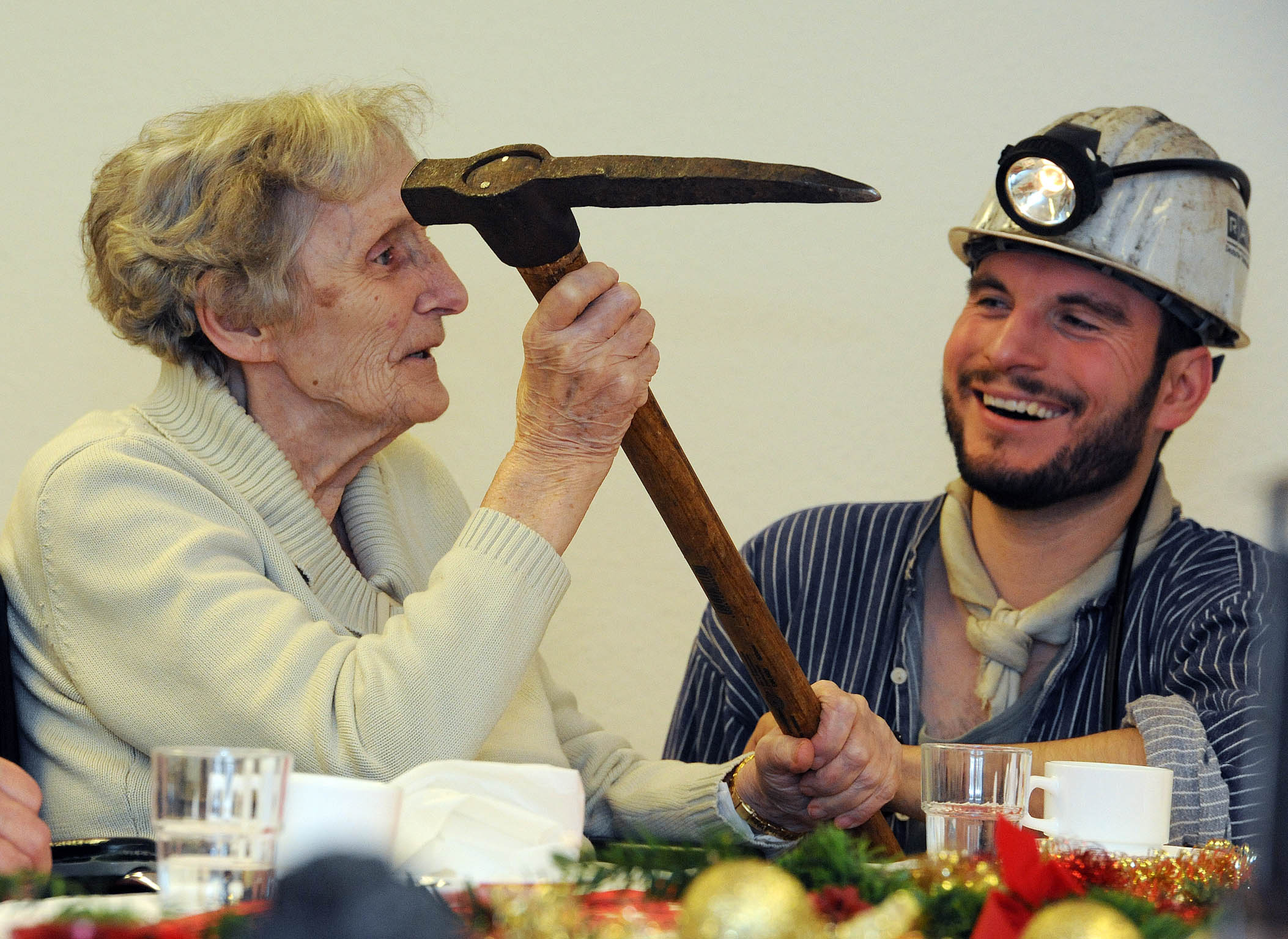 © Jürgen Appelhans, LWL
---
Interim assessment
The regular mobile outreach programmes for people in nursing homes who suffer from dementia have been the most successfully implemented so far. According to the statistics, 84% of the LWL Industrial Museum's services for seniors which were booked between 2011 and 2018 were mobile programmes for people with dementia. 9,916 participants with moderate to severe dementia, some in protected, specially adapted areas, are recorded in the statistics. Many facilities which provide care services for seniors book the programme at two-week intervals. The catchment area comprises, on average, 22 facilities for seniors in 19 communities in the Ruhr area within a maximum radius of 80 km of the LWL Industrial Museums Nightingale Mine in Witten and Henrichshütte Ironworks in Hattingen, which are central to the programmes.
Challenges
As successful as the LWL Industrial Museums' mobile programmes have been over the last nine years, the desire for new formats has arisen. For this reason, in 2017, the LWL Industrial Museum created the mobile exhibition "Ganz schön viel Maloche! Erinnerungen an die Arbeit" for seniors with and without dementia in various facilities. The exhibition highlights various perspectives on the world of work since the 1950s and incorporates the experiences gained from the programmes using interactive touch and audio equipment. In 2018/2019, the exhibition was brought to ten different facilities for seniors in North Rhine-Westphalia.
However, the coming years will also involve new challenges. What will we as industrial museums be able to offer young generations beyond memory-based work with coal, iron, and steel, in the form of topics and objects linked to their personal experiences? How are demographic change and diversity in our society affecting the needs of older people? And the COVID-19 pandemic has made the following question more urgent than ever: How digital can or must future mobile services be in order to reach our audience, and how engaging and interactive can such offers be made? Ultimately, developing target-group specific services for people, including in old age, is a dynamic process which must be carried out together with our education partners.
---
About the author
Anja Hoffman is head of the LWL Industrial Museum's Unit for Education, Outreach and Inclusion. One of her focuses is life-long learning, inclusive strategies and education-based partnerships.
---
Sources and further reading
Hoffmann, A. (2018). Ganz schön viel Maloche. Standbein Spielbein. Museumspädagogik aktuell 110, 28-31.
Linke, J., Nolte, B. (2012). Industriegeschichte und Erinnerungen. Kulturelle Teilhabe bis ins hohe Alter im LWL-Industriemuseum. Standbein Spielbein. Museumspädagogik aktuell 92, 36-39.
Burdukova, G. (2014). Tauben zum Anfassen wecken Erinnerungen. In DER WESTEN 10/02/2014. Accessed on 10/02/2014 at www.derwesten.de/staedte/witten/tauben-zum-anfassen-weckem-erinnerungen-id8978545.html .
Scheer, V. (2008). Entwicklung eines Marketingkonzepts für die Zielgruppe 60plus für das LWL-Industriemuseum. Fachhochschule Osnabrück. University of applied sciences. Fakultät Wirtschafts- und Sozialwissenschaften. Bachelor-Programm Öffentliches Management.
Seifert, A. (2014). Brieftauben wecken Erinnerungen bei Demenzpatienten in Bottrop. In DERWESTEN 14/04/2014. Accessed on 14/04/2014 at www.derwesten.de/staedte/bottrop/nreiftauben-wecken-erinnerungen-bei-de….