Woman, migrant, learner: an exhibition brings together personal journeys of adult learners

"I arrived in Belgium by plane when I was 19. All by myself. I had never left my family. I wanted to learn how to read and write and go to a sewing school. My husband declined and told me: 'You want to go see other women to open up your mind?'".
Last October, together with my EAEA colleague, I attended an exhibition in Brussels called  "Né.e quelque part" ("Born somewhere"), which brought together personal journeys and reflections of adult learners with a migration background. It was based on the contributions of learners from EYAD, who met weekly to share "their cultural richness", as explained in the invitation to the workshops. Hosted in a building scheduled for complete renovation, the exhibition breathed life into a previously vacant space, displaying learner stories through drawings, postcards, collages and pictures. 
Having left my home country a few years ago, I was touched when reading learners' personal accounts. Some felt very familiar ("When I arrived in Belgium, everything seemed grey and dark to me"). Other stories, such as that of the woman who wanted to sign up for a sewing school against her husband's wishes, were very far from my personal experience – but will feel close to the professional experience of many of us working in adult education and community learning.
Exploring multiple identities
"Petite Anatolie" ("Little Anatolia"), as it is informally known to locals, is located at a crossover between Schaerbeek and Saint-Josse-ten-Noode, two districts of Brussels with a large migrant population.  Some of the residents of "Petite Anatolie" have moved there from Turkey more than fifty years ago; with time, it evolved to become a neighbourhood whose residents can get a coffee, see a doctor or do their groceries without ever having to use French. This, according to adult educators working in the area, has become a "double-edged sword" especially for women, whose opportunities to get to know the wider community in Brussels are limited. 
This is why EYAD, a local NGO supporting social cohesion through adult education, has launched several activities that aim to bring different communities together, or to explore a lived experience from a specific perspective. "Born somewhere" is open to anyone, regardless of their gender or the language they speak; the shared experience of migration is what connects all participants. Other activities of EYAD target specifically women, who are most at risk of exclusion, aiming to create a safe space and a platform for critical reflection. 
A case in point is a project "Female identities", during which learners explore folk tales from both French-speaking countries in Europe and from Anatolia. Participants are women who arrived from Turkey to Belgium through marriage, and during the meetings, they share their reflections about the stories and deconstruct the image of women in them.  "We started to tell the story of 'Bluebeard', and then we discussed the roles of different characters, and the fact that we all carry in ourselves parts of all the characters", said one of EYAD's adult educators when interviewed for Journal de l'Alpha about the project. 
More activities targeting local women are coming up: "Between mothers", which will invite participants to share their experiences about motherhood and to organise common activities while practising French; or "Pioneers", aiming to explore stories of women who were change-makers in their communities as part of a ceramics class.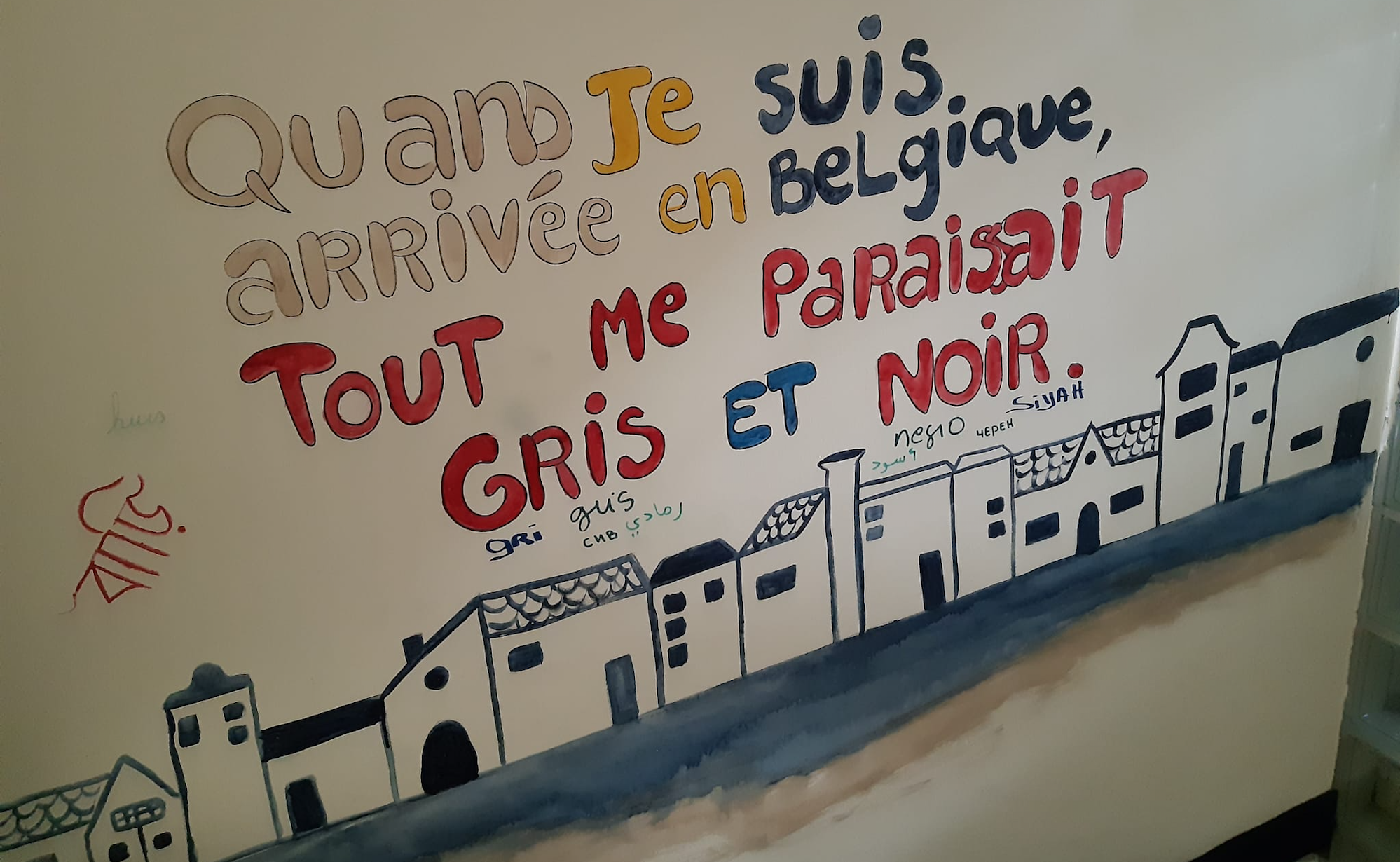 "When I arrived in Belgium, everything seemed grey and dark to me."
Asking the big questions 
"I feel integrated - but what does it mean to be integrated?," asks one of the learners who contributed to the exhibition with a poster. 
Personally, I still find it impressive that adult education does not shy away from asking the big questions. In the case of "Born somewhere" and other workshops organised by EYAD, exploring a shared experience in its multiple dimensions is an objective in itself. Yet sometimes in adult learning, an individual or shared reflection goes beyond what was originally foreseen.
A few years ago, when at EAEA we started working on the topic of life skills, I met with a Danish colleague who told me about a handcraft course called "Recycling design".
"The overall purpose of the course is that women meet each other because of their interest in needlework and in using recycled materials," she had explained. "But a lot of other things happen during the course – they speak Danish, they practice the language, and they get a sense of how society works. They talk about kindergarten, they talk about how to go to a dentist…". Perhaps most impressively, participating women spontaneously decided to organise a tour to the parliament together - all as a result of a course that was seemingly about needlework.
"I guess I have two countries now," continues the reflection on the exhibition poster.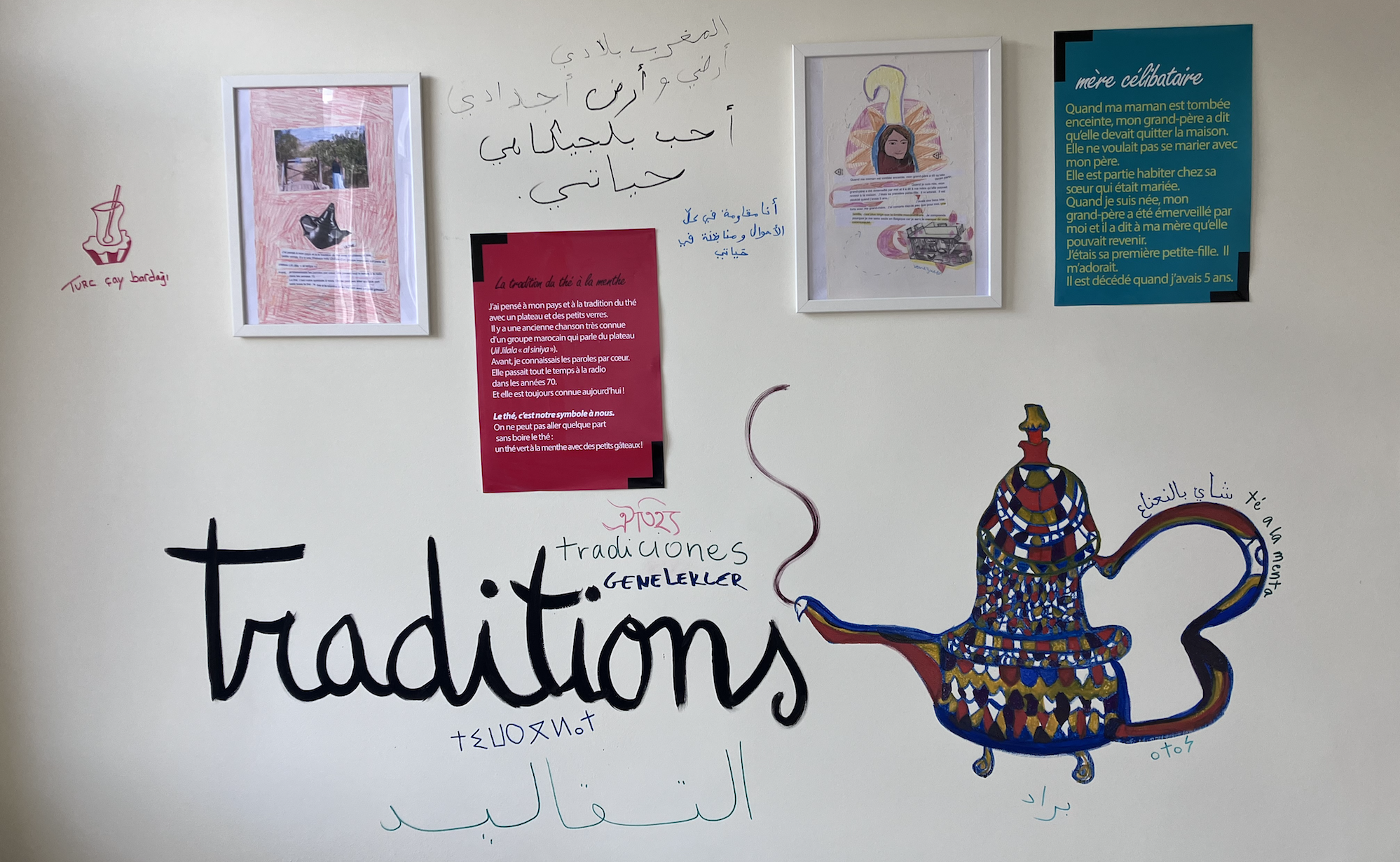 What do we take, and what do we leave behind?
"What was important for you to pack in your suitcase when you were moving to Belgium?" asked Carolina Rodriguez, who together with Pascale Missenheim works as an educator and coordinates "Born somewhere".
As it turned out, on the day when my colleague and I were visiting, learners themselves were there to explore the exhibition and share their reflections with Carolina. At first, we were both hesitant to come in, afraid of breaking a spell or disrupting a space shared by learners, but we were invited to join. We also discovered that the work on the exhibition was ongoing - perhaps never intended as something that could be done and dusted. As Carolina explained to us, it was important for the exhibition to be a result of co-creation and to be inclusive of the cultural and linguistic diversity of the participants; we witnessed this when we saw learners writing on the wall the translation of the word "traditions" in multiple languages.
"I wish I had packed warmer shoes," wrote one participant on a postcard included in the exhibition. Others were less pragmatic, mentioning the traditions they were missing, or family members they couldn't see anymore. As we were leaving the exhibition, I thought of the many times when we shared similar reflections with my classmates during language classes, or with my learners when I was working as an adult educator. I recalled some of my classmates from Brussels, who missed the "community spirit" from their neighbourhoods in India, or my students from Ukraine in Poland, who struggled to take time off to celebrate the Orthodox holidays, let alone to visit their family members.  
To those of you who were also "born somewhere else" - what was important for you to bring, and what did you have to leave behind?
Pictures: Aleksandra Kozyra, EAEA