Winter University of Vocational Training 2018: a workshop for innovations in skills recognition
The evolution of our work content and the ways in which it is carried out, professional breaks, professional and geographical mobilities, and the need to secure professional pathways all call more and more crucially for the identification and development of social signals of qualification in the national and / or international labour market: signals which build into a lifelong training framework. And so arises, among other things, the question of skill recognition, which brings with it several issues. This workshop helped to bring a particular perspective to some of these issues, through the exploration of several types of innovations:
the establishment of terms of reference for skills, in connection with the enhancement of individual career paths;
the development of 'skill blocks', eligible for PTA funding;
methods of training and skill development, which allow for the joint development of the activity and the potential for action by professionals. 
Coordinated and animated by George Asseraf, President of the National Commission of Professional Certification, four events in this workshop illustrated this theme:
Claire Ariston, Continuous Training Adviser at the Ministry of National Education, explained how the French Education Nationale has been working on skill blocks, what choices have been retained, and what were the issues they met. She showed in particular how the training offer had evolved to meet the needs of public demand and to develop an objective of easier access to certification.
Marie Bancal, Partnership and Development Manager at the Ministry of National Education, presented the PIX[1] platform: PIX is aimed at all French and French-speaking people (pupils, students, professionals, school dropouts, job seekers, etc) who wish to measure, develop and enhance their digital skills. The service takes the form of an online platform for the evaluation and certification of digital skills.
Karine Ceysson Gillot, Skills and Engineering Director at ANFA (an Authorised Joint Collection Body [OPCA] which finances continuing vocational training in the automobile industry) reported on the work of reviewing the titles and professional certifications in this professional branch, together respectively with the Ministry of Employment and the various Chambers of Commerce, Trade, etc.
Astrid Destombes, Project Manager, CCI France (Chamber of Commerce and Industry) presented the CCI France engineering process, designed around the activities-skills-certification terms of reference, which allows for the individualisation of courses.
The recurrent theme in the discussions was: develop, measure, enhance and certify skills. What about these questions in Europe?
There is a lot to be learned from the initiatives carried out in France in the perspective of the ongoing reform of vocational training and, more widely, from the initiatives developed across Europe.
In Europe, in respect of skill recognition, there are two types of strategy which are not necessarily contradictory, but which correspond to two different inputs, with one centred on the engineering of devices and the other more focused on the engineering of certification. For this reason, we will find that:
in devices which tend more towards enhancement, the expected skills are made more visible, so as to make courses more fluid. This is the case, for example, in the RVAE provisions in Belgium, Switzerland or even Italy;
in devices which are more focused on the certification of skills, with the aim of positioning the beneficiaries, proof is shown, or the guarantee that these skills have been mastered.  The VAE in France and Luxembourg, and Qualifia, the Portuguese qualification passport.
And to prolong this debate on innovation in skill recognition, one might also ask what innovative factors do these different experiments provide? What prospects are opening up for tomorrow?
Ryadh Sallem, President of CAPSAAA [2] remarked: "we're really innovating when we change people's lives" to which, personally, I would add: "we innovate when we change the way people look, and when we change the way they look at things."
This change of 'look', however, may take a long time, as it is more in the order of a slow build-up of ideas than a 'big bang' in action.
So what are the trends which are creating innovations, or changes of 'look', which we can see developing through the devices currently being used in skill recognition in France, just as they are in Europe?
Here are three of them:
1st trend: the growing awareness of the need for terms of reference of skills, in a collective and concerted way, and for using a common language which is shared between the world of education and training and the world of work. There is much talk in this Winter University of the need for a two-fold 'employment-training continuum', to which I would like to add a third element: 'work'.
     The reason is that, in this continuum, there are three elements to consider:
identifying and naming skills, so that they can be made accountable, to clarify what is required in the jobs of today and tomorrow - at least so far as we can anticipate;
in the same way, imagining the training provisions which can be used to achieve the expected levels of performance or mastery;
and finally, understanding how its expectations are reflected in the exercise of the work, how they are imprinted in professional activities, and with what consequences.
2nd trend: a different way of looking at the development process,
because this training-work-employment continuum invites you to think of another one - the continuum of development.
development of the person,
development of the activity and the groups to which it belongs, and
development of organisations and areas, through the first two.
On this point, what we have learned in particular through the provisions of VAE is that recognising skills in a development perspective also allows the person to recognise himself, to look at his own work and expectations, and to make choices.
What these devices have also taught us is that skills are not acquired as extras; they are not storable items; they are, above all, ways of acting in certain situations, and this ability to act in a competent manner is based on a developmental process which, in combining acquired experiences of different types, knowledge, ways of doing, ways of behaving in different situations - overall, of structuring their relevance to oneself, to one's work and to the collective.
3rd trend: experimenting with new forms of training, which tend in the direction of support
Various recent reports (France Strategies[3], Amat, Berho, Blachère et al …[4]) describe the difficulties that the beneficiaries of lifelong careers advice or training courses often find in formalising their skills.
There again, the experiments carried out show us various possible routes for this identification, supported by the person through his own acquired knowledge and his greater or lesser proximity to the expected skills (through workplace learning [FEST], VAE, integrative alternance training, etc).
To recap:
innovations in skill recognition can be described as
charting a horizon by clarifying the expected individual and collective skills, which is the role of terms of reference;
allowing people to equip themselves with sufficient baggage so that they can head for this horizon and plan their own goals, which is the role of training engineering;
providing sufficient resources along the way, so that the person does not lose his way or get left at the side of the road, which is the role of support.
The workshop 'Innovations in Skills Recognition' is available in its entirety on Youtube.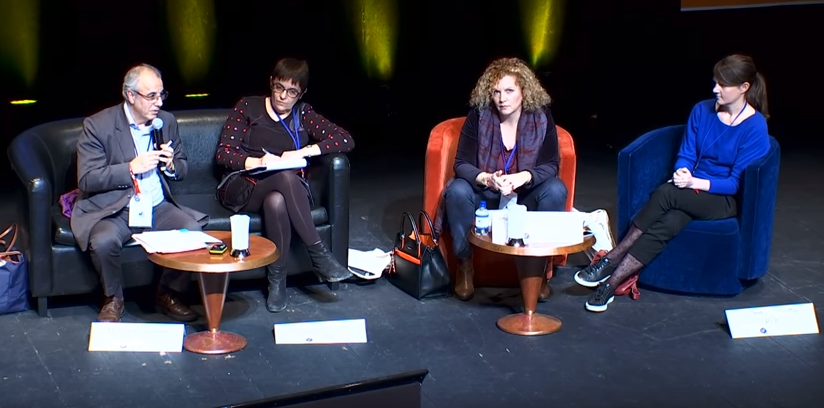 Those involved in the workshop 'Innovations in Skills Recognition'

Isabelle HOUOT is an EPALE thematic expert and lecturer at the University of Lorraine. 
[2] recognised as a general interest group, CAPSAAA is an association founded in 1995 on the initiative of a group of friends, all involved in the sporting circle of les Invalides de Paris. Their purpose is to share their values on disability through sport. The name CAPSAAA derives from the word handiCAP plus S for Sport and the three As for Adventure, Art and Amicability (friendship).
[3] Compétences transférables et transversales - Quels outils de repérage, de reconnaissance et de valorisation pour les individus et les entreprises ? (Transferable and transverse skills: what tools are there for identifying, recognising and developing them for individuals and businesses?) France Strategy Paris : France strategy, April 2017, p97.
[4] Les blocs de compétences dans le système français de certification professionnelle : un état des lieux (Skill blocks in the French system of professional certification: an assessment) Françoise Amat ; Françoise Berho ; Michel Blachère et al. Céreq exchanges, No. 4, January 2017, p 109.