What happened in the last online discussion on the Future of Adult Learning?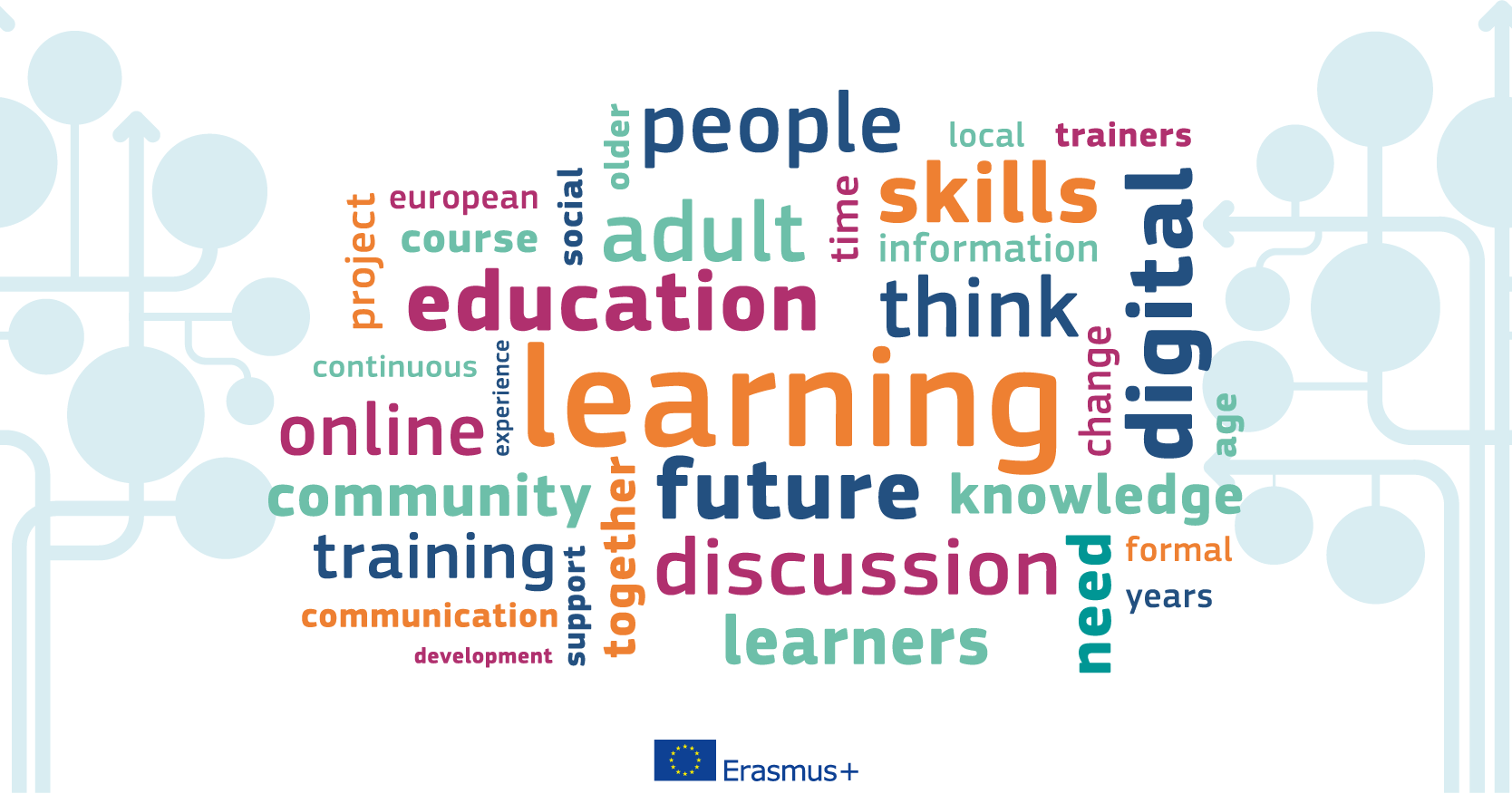 On 8th of July, we organised an online discussion on the future of adult learning. Above you can see the word cloud of this discussion. The cloud offers then possibility to combine and juxtapose different concepts: learning is bigger than education / future, digital, skills or rather think, people, discussion, is it online, training, learners or think, need, change?
Some of the key questions had been presented before:
How do you imagine the future of the adult learning sector in the next five or ten years?
What do you think will happen – and what would you like to happen?
What new challenges and opportunities will emerge?
Clearly, the COVID-19 crisis formed the basis of many reflections; it has turned adult education upside down and will have an impact that will last.
The emerging key issue was digitalisation; much of adult learning had been transferred to online methods. This can have very positive effects: online communication can promote digital communities and therefore support learners in resilience and social contacts. It was pointed out that online support by other learners also helped mental health, which underlines the importance of (virtual) communities. Many participants see the future in blended learning and the development of virtual learning networks (or maybe, more precisely, virtual networks of learners):
In the future, much of the learning will go online, but still the sense of belonging to a community is very important, Therefore, we should explore blended approaches of on-site / on-line learning, in adult learning. (Natassa, Greece)
On the other hand, the enhanced use of digital tools threatens to increase the Matthew effect (the rich get richer while the poor get poorer, creating a widening gap between those who have more and those who have less). One of the key questions for the future is therefore how adult education can reach out to people without access to technologies and / or the skills to work with them.
There is one target group that many of the participants pointed out as crucial for the near and more distant future: older learners. This means older employees on the one hand, but also retired learners and very old people, for example in care homes. Due to demographic change, this group will grow significantly in the next years and decades, and adult education can certainly play an important role for the individual but also social cohesion and active aging. Health education will be more significant (which has already been demonstrated by the COVID crisis), but also other:
Learning about older age. With changing demographics this will be a growing area. Particularly also from a health perspective - health education will become very important (also in connection with combatting certain diseases). There is also an area of educating about older age - what do you need to know about retirement, how do you prepare for it? (Christine, Germany)
Resilience is another aspect of adult learning which will become more prominent in the next few years, especially in the context of life challenges. Whether it is about moving from one life phase to another (e.g. retirement or having children) or personal crisis (job loss, divorce …), adult education can provide information, knowledge, support but also the necessary strength to deal with new situations. Another issue are more integrated approaches and increased cooperation. It makes less and less sense to divide life and work skills just as it is important to combine green with digital with transversal skills (and any other combination). A merging of learning venues but also areas and sectors is envisaged, for example through libraries and cultural organisations but also health and employment.
In France, with the EPALE team, we try to explore the concept of "territoire apprenant" : learning spaces and regions. The idea is to have a holistic approach of needs and proposals in the field of learning and training. The approach has to be centralised in small localities (municipality, group of communes,....) (David, France)
An essential target group are of course teachers and trainers in adult education. There is an increased need for training and development (although this seems to be a perennial topic), but we can also expect a shift in tasks and role. As Anni Karttunen put it: they will become facilitators of multi-professional networks and coordinators of learning supply and learning ecosystems.
Collaboration is one of the most important competences for the shaping of digital transformation and thus for the future of adult education. Together with the other three Cs - communication, creativity and critical thinking - it should in future be included to a much greater extent in the learning objectives of adult education events. (Maximilian, Germany)
Let's now move to the more long-term developments that the participants of the discussion see as either probable or desirable. Community education and in-and non-formal learning should (will?) become more important – needs of learners can be met much more easily at the local level, but a more general and holistic understanding of learning should be combined with this. Learning is everywhere, and everyone has competences that they should be aware of. Learners can build on that and take different learning pathways, which also means an increased empowerment of learners.
Probably, non-informal and informal education will be more prevalent and relevant, as they will be used to provide adults with soft skills that will be necessary for adults to continue to take place in the increasingly interconnected and robotic labour market. (Dora, Portugal)
Tino from Germany posted a very concrete proposal and vision of the (more long-term) future: Every employee should be entitled to use five working hours per week to learn whatever comes to mind - collaboratively or individually, online during the working day or offline in courses and seminars.
Let me finish by quoting someone I met at an online training and continue to be in touch with, who illustrates one of the arguments very well:
There will be more learning online, and we will have to pay much more attention on the joy of learning. So far, in digital learning we have been looking very closely at the learning process, how we present content well, how we activate participants and also how they can work together. We look little at the big picture. We design the learning process, but not the break times, we do not encourage normal break talk, which often shapes the atmosphere and the sense of community in face-to-face courses. If we want to maintain and promote the social aspects of adult education, we still have a lot of work to do. Being close and having a community is also possible online, as shown by social networks and my own e-learning experience (I made great friends online). But to achieve that we need a different view: people should be the focus, the learning topic only brings them together. (Dörte, Germany)
I love having learner-centeredness and the joy of learning as a final message from the discussion! But there were many inspiring and thought-provoking comments, and I apologize to those participants who made them but didn't get quoted here. I can only recommend to everyone to read the discussion (https://epale.ec.europa.eu/en/discussions/epale-discussion-future-adult-learning). You can still add your thoughts to this summary in the comments section.
Finally, have another look at the word cloud. Do you think something important is missing? What is your favourite word combination and why? Please post your comments below!