Welcome to dance class where the average age is 77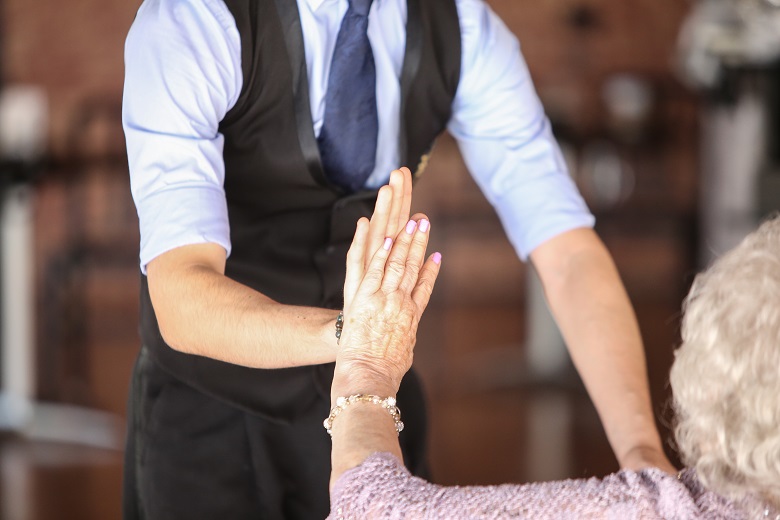 As I walked into the community centre, two rows of neatly permed heads glanced up from either side of the hall and I wondered if they realised that this young whippersnapper was their new teacher. I timidly crossed the floor of the old workingmen's institute and greeted Wendy, my co-teacher, before changing into my dance shoes – with at least 14 pairs of eyes watching my every move.
It was a strange feeling being introduced as the teacher to a group of senior citizens whose average age was 40 years greater than my own. It's not everyday you feel intimidated by people's grandmas and granddads even when they smile at you. I was used to teaching children – being the older, wiser adult – but now I was faced with the opposite, teaching people with triple my age and life experience.
Wendy, being a seasoned pro was used to all this and got the class started, but as I partnered with the lovely ladies in lavender, I could sense they were more nervous than me – in part from embarrassment at being in the arms of a 27 year old and the trepidation of learning something new. After chatting about why I had volunteered to teach the class (a love of ballroom and a want to engage with the older generation) and a giggle or two at a misplaced step, the nerves disappeared.
From a teaching point of view, the pace was gentle, not because they were slow learners rather I had to adapt my teaching to their needs and comfort. Doing a quickstep full pelt with someone with fragile bones, questionable balance, joint replacements and sensible shoes is not practical (and a nightmare on the back) but a "briskstep" with less turns and more moves in hold worked well.
Of course, some were more agile than others and could be pushed a little bit out of their comfort zone. I took one lady a spin around the floor in a rather energetic quickstep. By the end of the song we were both out of breath and she started to laugh almost on the verge of happy tears and said, "I haven't done that since I was 19! Thank you so much, it made me feel young again." And I was reminded why I had volunteered ­and the power of dancing on the body and mind.
It did make me wonder why my students had enrolled in the class. For some, I learned, it was to relive a moment of their youth, for others, to keep active and learn a new skill but for most it was loneliness. Some had lost partners or siblings and simply wanted some company in an atmosphere that didn't make them feel old.
For me the class means great conversation (even if the dancing takes a back seat) but for them it's a lifeline or as 84-year-old Anne once put it during tango training, "there's life in this old dog yet!".
Ross Clarke is a freelance lifestyle journalist and education advisor based in Spain. He has taught English as a foreign language to learners at all levels in the UK and Spain and advised on all aspects of higher education in the UK. He teaches ballroom dancing in his spare time and specialises in CLIL (content and language integrated learning).