Web 2.0 tools for Teaching Adults
According to techopedia.com "Web 2.0 is the name used to the describe the second generation of the world wide web, where it moved static HTML pages to a more interactive and dynamic web experience." What does that mean to the educators who are not that tech-savvy and simply want to upgrade their teaching practice. Let's focus on the words "interactive" and "dynamic" and I would add "easy to use". Web 2.0 tools look like regular static webpages, but they actually represent tools that can be used for various purposes, for example, creating online magazines, notes, videos, presentations etc. Their biggest advantage is on one hand that you do not have to download anything. It is enough to visit the webpage, create the product with the tool and then download it if you like or keep it on your account. On the other hand, they can be integrated into other webpages or platforms as well. The most famous example of a Web 2.0 tool is YouTube, but there is a myriad of other tools intended for a multitude of purposes and as you may guess they find a special place in education.
Why Web 2.0 tools? 
What might come to mind first when you think of these using online tools in education is that they are usually intended for children or teenagers and while Web 2.0 tools already have their special place in school classrooms, they could be used more in teaching adult learners. With the development of technology and the changes in the way we receive and perceive information, all learners, especially adult ones have a shorter span of attention and are used to flicking through any kind of content and a load of information. In practice this means that they are used to switching through various types of content (text, video clips, pictures, gifs, etc) at the same time, while in the huge amount of information they are forced to filter content more rapidly and they do not have much time for extensive reading of topics that are not immediately relevant to their experience, work or life. Consequently, the educators and the educational content as well as teaching practice must adapt to the changes in their learners. Adapting the teaching practice and content is essential in reaching and keeping the adult learner. Web 2.0 tools can help with that and here is a couple of examples of useful and interesting tools.
All learners especially adults feel more motivated when they see a product of their learning in the end. Give your learners a chance to create a journal or a newspaper of their own with this attractive and fun to use tool. It can be used in any type of setting and with almost any topic. For example, you can let your group of learners present the result of a groupwork, a project or a research with pictures, images and headlines. You will need to log in, which is free and then you can start making your newspaper with the format that is pre-built, so practically all you have to do is to add text and upload images if you like and it will fit into the attractive design of a newspaper offered by Smore.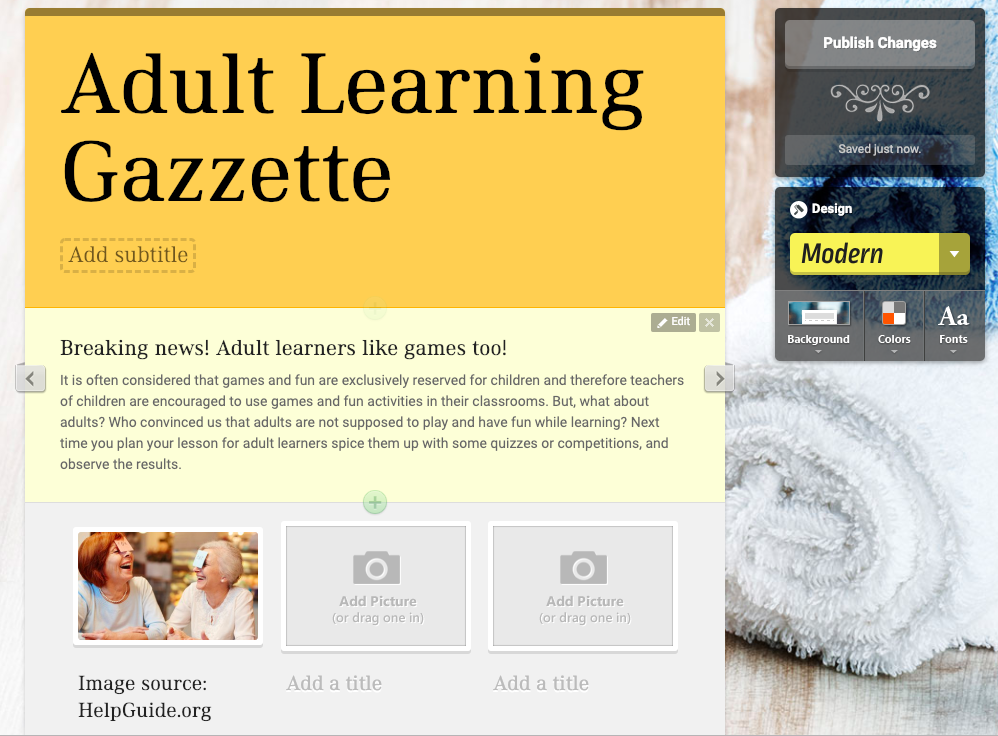 An example of a newsletter in progress created with Smore.
Thinglink is a very simple to use tool that offers a multitude of options for its application in teaching various topics and subjects. The users choose an image, a video or a 360-degree view to make them interactive by putting pins which can be additional links containing further information. This opens a world of possibilities. In one single image you can integrate vocabulary definitions, Wikipedia pages, YouTube videos, your own images or other links. Practically this one image can contain all additional references that you can think of and wish to provide for your learners. Below you will see how we used the above image to add to it links by using Thinglink.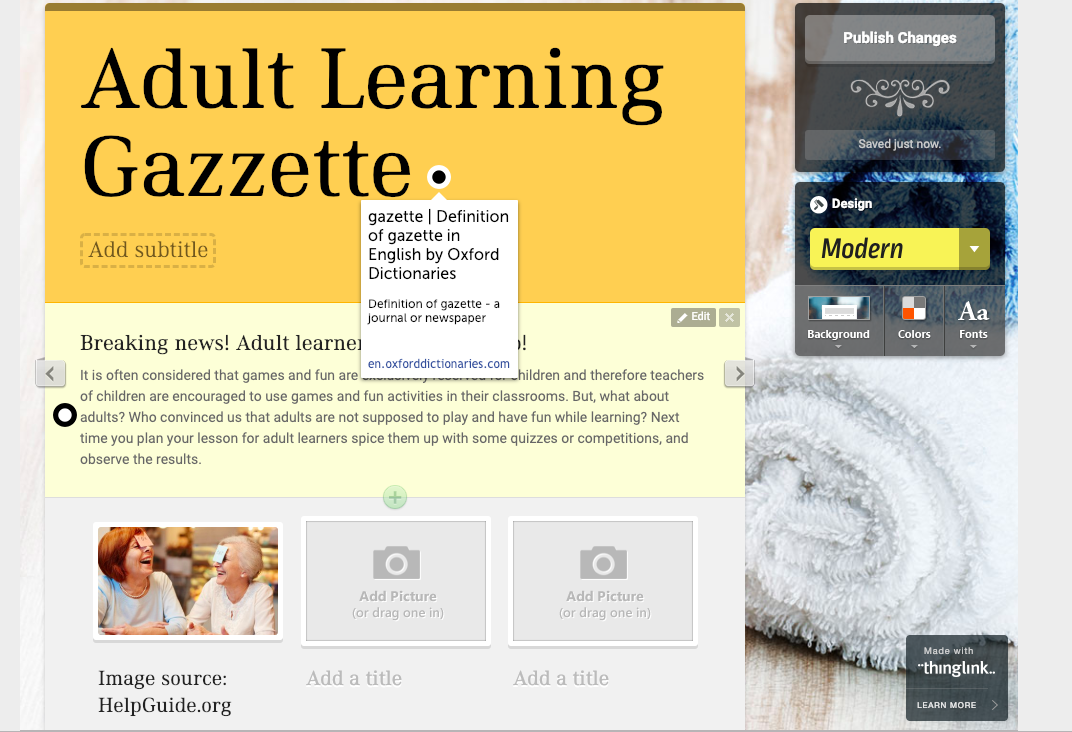 The white dots represent links. When you move the cursor on the dot, the link appears as in the above example where it shows a dictinary entry.
This image shows the view of a YouTube link on an image. When you play the video it will play within the image, the link is not external, it is embedded.
There are many other tools to explore and we encourage you to share them with us in the comments below.