Workshops on old age behind prison bars
I have always thought that my only experience with staying in prison would be this related to the "Monopoly" board game. However, my research and professional interests focused on ageing and old age and these can also be observed in prisons.
Talking about ageing society and observing the development of silver economy, as well as hearing about the accomplishments of senior citizens reported in the media, you should bear in mind that the old age is also present behind prison walls and it is accompanied by a number of difficulties and challenges.
Each year, the number of prisoners in their advanced years is growing. Polish law does not stipulate an age limit, after which a person cannot be put in prison. As a result, senior convicts of different ages live in prison cells. Moreover, inmates serving long times and life imprisonment enter their old age. [1]
---
For this reason, several steps are taken, which aim at the prevention and changing negative attitudes and behaviours of prisoners towards senior inmates. They are being equipped with knowledge and skills, which after leaving the penal institution can be used when seeking employment (for example in public day care centres, private care facilities and in hospices). Also measures are addressed to older prisoners who, according to data presented on the 'Służba Więzienna' (Prison Service) portal, due to their deteriorating health give up activities (e.g. occupational therapy), which could positively impact their mental and physical health. [2]
The non-governmental organisation, for which I work on the commission from Okręgowy Inspektorat Służby Więziennej (Regional Inspectorate for Prison Service), also had an opportunity to carry out workshops on old age and ageing for selected inmates at closed and partly open penal institutions in the region of Wielkopolska. [3]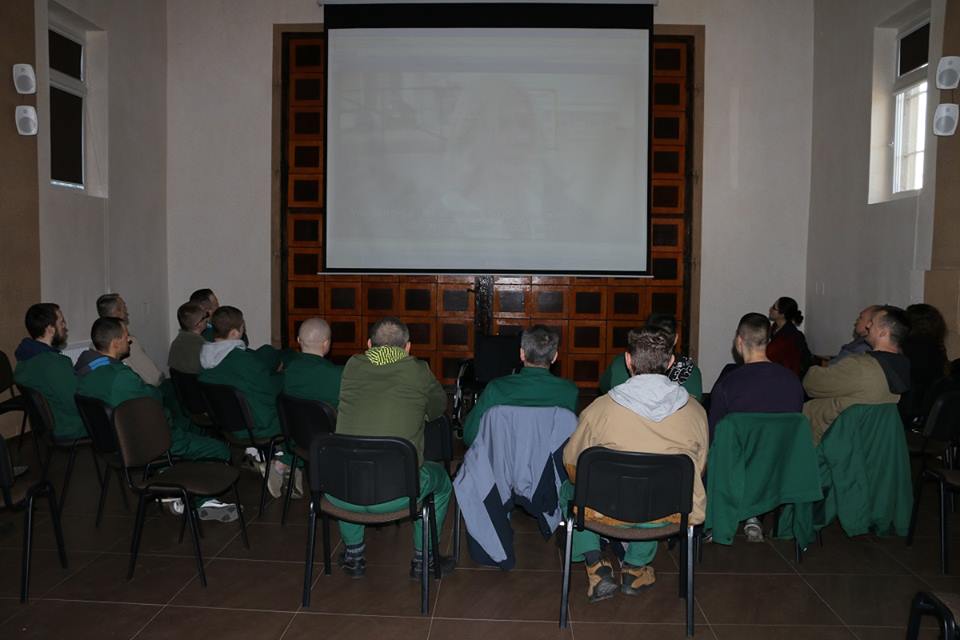 Workshops on old age for inmates
Conflicts in relations between inmates (caused by the fact that the elder prisoners slow down the group or apparently are unwilling to do something, which in fact is the result of psycho-physical deterioration and old age diseases) were a reason for staging the author workshops in prisons. Their participants had an opportunity to become acquainted with social, psychological and physical aspects of old age, both in theory and in practice. Using age-simulation suit, which restricts movement and perception of the person wearing it, you can have a taste of what it is like to be senile and what psychological and physical limitations you have to cope with when performing every day, mundane tasks. Using a simulator of Parkinson's disease gave the prisoners hands-on experience of what senescence and the disease is and feel the limitations resulting from it.
---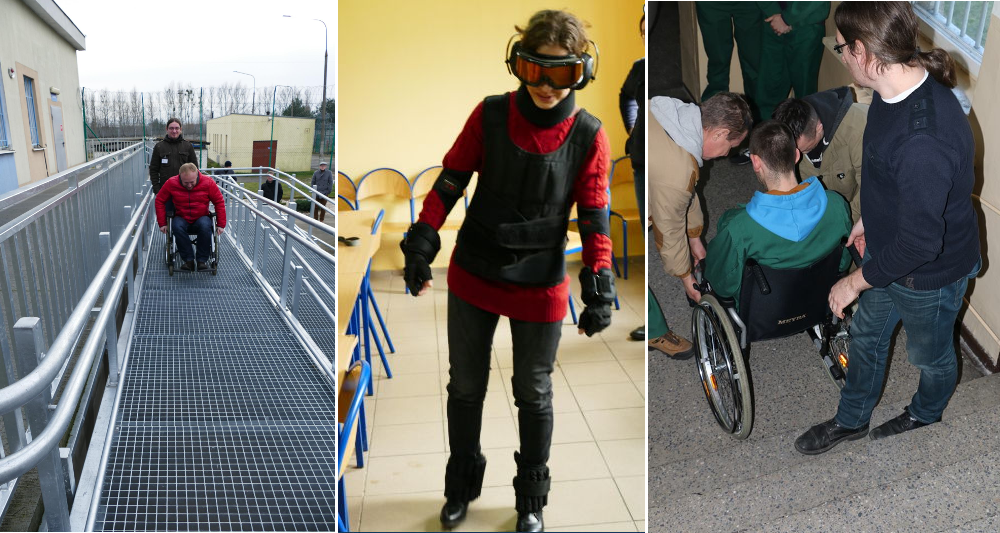 Also a wheelchair was used during the workshop. This item, or rather a tool, can be seen in prison blocks were elder prisoners stay. The workshop participants learnt about different types of wheelchairs and how they are built, and tested in practice navigating them and assisting persons using a wheelchair. In my opinion, the workshop enjoyed considerable interest on the part of prisoners. They actively participated in the theoretical and practical part. They asked many questions concerning specific issues and willingly did exercises while wearing age-simulation suit and using the wheelchair.
Workshops on old age for prison service officers
Workshops, training and conferences on gerontology are also addressed to penal institution staff. Updating and improving knowledge concerning age-related processes can translate into an even more relevant and professional measures addressed the oldest prisoners. [3] This is why I also conducted a workshop on old age for employees of penal institutions. The thematic scope and tools used were similar to those applied during the workshops for inmates.
---
In the opinion of workshop participants (mainly counsellors and block officers), acquiring knowledge about diagnosing old-age diseases (Parkinson's disease, Alzheimer's disease and stroke) based on their initial symptoms and simulations using the age-simulation suit were very important elements of training, which enhanced their professional competence. [4]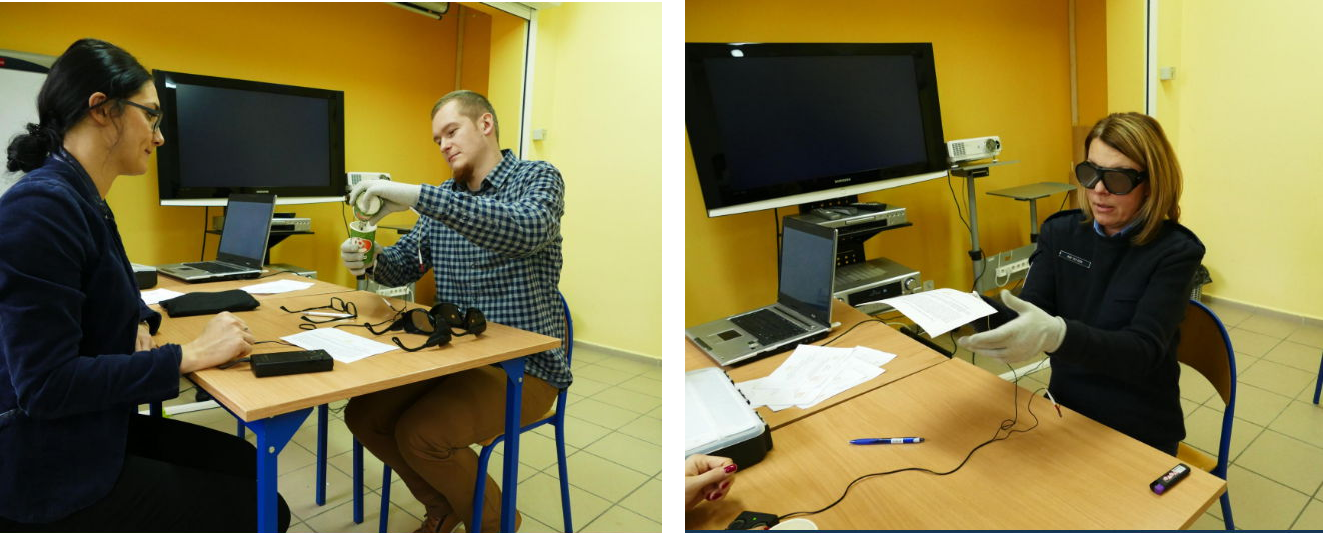 Summary
You cannot stop demographic processes associated with society ageing. Old people can be found behind prison walls. These are often individuals with criminal past who become withdrawn and discouraged, as they do not understand the old age and feel helpless. Older and younger inmates alike generally lack knowledge and awareness of the changes resulting from ageing.For this reason, educational and preventive measures aimed to support prisoners in understanding these changes and in adopting adequate attitudes are of prime importance. [5] Because of the growing number of senior inmates, penal institutions are becoming a space for practitioners and researchers in various fields and sectors who can use their knowledge and expertise to fill this gap. [6]
---
translation NSS Poland------------------------------------------------------------------------------------------------------------Dr Nina Woderska , educationalist, lecturer at Wyższa Szkoła Nauk o Zdrowiu and Studium Kształcenia Kadr, employee of Centrum Inicjatyw Senioralnych in Poznań, and coach working for the Association 'Stowarzyszenie Centrum Rozwoju Edukacji Obywatelskiej CREO'. EPALE Ambassador.
[1], [6] E. Szlęzak-Kawa, Senior w więzieniu, Forum Penitencjarne. Pismo Służby Więziennej, Centralny Zarząd Służby Więziennej Ministerstwo Sprawiedliwości, Warsaw, 2015, no. 206, pp. 14-15.[2] Detailed information on projects such as "Akademia Seniora" (Senior Academy), "Akademia pełni życia dla seniorów" (Senior citizens living full life) and other measures aimed at senior inmates is available (in Polish) at the Służba Więzienna web portal https://www.sw.gov.pl (link is external) (30.06.2018)[3] Author workshops were carried out in 2016 and 2017 by the employees of the Association  'Stowarzyszenie Centrum Rozwoju Edukacji Obywatelskiej CREO' www.centrumcreo.pl (link is external) (30.06.2018).[4] Workshops using age-simulation suit and wheelchair, Służba Więzienna, https://www.sw.gov.pl/aktualnosc/zaklad-karny-w-kozieglowach-warsztaty-z... (link is external) (30.06.2018)
[5] E. Szlęzak-Kawa, Uwięziona starość, Forum Penitencjarne. Pismo Służby Więziennej, Centralny Zarząd Służby Więziennej Ministerstwo Sprawiedliwości, Warsaw, 2014, no. 191, pp. 6-11.