Tünde Nemes-Nagy: assistive technology and the right to learning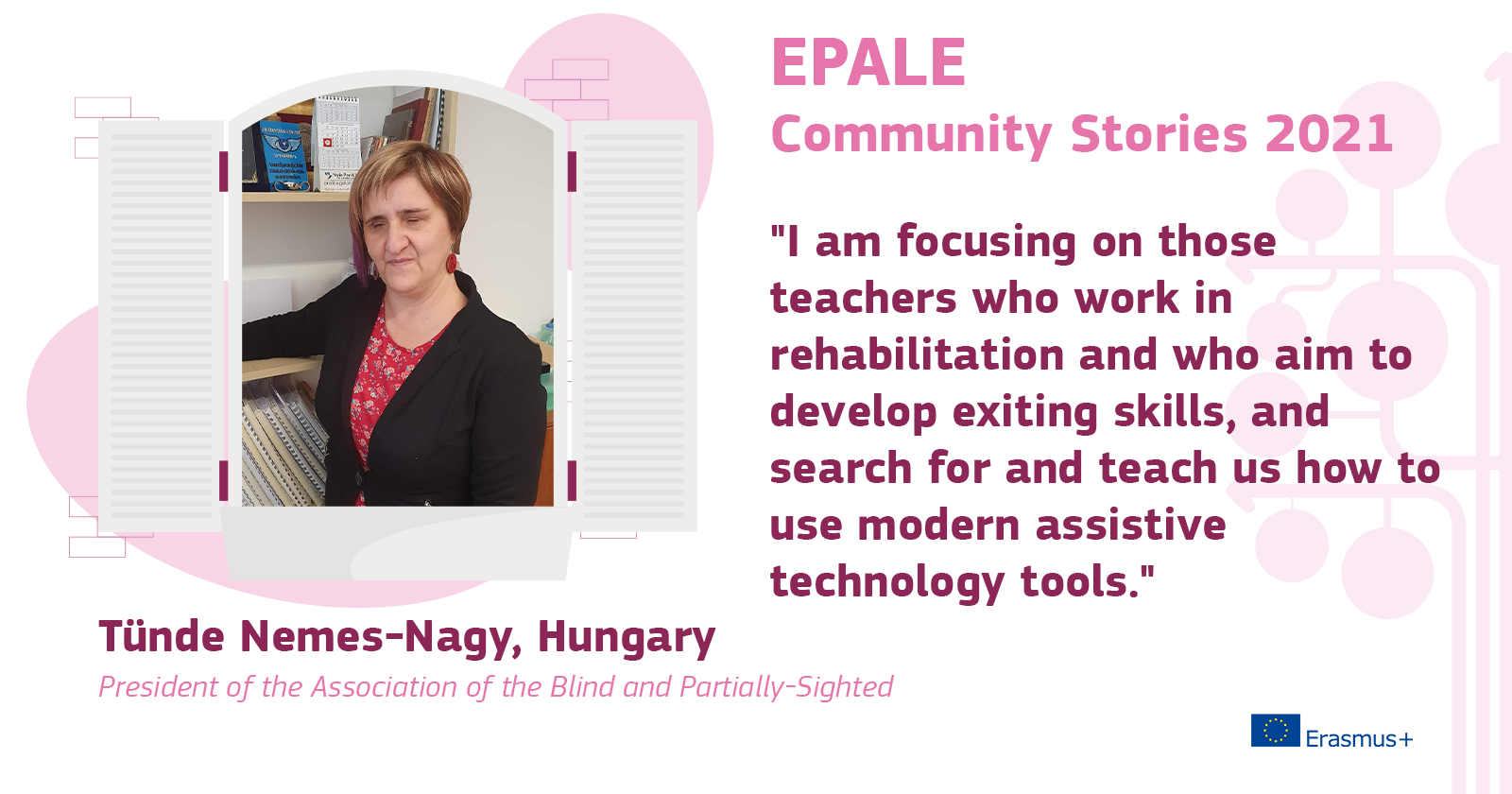 Short bio
I am the president of the Association of the Blind and Partially-Sighted in Nyíregyháza where I also work as a social worker, advocacy leader, and tender writer. I have been visually impaired since birth. I acquired the basics of independent learning in a primary school for blind children. I completed grammar school in an integrated education system. I enrolled in the Community Coordination Programme at the University of Nyíregyháza in 2017.
My EPALE
I first heard about the Electronic Platform for Adult Learning in Europe (EPALE) in a regional event where I gave a presentation on digital skill development amongst disadvantaged people. I found the objectives of the platform interesting, so I signed up. I have been regularly following its content and activities ever since.
My Story
University education has not been all plain sailing. Although I still have my laptop with me in class, the lecturers were not prepared for teaching the visually impaired. The university did not enforce the relevant regulations. On top of this, at first, my classmates were not welcoming and this distressed me. Fortunately, there were still a few lecturers at the university who offer to help me and let me shape their educational approach. I have also been able to team up with two students who offered me personal assistance in studying. This friendship now goes back nearly 5 years as I am still studying at the same university, although now on the Andragogy Master's Programme.
One of my personal attendants is Judit Barkó-Szabó. We work together at the Association of the Blind and Partially-Sighted in Szabolcs-Szatmár-Bereg county. She helps me with administrative and technical tasks. In addition, she accompanies me to exams. This is especially helpful when I need to go to a classroom that I would not find on my own. Sometimes we even study together. My other personal attendant is Dr. Nándor Csiky who used to be an English and German interpreter/lecturer at the University of Nyíregyháza and who helps me get to my lecturers' consulting hours. During our meetings, we go through the assistive technology tools I have with me in class, the format of the course materials that I will be able to use and the course completion requirements.
In these extraordinary times caused by the pandemic, digital education has been introduced in higher education. I know how to work on my computer, use a screen reader software programme, or use my smartphone with the help of a magnifying glass. I am fully aware that visually impaired people are rarely taken into consideration when making and designing digital tools. I was fearful when digital education was introduced since we were not given lectures at university on how to use technology for learning purposes.
My personal attendant, Dr Nándor Csiky, responded to the educational crisis I faced by making an appointment with the IT team at the university. We went together to see the team regarding my technical issues. I also took my laptop and smartphone with me. The IT specialists activated the application of Microsoft Teams on both my devices and found the accessible keyboard shortcuts... so that learning could begin.
For someone who is totally blind, Teams is almost impossible to use. However, since I have a little bit of vision, I have been able to master the basics such as logging in and turning the camera and the microphone on and off. We went to see the IT team about four times. On the last visit, my personal attendant did not come with me. This left me some room to be self-reliant.
At nights, my personal attendant, Nándi, and I used to practice how to log in to the system so that the camera would show a visible and appropriate image of me.
On teaching days, I study from home, taking notes on my desktop computer and listening to the lectures via my phone. I really need to fully concentrate since I was taking notes, listening to what the lecturer was explaining and sometimes I even needed to answer questions when I was called upon by the lecturer. My digital competences have definitely improved. I now not only use Teams but also Zoom and GoogleMeet on a basic level.
I am currently studying on the Andragogy Master's Programme and working on my thesis on personal attendants who, by being involved in adult education and training, help visually impaired people like me to feel comfortable in higher education.
I am focusing particularly on those teachers who work in rehabilitation and who aim to develop exiting skills or re teach lost ones, and personal attendants, who strengthen the competences of individuals and search for and teach us how to use modern assistive technology tools.
---
Did you get inspired by this story? Let us know below in the comments and get the chance to win an EPALE unique gift!
5 users per month (May 2021 - January 2022) from those commenting on a 2021 Community Story will be picked at random and will receive a gift. Comments must be relevant and related to the topic to be eligible.