Thematic week: EduArt -In what kind of world do we want to live in the future?
The German Original was published by Ines Klemm.
---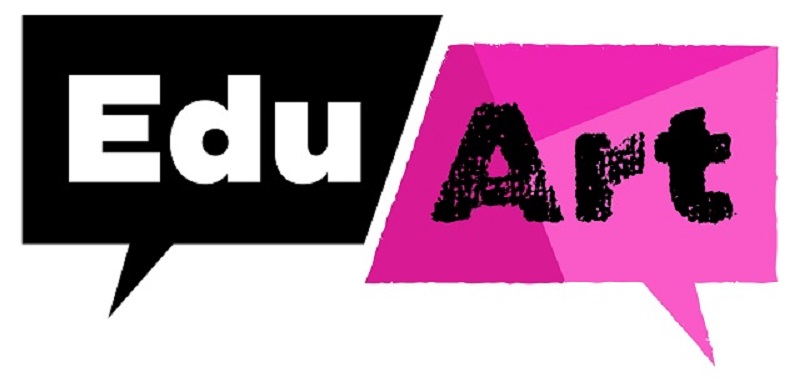 In what kind of world do we want to live in the future? This question has become more relevant than ever since the coronavirus pandemic. The shifting social structures and forms of communication have left many people feeling isolated, insecure, or frustrated. This shift also defines what is required from a "new" type of adult learning.
In the project "EduArt – Education meets Arts in Partnerships for Creativity" we address this issue and develop education provision which allows all adults – regardless of age, social situation, or cultural background – to acquire competencies and participate. Collective learning aims to stimulate communication in urban districts and bring people from diverse groups together. Creativity and art provide the means for engaging with contemporary issues facing society.
The focus is on social and personal competencies, such as communication skills, independent action, intercultural competencies, use of analogue and digital media. During a time when contact between people is severely restricted, the courses involving creativity clearly illustrate the importance of adult learning as well as strategies for tackling the erosion of resilience and social cohesion.
The project partnership brings adult educators and cultural actors from Berlin, Vicenza, Warsaw, and Vienna together. In each city we form local tandems:
The project is led by the BGZ Berliner Gesellschaft für internationale Zusammenarbeit mbH (www.bgz-berlin.de).

Together with local residents the tandems in the selected districts develop courses which use artistic expression such as acting, puppet theatre, and painting as methods. They advise local educational and cultural stakeholders on education with a focus on social spaces, on dealing with heterogeneous groups of learners in non-formal settings, and possible future forms of cooperation with educational stakeholders and artists. The result is a set of learning offers for adults with modules which can be used individually and an interactive handbook for establishing such creative partnerships.
EduArt seizes on the most visible symbol of the coronavirus pandemic – the mask. The mask is both an artistic object and an educational tool. It runs like a thread through all learning activities and is subjected to diverse creative interpretations.
In order to support the projects, a group of active citizens in each city are trained as moderators for an innovative approach to adult learning. The moderators are responsible for raising awareness of the educational provision in the district, and surveying opinions, but also for discovering further potential for innovation and creativity and gathering ideas for re-shaping adult learning in social spaces. The insights gained feed back into the courses on offer.
Framework conditions must be suitable in order to firmly establish the provision. This is why we also work with regulators and policy makers in the projects. During the project we will collect and document, in the form of a recommendation paper, a series of insights into the future of adult learning on an organisational, educational, and policy(-regulatory) level.
The project "EduArt" shows how non-formal education can help to tackle societal challenges and lead to better quality, innovation, and forward-looking adult learning across the EU.
"EduArt" has gained interest and support from the beginning, for example from the District Mayor and District City Councillor for Culture in Berlin-Pankow Sören Benn: "Linking art and education to people's immediate living environment leads to constructive and innovative solutions. I wish all EduArt project participants in Berlin, Vicenza, Warsaw, and Vienna every success and am excited about the viel VolXBühne Pankow!"
What's happening at the moment? The project began on 1 April 2021. Due to the pandemic, all events have been online so far. The project partners have used the summer to work on initial concepts for the learning provision, to speak to local stakeholders in the four cities, and to attract support. The first events involving the public will begin in the autumn.
Are you interested? Then read more about it here: www.eduart-projekt.eu
https://eduart-project.eu/302/
We look forward to the discussion in the EPALE community and will provide an update soon.
---
About the authors:
Grazyna Wittgen and Ines Klemm have worked as educators in vocational and adult education for 30 years and have successfully implemented 50 projects for the BGZ Berliner Gesellschaft für internationale Zusammenarbeit mbH (in EU programmes such as Erasmus+ and Lifelong Learning, Progress, EuropeAid as well as federal programmes). During these projects they help Berlin educational institutions to establish EU-wide cooperation-based partnerships and networks and to develop new learning content, methods, tools, and materials. Current focal points are digitalisation, sustainability, and inclusion.